Vincent van Gogh called homes 'human nests', and in Auvers-sur-Oise it was a nest he was after, to regain his poise through work and rest. Loving Vincent, a Polish–English co-production, spends most of its time in Auvers, where Vincent died an arduous death in 1890, but begins in Arles, where Vincent made friends such as postman Joseph Roulin (Chris O'Dowd), whose son, Armand Roulin (Douglas Booth), is our film's protagonist. Under a luminous Southern sun, mania had seized Vincent's brain: even the joyous Olive Trees with Yellow Sky and Sun seems feverish with heatstroke. In Saint-Rémy, recuperation led to calmer colours promising convalescence, like the paradisal chartreuse and epinard tones of Green Wheat Field with Cypresses (1889). But in Auvers, where he made seventy-seven paintings from mid-May to July 1890, there were among the thatched cottages and cypress obelisks wheat fields under troubled skies: not whorling curlicues, but ill-boding horizontal planes of deep cobalt.
I wish Loving Vincent tracked those changes in Vincent's interior world. Instead, Dorota Kobiela and Hugh Welchman's painstakingly made and visually stunning film tells a detective story, with many of Vincent's paintings featuring. They were re-created by 125 artists working over seven years to make the first oil-painted, animated feature film, though Aleksandr Petrov's short film The Old Man and the Sea (1999) was also animated by oils. Welchmann and Kobiela had actors first perform against green screens, from which point each shot was hand-painted by a single artist: you can imagine how slow this was. Loving Vincent probes whether van Gogh committed suicide or was killed. Its source material is the 2011 biography by Steven Naifeh and Gregory White Smith, which blames Vincent's death on a sixteen-year-old gun-toting bully featured in the film. Throughout, we follow Armand Roulin as he tries to deliver Vincent's final letter to Theo's widow. In Auvers, he interrogates those who knew Vincent: the innkeeper's daughter (Eleanor Tomlinson), Gachet (Jerome Flynn), and Gachet's daughter Marguerite (Saoirse Ronan). Each gives a different view of Vincent, who only appears in flashbacks rendered in black and white.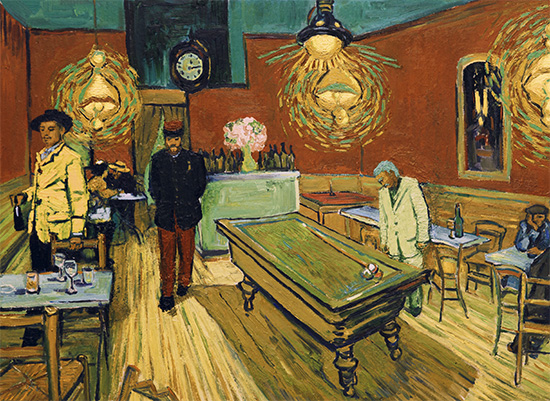 A still from Loving Vincent (Madman Films)
The film's mixture of oil painting and rotoscoped animation, and its construction from a staggering 65,000 paintings, makes beautiful movement: rain smudges as it drops like impasto confetti, halos pulsate around candles. It is kinetic and immersive (though Vincent's paintings are that by themselves already). There are magic moments, like the moon slipping beneath clouds, trees rustling in wind, Vincent's reflection in a basin. There are tides of swirling colour: ochre, raw sienna, golds, rusts, Vermeer blues, and ultramarine, Veronese green. In my favourite moment, a girl runs to Vincent's lap; he sketches a skinny-legged chicken and teases her sweetly as she laughs. This enchanted moment hints at the pathos Loving Vincent could have had if it avoided the device of Armand's sleuthing. Clint Mansell's outstanding score, a shimmering river of piano and strings, brings a dynamic propulsion the story lacks.
Welchmann produced the silent animation Peter and the Wolf (2006), set to Prokofiev's music. Like Dianne Jackson's The Snowman, it carries emotional heft not in spite of but because of its silence. Loving Vincent is chatty and expository. This verbosity seems common with most Vincent films, from Minelli's Lust for Life (1956) with its dated theatricality, to Paul Cox's sensuous documentary Vincent (1990), in which John Hurt's voice of stentorian gravel brings out the Russian novel-like heaviness of Vincent's letters. Robert Altman's Vincent and Theo (1990) uses extensive dialogue to contrast art and commerce, such as its effective opening.
Exceptional among these is the serene Van Gogh (1991) by Maurice Pialat, which covers the Auvers period. Its anti-dramatic, austere rigour avoids standard biopic pitfalls and eschews all myth-making, using a staged naturalism to give us a frail yet passionately conflicted Vincent. Played intensely by Jacques Dutronc, Pialat's Vincent is gentle but hard, not a weird genius but abstemiously coiled in on himself and unwilling to mould his habits to exterior rewards.
Loving Vincent is written in the genre of a crime-investigation procedural, with characters giving information about Vincent. In an exchange characteristic of the screenplay's weaknesses, Père Tanguy (John Sessions) tediously explains for Armand how Vincent went from failure to great artist. Repetitive conversations and empty statements ('Did you know he was a genius? Well, I did') hamper the film. Armand is a boring character, always frustrated and bewildered, and Booth's performance is unexpressive: he sounds disinterested. Armand has none of the aching tenderness or spiritual yearning that Vincent did: remember Don McLean's bittersweet voice in 'Starry Starry Night'? Instead of a story developed so that people and locations painted by Vincent could be made a moving gallery, Vincent's aesthetic and spiritual vision could have been the film's heart. Loving Vincent could have imagistically captured Vincent's longing for a wife and family, or the grief of his stillborn brother, which was the cause of his mother's coldness to him. The non-suicide hypothesis is compelling and probably correct (why else did Vincent's materials disappear that day?), but is it the heart of the matter?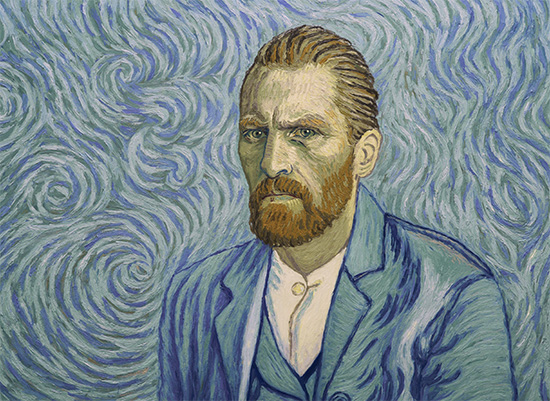 A still from Loving Vincent (Madman Films)
Loving Vincent is not a bad film – it's worth seeing – but it doesn't take the chance it has through the freedom of animation to express the mystery and love of Vincent's work. If they must be made (must they?), films about Vincent van Gogh should be unconventional and unsimplistic, towards Pialat's adamantine anti-hagiography or less hard-edged but credible interiorisation (to which animation lends itself), so that Vincent's paintings – emanations of his soul – may be illuminated without needing to be ceaselessly referenced. Loving Vincent is admirable for its construction, and watchable, but it fails to bring us awareness. The question for filmmakers remains: why are we so allured by this painter's work? It isn't facts and prestige, it's imagination and dreams. It isn't gestures or externalities, it's the distances he walked to paint and the proofs he found in flowers for the infinity within himself.
Loving Vincent (Madman Films), 91 minutes, directed by Dorota Kobiela and Hugh Welchman. In cinemas 2 November 2017.
ABR Arts is generously supported by The Ian Potter Foundation.