Six films into his career as a director, George Clooney is still a little indistinct as a filmmaker, though there are certain subjects – television, politics, the intersection of the two – to which he returns. What's indistinct is the voice. He has struggled through a tall-tale biopic (Confessions of a Dangerous Mind, 2003), a screwball comedy (Leatherheads, 2008), and a war caper (The Monuments Men, 2014) with a bounciness that has sometimes seemed a little too studied, too effortful. His best films to date, Good Night, and Good Luck (2005) and The Ides of March (2011), are pretty much straight dramas. They are tonally sure where the others, designed to amuse, are uncertain.
There is a certain obviousness to even the best of them. The Ides of March began life as a play titled Farragut North (after the Washington Metro station closest to D.C.'s cluster of think tanks and lobby groups), but was given its more portentous moniker at Clooney's insistence. The clue is in the title of his latest, too – Suburbicon, in which the manicured decency of 1950s America is revealed as a sham. Having liberally reworked Charlie Kaufman's Confessions script on that film, Clooney, along with long-time producing and writing partner Grant Heslov, has now retooled an old screenplay from the Coen brothers, who presumably felt it was too similar to Fargo to make themselves. You have to give Clooney points for running towards unflattering comparisons.
Matt Damon is on the poster, though this is really the story of his son, Nicky, played by Noah Jupe (The Night Manager). Nicky lives in Levittown, a community introduced, in a montage of 1950s advertising illustrations that opens the film, as a place of both safety and diversity. Geographical diversity, that is, with smiling white families coming to this Californian oasis from across the country. Their idyll is interrupted by the arrival of a black family, the pointedly named Meyers, and the film tracks, though only intermittently and from a distance, the townsfolk's escalating efforts to get rid of them.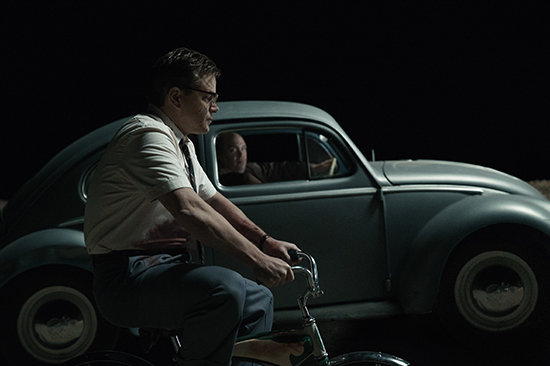 Matt Damon in Suburbicon (Roadshow Films)
Nicky's aunt, played by Julianne Moore, tells him to go play ball with the Meyers' son (Moore also plays the boy's wheelchair-bound mother). But his world comes crashing down when the family falls victim to a home invasion, and the behaviour of Nicky's father and aunt in the aftermath begins to seem very fishy indeed. Suburbicon marks the first film Clooney has directed in which he doesn't appear, and you can imagine a version of it in which he plays the role filled here by a rakish Oscar Isaac (Inside Llewyn Davis, 2013), who pops up as an insurance investigator looking for clarification about a couple of 'red flags'.
The oddity of Suburbicon is that the A plot never really links up with the B one, save for a couple of games of catch. Both seem to be conveying the same thing – the rot festering at the heart of white America, at a time when television reinforced an aspirational vision of the American family that elided the existence of whole races – but we are given intimate access only to one of these families, and it isn't the black one. You could argue Clooney is making an implicit argument about exclusion, but the approach looks less like revealing counterpoint and more like blunt-force bludgeoning.
The comedic notes feel tamped down, as befitting the horror on display, but certain images and scenes still play like Coen offcuts. After a motor accident delivered by Clooney with real jump-scare relish, Damon cycles away from the flaming conflagration, and the director and his cinematographer, Robert Elswit (There Will Be Blood, 2008), linger on the ridiculous figure receding into the darkness, riding a tricycle many times too small for him. Elsewhere the Bernard Herrmann-esque score from Alexandre Desplat (The King's Speech, 2010) makes the whole thing feel like one of those house-bound Hitchcocks.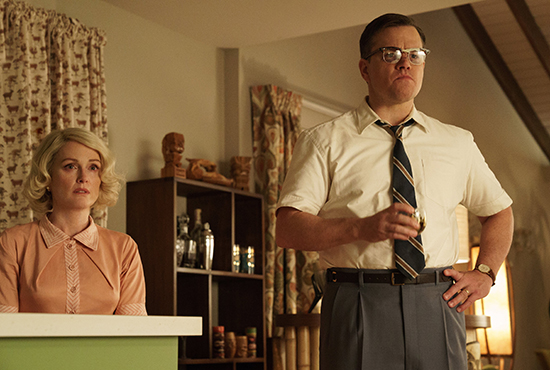 Julianne Moore and Matt Damon in Suburbicon (Roadshow Films)
To be fair, the film plays more coherently than that jumble of influences might suggest, and the performances from Damon and the rest adroitly skirt the line just short of archness. The problem is in the film's self-conscious status as a Statement On America. Suburbicon ends with two boys, one black and one white, throwing a baseball back and forth over the back fence; a hopeful note for what could have been mistaken for a mordant satire about Trump's disunited States to go out on, and one that feels utterly disconnected from everything that's gone before it – a fantasy of catharsis that very nearly feels nostalgic.
Suburbicon (Roadshow Films), 104 minutes, directed by George Clooney. In cinemas 26 October 2017.
ABR Arts is generously supported by The Ian Potter Foundation.