Art
Gerhard Richter: The life of images (QAGOMA)
A rainy weekend heralded the opening of Gerhard Richter's exhibition at Brisbane's Gallery of Modern Art. Gerhard Richter is famous for achieving the highest auction price for a living European artist (Abstraktes Bild fetched US$46.3 million in 2015), but his importance as an artist is due to his commitment to painting during a postwar period when many had abandoned the medium. The associated mental image may be a dominant 'bass note' of grey in tune with the Brisbane weather. Yet, as the exhibition makes clear, there is prescience in Richter's work; his interest in probing at the casual photography that has become the ubiquitous feature of our times.
This tightly curated selection of ninety works, the largest to leave the northern hemisphere, illustrates Richter's interest in the way photography has changed the way we see. Brisbane academic Rosemary Hawker, who curated the exhibition, has devoted her research to Richter (whom she has met only twice). She relates how, after years spent poring over his images in reproduction, she first saw his Ema (Nude on a Staircase), 1992, at Yale some twenty years ago. 'I was intrigued by it, irritated actually, by its blurry photographic quality.' Hawker's doctorate was devoted to Richter's work (Blur: Gerhard Richter and the photographic in painting, 2007); this exhibition has been five years in the making. Hawker said, 'Richter's work has kept me interested all this time. You are never really able to account for everything or are able to frame it. And there's always something new, with his work imbued with sense of looking forward and again at things.' Personal loans and cooperation from the artist have enhanced our appreciation of his work.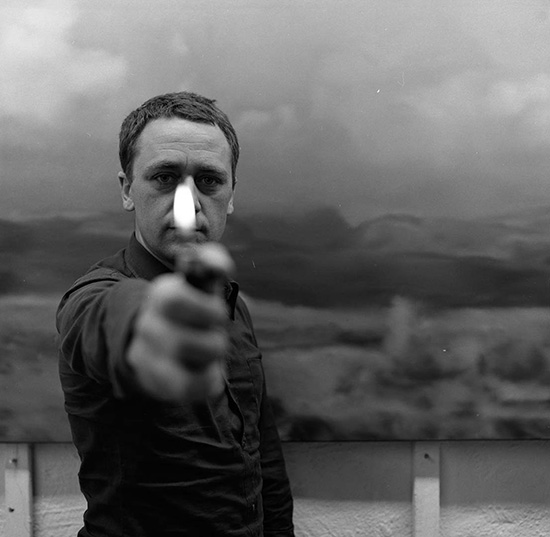 Gerhard Richter, 1970 © Gerhard Richter 2017 (image courtesy of QAGOMA)
Richter's cerebral paintings complement QAGOMA's program of international exhibitions, such as the Asia-Pacific Triennial, which began in 1993, the spectacular Cai Guo-Qiang: Falling back to Earth solo exhibition (2013), and one from Yayoi Kusama (Japan), which opens on 4 November. Yet Richter's work, despite his intrinsic appeal to cultural audiences, may prove a more difficult sell to the broader public. It makes a different point with its aspirations. This survey includes large abstract paintings, figurative images of family, lyrical landscape and flowers, monumental tapestries and computer-generated editions, and treatments of the main traumas of his lifetime (World War II, the Holocaust, 9/11). The pace and style of reproduced images have a regular 'bass note' (as Hawker describes it) of grey. The musical reference is overt, with grey a touchstone throughout, even within the colourful layers of the thickly painted abstracts, where depths and surfaces draw us into the emotional resonance of the history to which Richter has been witness.
The exhibition, tracing Richter's diverse styles, is curated thematically from an oeuvre that spans more than fifty-five years. The title, The Life of Images, makes me wonder about the impact of image-making on Richter's own life, which is dealt with obliquely in his art. His subject matter offers up the personal, in his use of family for portraits, but in such a way as to exclude the personal, a push/pull at the heart of his image-making that is also encapsulated in his 'blur' images. The entry includes the portrait of his daughter, Ella, 2007, small in scale, soft in colour, and quiet; eyes cast down and away from an audience, intimate, juxtaposed with Strip, 2012, a fluorescent abstract made as a digital print, itself an image of a vignette of a previous Richter abstract, mediated through the computer into slivers of colour.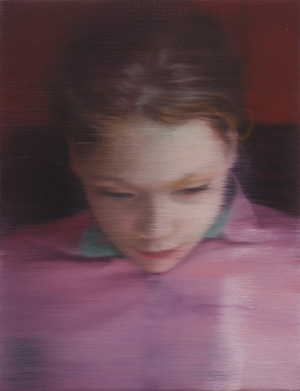 Ella (2007), Private Collection © Gerhard Richter 2017 (image courtesy of QAGOMA)The spine of the exhibition is the Atlas overview, Richter's personal photographic archive. Some 400 panels of tiny photographs, including those with direct relationships to the paintings in the other rooms, offer an intimate experience with his sources.
At the heart of the exhibition, 'Histories' focuses on the personal. Betty (Ed.75), 1991, a portrait of his daughter, shows the back of her head, a vignette that is both intimate and distancing. This room also confronts a tragic family history, with images painted from an album with which he fled East Germany. His Uncle Rudi, 1965, is portrayed standing in military uniform before he died in the war. Aunt Marianne, 1965, cradles Richter as a baby. The blur of black-and-white images keep the viewer at arms length, and perhaps also himself. Richter said, in 1985, 'photographs, private ones and others, keep appearing that fascinate me so much that I want to paint them. And sometimes the real meaning these images have for me only becomes apparent later.'
'Nature' includes a lyrically beautiful, soft-focus Seascape, 1975, among landscapes that evoke the sublime tradition. Richter's political experiences as a youth in Nazi Germany have made nature a neutral space, and these representational images are juxtaposed with the four-panel Abstract painting, 1990, in which his characteristic use of the squeegee masks and reveals a depth of surface that operates like a windscreen wiper's aperture onto a wet day.
Richter's most recent series is Birkenau (2014). Four large abstract paintings draw attention to Holocaust monstrosities, based on rare photographs taken and smuggled out of Crematorium V of the Birkenau extermination camp (Auschwitz). These were copied, and thickly overpainted in tones of grey, white, and red, their confronting realities masked, but with ruptures to the surface suggesting the violence that lies underneath. Yet the addition of Grey, 1976 in the context of the Birkenau abstracts harnesses his interests in its 'capacity ... to make "nothing" visible'. The smaller Grey, beams, 1968, uses paint in intersecting ribbons to build tension as though binding trauma within its layers.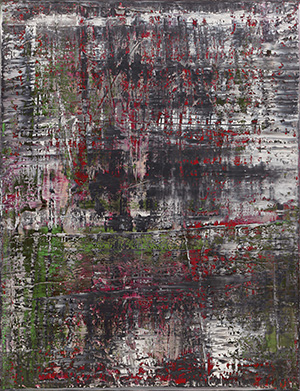 Birkenau, 2014, Gerhard Richter Archive, Dresden, Germany. Permanent loan from a private collection © Gerhard Richter 2017 (image courtesy of QAGOMA)The exhibition's sombre note lingers; while much of the work is restrained, it is balanced with photo-realism, seductive colour, and sheer beauty, and gives Australians their first substantial access to Richter's oeuvre. His art offers an important biography of our times despite, or perhaps because of, its masking of the personal. It is at odds with the contemporary downpour of social media imagery, the Instagram feed of artists and individuals, somebodies and nobodies, that glaze the internet. Richter's commentary suggested, 'I blur things to make everything equally important and equally unimportant ... Perhaps I also blur out the excess of unimportant information.' It is in that space that his prescience is outstanding, as is his legacy.
Gerhard Richter: The life of images continues at the Queensland Art Gallery, Gallery of Modern Art until 4 February 2018.
ABR Arts is generously supported by The Ian Potter Foundation.