Opera
Norma (Metropolitan Opera) ★★
Vincenzo Bellini's Norma elicits the ultimate rose-tinted nostalgia in ageing opera aficionados. Operagoers of my generation wax lyrical about Joan Sutherland and Montserrat Caballé in their prime, while making disparaging remarks about present singers. We in turn were bored by ancients who admitted that La Callas wasn't too bad but advised us that we should have heard Rosa Ponselle or Lilli Lehmann. I am sure the same routine was repeated all the way back to Giuditta Pasta, for whose 1831 La Scala début the opera was written.
On one thing divas and fans agree. Norma is one of the most demanding, if not the most demanding, roles in the soprano repertoire. It requires a voice of power and flexibility, an understanding and mastery of the bel canto style, a commanding presence, abundant energy, and great acting skills. The aforementioned Lilli Lehmann spoke for all her fellow divas when she said that singing Norma was more exhausting than all three Brünnhildes and 'ten times more exacting than [Beethoven's] Leonore'.
Bellini and his librettist, Felice Romani, adapted and softened Alexandre Soumet's melodramatic take on the Medea story. In Soumet's 1831 play, the Druid priestess Norma is driven mad with jealousy by the abandonment of her lover and the father of her children, the Roman proconsul Pollione, who has fallen in love with the young virginal novice Adalgisa. Norma murders one child and leaps off a cliff with the other. Bellini and Romani spare the children and send Norma and Pollione to the pyre.
The Metropolitan Opera's new production of this demanding warhorse unfortunately brings out all the clichéd responses in this seasoned operamane. David McVicar has obviously been instructed not to frighten the Met's venerable audience with too daring a production. Within mildly stylised, sepulchrally lit sets he has mounted a dispiritingly old-fashioned show. Druids and Sicambri warriors roam around in the gloom waving their arms for no good reason, and Norma addresses her troops with her back to them; downstage, facing the audience like any self-respecting prima donna. In the lengthy orchestral introduction to Norma's entrance aria, 'Casta Diva', McVicar has Sondra Radvanovsky strike poses in a plastique style that Sarah Bernhardt might have considered passé.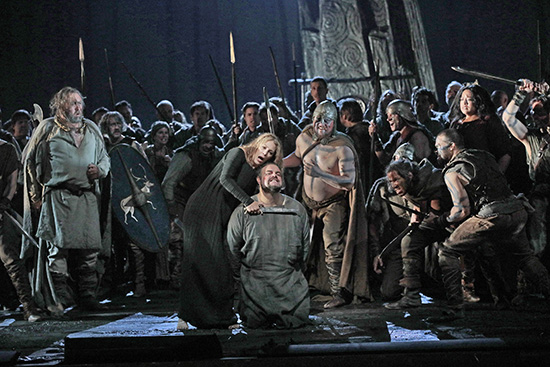 Matthew Rose (left) as Oroveso, Sondra Radvanovsky in the title role, and Joseph Calleja as Pollione in Norma (photograph by Ken Howard, Metropolitan Opera)
Of the qualities essential to a successful Norma, Radvanovsky certainly has energy. She throws herself into the role with gusto. Alas. that is where the qualities end. The Met has recently been casting the bel canto repertoire with singers whose ability to sing it is shaky at best, and Radvanovsky is firmly in that tradition. She has an attractive high pianissimo of which she is obviously fond, but it does not meld with the rest of her voice. Her coloratura is approximate and, on the night ABR Arts attended, her sense of pitch was wayward in the extreme. She and the conductor, Carlo Rizzi, played catch up with each other during 'Casta Diva'. Radvanovsky would get behind the beat, Rizzi would slow down to accommodate her, only to find the diva racing away to catch up with him. Radvanovsky's inaccuracy made for an interesting musical sequence in her first act duet with Joyce Di Donato's Adalgisa. After interval, things had improved and the famous 'Mira, o Norma' duet proceeded without incident.
Joseph Calleja, the Pollione, also had a trouble with pitch. Attractive in the lower reaches of his range, at the top his voice thinned out, developed a beat, and wafted above the pitch. He was a solid-looking proconsul, but his acting abilities were more in the Pavarotti range than the Olivier one.
No one could accuse Joyce Di Donato of not understanding bel canto, and she was by far the strongest performer of the three protagonists. Despite an arrestingly modern hair style and a performance that McVicar required her to base on Giulietta Masina in La Strada, Di Donato still managed to make Adalgisa the most authentic character on stage. Vocally, she conquered the stylistic hurdles with ease and produced exactly the combination of passion and technical accomplishment that bel canto requires. If she wisely ignored some of the interpolated high notes, that in no way diminished her performance.
Carlo Rizzi, the conductor, has been acclaimed as a bel canto maestro, but judging from this performance the acclamation is not exactly deserved. He was not merely at odds with his Norma, but the strings were not together in the overture and there were other moments in which he did not seem to be entirely in control. Moreover, his tempi were idiosyncratic, lethargic in the extreme in the introductory music to Norma's first entrance, overheated in the third act choral scenes.
Joyce DiDonato as Adalgisa and Sondra Radvanovsky in the title role of Norma (photograph by Ken Howard, Metropolitan Opera)
While this curmudgeon sat grimly in his seat, the audience gave the cast an uproarious standing ovation. One thing one always used to be able to say about a Met audience was that although they might be conservative as far as productions went they were connoisseurs of voice, having been exposed to the best. So has the audience changed, or is this now the best we can hope for?
Norma, composed by Vincenzo Bellini and directed by David McVicar, continues at the Metropolitan Opera until 16 December 2017 (with cast changes). Performance attended: October 11.
ABR Arts is generously supported by The Ian Potter Foundation.