Opera
Maria Callas Live: Remastered recordings 1949–1964 (Warner Classics) ★★★★1/2
Some singers – a gifted few – have voices that are so sumptuously individual that even one note instantly identifies them to the listener. In opera, Joan Sutherland and Luciano Pavarotti have that status, Dietrich Fischer-Dieskau in lieder, Elvis Presley and Louis Armstrong in rock and jazz. But none more so than Maria Callas, possibly the most celebrated soprano in history, who lit up the social pages as much as the opera stage. An often controversial figure during her career (once, at the Met, she was pelted with vegetables during a curtain call), her cult has magnified in the forty years since her death in 1977.
I see Callas as the Lady Diana of opera. Their public lives had many parallels, and Callas too can be seen as a tragic heroine, whose private life disintegrated and who ended sadly diminished, dying alone at the age of fifty-three. Her myth has flourished in the public memory, while her failings have gradually been elided.
The biographical basics are well known: born in New York, raised in Greece, taken under the wing of her Svengali-like husband, Giovanni Battista Meneghini, whom she left for Greek billionaire Aristotle Onassis, who in turn dumped her for Jackie Kennedy. Throughout the 1950s she was the world's leading prima donna, tempestuous on and off stage, even as her vocal resources withered. That marked decline was ascribed at the time to the extreme weight loss of thirty-six kilograms that made her glamorously chic, and later to a muscle condition, dermatomyositis, which affects the larynx. Callas made her La Scala début in 1950; her final stage appearance was at Covent Garden in 1965. Perhaps the most important factor was that she forced her voice while young, shortening her peak to a scant dozen years or so. In contrast, Joan Sutherland, who protected her voice, stayed at the top for forty years.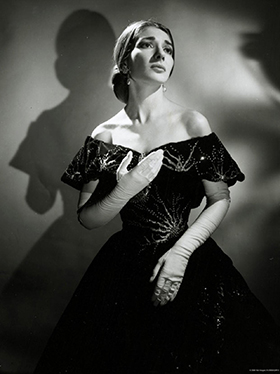 Maria Callas as Violetta in La traviata (photograph by Houston Rogers, Wikimedia Commons)It is not widely known that Callas began as a Wagnerian soprano of great promise, a fine Brünnhilde and Isolde. But she could sing any role. While singing Brünnhilde in Venice, she had to learn the role of Elvira in Bellini's I puritani in six days when the scheduled soprano fell ill. It was an extraordinary feat, and a triumph. Thenceforth Callas concentrated on the diametrically different bel canto coloratura repertoire and was also a great dramatic soprano in Verdi and Puccini roles (Violetta, both Leonoras, Cio-Cio-San, Tosca).
Her studio recordings are often fabulous, but Callas purists always insisted that she was at her best on stage. Opera lovers can now judge for themselves, because Warner has just released a forty-two-CD collection of her live opera and recital recordings. Even more than its 2014 set of her complete studio recordings, this set displays the legendary, definitive Callas. It highlights how, above all sopranos, Callas was a force of nature. Film and opera director Franco Zeffirelli said the difference was what she transmitted to the audience: 'Every cell of her body was there, palpitating, burning beyond what is expected from a normal singer. She made her emotions explode on stage.'
The new Warner set contains twenty complete operas, twelve of which are doubly precious as Callas never recorded them in the studio, plus five filmed recitals on Blu-ray. All have been delicately remastered, though obviously they do not match modern recordings.
The operas range from a 1949 Nabucco to the Covent Garden Tosca from 1964, including her incomparable Medea and all the great bel canto roles. A welcome curiosity is Kundry in Wagner's Parsifal, sung in Italian in Rome in 1950, while listeners should not miss her astounding high E flat at the end of the triumphal scene in Aida (Mexico City, 1951) or her enchantingly girlish Gilda in Rigoletto (Mexico, 1952).
The recordings also trace her decline. Her 1952 Norma at Covent Garden is thrilling, with consummate control and power. It was her favourite role: she sang it ninety times on stage. Critic Andrew Porter, who credits Callas with restoring serious bel canto operas to the mainstream repertoire, was overwhelmed by that performance. He wrote of her great range and power, her ability to invest coloratura with dramatic and expressive qualities, her wide vocal colours, exceptional dramatic understanding, tones both affecting and thrilling, an imposing presence, and remarkable command of the stage. The occasional harshness and unsteady high notes are nowhere to be heard. By the 1958 La traviata, the famous wobble under pressure is obvious, but this is still a performance of genius, achingly vulnerable and feminine.
Callas's magnetism is evident in every performance, along with her interpretative genius. What she brought to the stage – an extraordinary intensity of emotional conviction, an unparalleled ability to act with her voice – seemed to grow more pronounced as the vocal frailties developed.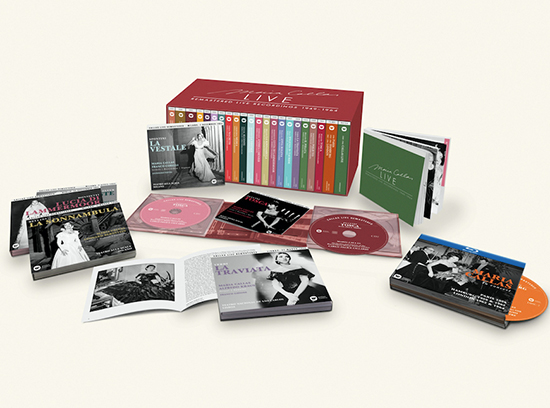 Maria Callas Live: Remastered recordings 1949–1964 (Warner Classics)
These recordings show how, more than any singer, Maria Callas brought the characters more to life, infusing them with heart and soul. As the great critic John Steane observed, the incomparable richness of her fusion of singing and characterisation meant that one did not need to see Callas on stage because it is in the recordings. 'You actually do see her act; you see her as it were on the stage. The sound of her singing was visual.'
Maria Callas Live Remastered Edition (Warner Classics), 42-CD box set, international release 15 September 2017
ABR Arts is supported by The Ian Potter Foundation.
The operas
Verdi: Nabucco, conducted by Vittorio Gui (Gino Bechi, Amalia Pini, Gino Sinimberghi). 20/12/1949, Napoli, Teatro San Carlo
Wagner: Parsifal, Vittorio Gui (Rolando Panerai, Africo Baldelli, Boris Christoff). 20–21/11/1950, Rome, Auditorium della Rai
Verdi: I vespri siciliani, Erich Kleiber (Giórgios Kokoliós-Bardi, Enzo Mascherini, Boris Christoff). 26/05/1951, Firenze, Comunale
Verdi: Aida, Oliviero de Fabritiis (Mario del Monaco, Oralia Domínguez, Giuseppe Taddei). 3/07/1951, Mexico, Palacio de Bellas Artes
Rossini: Armida, Tullio Serafin (Francesco Albanese, Mario Filippeschi, Alessandro Ziliani). 26/04/1952, Firenze, Comunale
Verdi: Rigoletto, Umberto Mugnai (Giuseppe di Stefano, Piero Campolonghi, Ignacio Ruffino). 17/06/1952, México, Palacio de Bellas Artes
Bellini: Norma, Vittorio Gui (Mirto Picchi, Ebe Stignani, Giacomo Vaghi). 18/11/1952, London, Royal Opera House
Verdi: Macbeth, Victor de Sabata (Enzo Mascherini, Italo Tajo, Gino Penno). 07/12/1952, Milan, La Scala
Cherubini: Medea, Leonard Bernstein (Gino Penno, Maria Luisa Nache, Giuseppe Modesti). 10/12/1953, Milan, La Scala
Gluck: Alceste, Carlo Maria Giulini (Renato Gavarini, Paolo Silveri, Rolando Panerai). 04/04/1954, Milan, La Scala
Spontini: La vestale, Antonino Votto (Franco Corelli, Enzo Sordello, Nicola Rossi, Lemeni). 07/12/1954, Milan, La Scala
Giordano: Andrea Chénier, Antonino Votto (Mario del Monaco, Aldo Protti, Maria Amadini). 08/01/1955, Milan, La Scala
Bellini: La Sonnambula, Leonard Bernstein (Cesare Valletti, Giuseppe Modesti, Gabriella Carturan). 05/03/1955, Milan, La Scala
Donizetti: Lucia di Lammermoor, Herbert von Karajan (Giuseppe di Stefano, Rolando Panerai, Nicola Zaccaria). 29/09/1955, Berlin, Städtische Oper
Donizetti: Anna Bolena, Gianandrea Gavazzeni (Gianni Raimondi, Nicola Rossi Lemeni, Giulietta Simionato). 14/04/1957, Milan, La Scala
Gluck: Ifigenia in Tauride, Nino Sanzogno (Francesco Albanese, Anselmo Colzani, Fiorenza Cossotto). 01/06/1957, Milan, La Scala
Verdi: La traviata, Franco Ghione (Alfredo Kraus, Mario Sereni, Laura Zannini). 27/03/1958, Lisbon, Teatro Nacional de São Carlos
Bellini: Il pirata, Nicola Rescigno (Pier Miranda Ferraro, Costantino Ego, Glade Peterson), 27/01/1959, New York, Carnegie Hall
Donizetti: Poliuto, Antonino Votto (Franco Corelli, Ettore Bastianini, Nicola Zaccaria). 07/12/1960, Milan, La Scala
Puccini: Tosca, Carlo Felice Cillario (Tito Gobbi). 24/01/1964, London, Royal Opera House