Opera
La Bohème and Die Zauberflöte (Royal Opera House) ★★★★1/2
September has seen the premières of two much-loved operas at the Royal Opera House, Covent Garden. A new production of Puccini's La Bohème (★★★★1/2) and a revival of the David McVicar production of Mozart's Die Zauberflöte (The Magic Flute) (★★★★1/2). Both works featured in their leading female roles two of Australia's most promising and prominent young sopranos.
The new Richard Jones production of La Bohème (only the third in the history of the Royal Opera) replaces the acclaimed John Copley version which has served the company well for more than forty years and seen twenty-five revivals in that time. It is a challenge that Jones has successfully met. The staging is traditional and stylised, in keeping with the period; it is moved a few decades after the original setting, which was around 1830. Jones's production is uncontroversial yet fresh and visually exciting. Unlike many updates, it never distracts. The costumes vary from suitably dowdy to gloriously sumptuous. Designer Stewart Laing's first set was predictably austere and stark, but the Café Momus in Act II was lavishly recreated alongside the charismatic Parisian arcades of the Latin Quarter. Although some may wonder how a group of struggling bohemians could frequent such an establishment, the change in scenery provided a total contrast and emphasised the fact that in late nineteenth-century Paris such diversity existed and still does to a lesser extent. Thanks to the antics of Musetta, it was not our young bohemians who were footing the bill.
La Bohème, one of the most popular operas of all time, tells the story of a struggling poet Rodolfo and his love for a seamstress Mimi who is dying from tuberculosis. A perennial tear jerker, it is one of Puccini's finest scores. In the past it was a vehicle for Melba and Caruso, Albanese and Gigli, Freni and Pavarotti and, more recently, Netrebko and Villazon, among many others of every generation.
At Covent Garden, Nicole Car has already sung Micaela in Carmen and Tatyana in Eugene Onegin. Her third role there is a very believable and touching Mimì. Car conveyed every aspect of the character, from the joyous infatuation with Rodolfo to the doomed heroine. Her expressive tone and superb technique were impressive from the quietest moments through to the passionate and glorious duets with Rodolfo.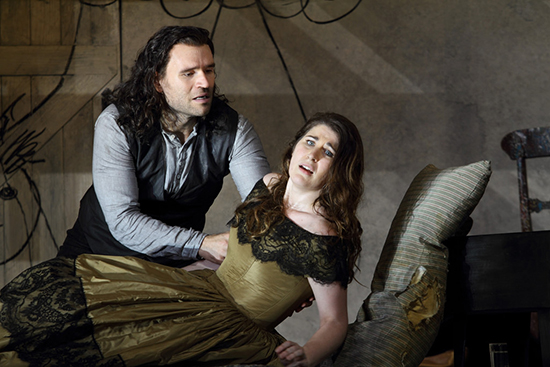 Michael Fabiano as Rodolfo and Nicole Car as Mimì in La Bohème (Royal Opera House, photograph by Catherine Ashmore)
Car was well matched by American tenor Michael Fabiano, a strong and confident Rodolfo for the most part, though at times he seemed more concerned with his own grief than with comforting the dying Mimì. Also notable were Romanian-born soprano Simona Mihai as an outrageously flamboyant Musetta and Polish baritone Mariusz Kwiecien as a volatile, artistic Marcello. The warring lovers not only sang well but provided some of the comedy which complements, rather than distracts from, the bittersweet core of the story. The ROH Chorus sang well and were impeccably turned out in attractive costumes for their Latin Quarter appearance. This provided a welcome relief to the heart-wrenching moments to come.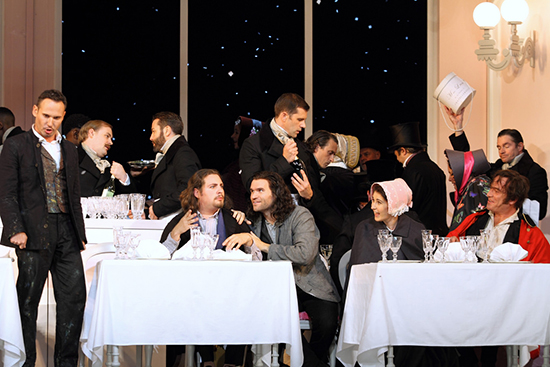 The cast of La Bohème (Royal Opera House, photograph by Catherine Ashmore)
Antonio Pappano, as usual, conducted superbly. He has made a specialty of Puccini; early in his career, he frequently conducted this opera in Brussels and Oslo. Pappano made his Royal Opera début in Copley's production in 1990. Pappano has diversified the company's repertoire considerably in his role as music director. He has planned three seasons ahead, but it's an open secret that he is contemplating a future beyond the Royal Opera House after 2020 – in particular guest conducting with other orchestras, as well as retaining links with Covent Garden, which has benefited enormously by his influence.
The Australian International Opera Award, this country's most prestigious and valuable operatic scholarship, provides a year's travel, board, and study at the acclaimed Wales International Academy of Voice (WIAV) under the leadership of international tenor Dennis O'Neill. WIAV is attached to the University of Trinity St David and based in Cardiff. It attracts the superstars of the opera world to give masterclasses; these include vocal studies, languages, drama, and stagecraft. WIAV is widely recognised as the best postgraduate school of its type in the world. The goal is to help prepare young professional singers for international careers in opera. Mildura-born soprano Siobhan Stagg, recipient of the Award in 2012, is one such example.
Siobhan Stagg is currently a member of the Deutsch Oper Berlin where her roles have included Pamina, Gilda (Rigoletto), Marguerite de Valois (Les Huguenots), and Sophie (Der Rosenkavalier). Although she sang the title role of Luigi Rossi's Orpheus for the Royal Opera at Shakespeare's Globe in 2015, her role as Pamina in Die Zauberflöte at the Royal Opera House marked her official début at Covent Garden.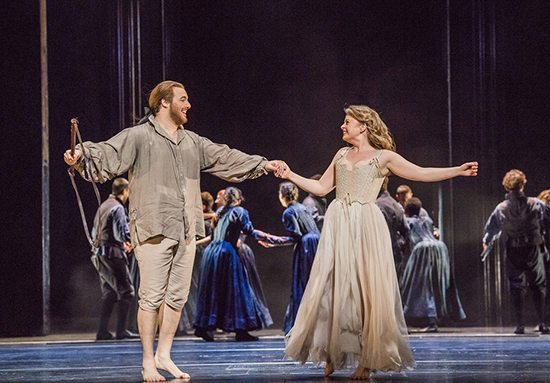 Mauro Peter as Tamino and Siobhan Stagg as Pamina in Die Zauberflöte
(Royal Opera House, photograph by Tristram Kenton)
Die Zauberflöte has been performed more than 300 times at the Royal Opera House. The sixth revival of David McVicar's 2003 largely traditional production is as timeless as ever – visually striking, with a well-matched cast. Designer John MacFarlane's sets and costumes fit well with the dreamlike world of its characters, and the seriousness is counterbalanced with comedy. Whether or not it is a Masonic allegory does not really matter, as the end result is as entertaining as ever and its audience appeal undiminished. It appeals to all age groups and, although sophisticated, it is highly accessible. It is an incident-packed tale of love, buffoonery, and solemnity, with vivid characterisations and a wide range of musical styles. The heroic lovers Tamino and Pamina overcome many obstacles, including the guileless Papageno, the cunning Queen of the Night, and the comically evil Monostatos.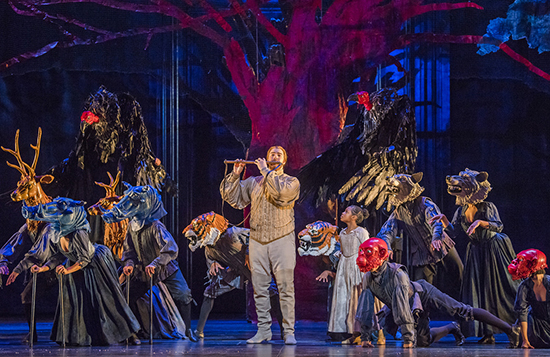 Mauro Peter as Tamino in Die Zauberflöte
(Royal Opera House, photograph by Tristram Kenton)
Siobhan Stagg gave a glorious performance as Pamina. It was a heartfelt portrayal of great poise with a voice of sensitive clear timbre and a flawless technique. Her Act II aria Ach, ich fühl's received rapturous applause, and deservedly so. Swiss tenor Mauro Peter was a well-suited and impressive Tamino, firm and rich-toned, with stylish phrasing to match. Baritone Roderick Williams was delightfully comic as the bird catcher Papageno, vocally secure and with a charisma reminiscent of Stan Laurel. French soprano Sabine Devielhe was an impressive and devious Queen of the Night, with all the necessary coloratura skills for her two main arias, whilst Finnish bass Mika Kares was an outstanding Sarastro. Peter Bronder was convincingly evil as Monostatos.
Julia Jones conducted well, though at times her tempi were brisker than one might expect. The orchestra performed at its usual high standard, the woodwind predominant, especially the flute!
La Bohème, a co-production with Teatro Real, Madrid and Lyric Opera of Chicago, continues at the Royal Opera House, London, until 10 October 2017. Performance attended: 11 September.
Die Zauberflöte (The Royal Opera) continues at the Royal Opera House, London, until 14 October 2017. Performance attended 12 September.
Screenings of recorded live versions of La Bohème and Die Zauberflöte will take place at selected cinemas across Australia. For session times, visit the Royal Opera House's Screenings page.
ABR Arts is supported by The Ian Potter Foundation.