Dance
Alice's Adventures in Wonderland (The Australian Ballet) ★★★★★
The Australian première of Christopher Wheeldon's Alice's Adventures in Wonderland, created on the Royal Ballet's brightest talents, was one of the happiest nights of ballet on record. It boosted The Australian Ballet's small repertoire of full-length narratives in which all the elements, from the grandest costume to the smallest choreographic detail, come together to create a fresh and unique experience.
Wheeldon is one of the world's most sought-after choreographers, a Tony Award and Olivier Award winner, and a resident artist at the Royal Ballet. Much responsibility hung on his shoulders when Alice first appeared in 2011; it was the Royal's first full-length narrative in twenty years. Initially, he was criticised for sticking to (an estimable) tradition, investing too much in effects, and not shaping a more questioning or assertive Alice, in keeping with Lewis Carroll's writing. But, as quoted in a program note, Wheeldon set out with a clear intention: 'I want[ed] to put on a good show.' And that he clearly did.
Jam-packed with magic tricks for the eye, the ear, and the heart, Alice is a cavalcade of Carroll's familiar characters and absurd circumstances writ larger than a small book could ever do. Choreographically, Wheeldon pours out dances in an effervescent stream of delicacy, complexity, and clear form.
Reshaped in 2014 into three acts, Alice is driven by British composer Joby Talbot's exciting score, thematically and structurally as quixotic and bizarre as Carroll's 1865 novel. At times it foretells the choreography through mysterious combinations of winds and strings, or brass and percussion, from ethereal whispers to comical alarums and bombastic marches. But the overall effect is voluptuous.
Every story needs a starting point. Whereas Carroll sends Alice down the rabbit hole in the novel's first page, Wheeldon opens Alice in the picturesque garden of a tall, stone house at Oxford University. Alice's poisonous Mother (Amy Harris) prepares a garden party. Alice (Ako Kondo) impetuously takes one of the famous jam tarts and gives it to her friend, and later love interest, Jack (Ty King-Wall), the gardener's son. Mother is incensed; to Alice's dismay, she accuses Jack of stealing the tart then promptly sacks him. Other guests gather, but Lewis Carroll (Adam Bull), who has just photographed Alice and her sisters, comforts her, until he springs a white tail, furry ears, and pink spectacles. Only Alice can see this disturbing transformation. Baffled by his disappearance into a huge orange jelly on the tea table, Alice follows him, tumbling through a long tube of black and white circles, until she lands in front a row of houses.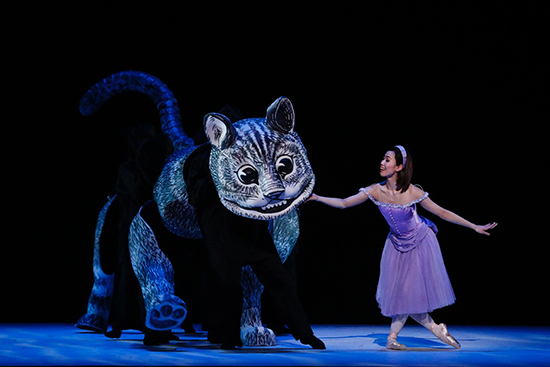 Ako Kondo as Alice in The Australian Ballet's Alice's Adventures in Wonderland (photograph by Jeff Busby)
Subsequent episodes follow Carroll's original order, and Wheeldon doubles key roles to good effect. Mother becomes the axe-wielding Queen of Hearts, Father (Steven Heathcote) the hen-pecked King, Jack the Knave, and the Rajah (Jarryd Madden) the sensuous Caterpillar. The monstrous Duchess (Ben Davis) is a classic pantomime dame on a pig-shaped throne, overseeing pigs being minced into ropes of sausages, while her maniacal Cook (Jacqueline Clark) terrorises all and sundry with two lethal cleavers. Even the Madhatter (Kevin Jackson), who tap-dances all through his party, looks slightly on the verge of hysteria. To reveal any more would be a spoiler. Suffice to say, the ever-snarling Queen, who dances a grotesque parody of the Rose Adage from Sleeping Beauty before Jack's trial, is almost the star of the show.
In fact, the star of the show is collaboration of the highest order, which has produced a banquet of special effects that turn story-book pages into theatrical worlds. Puppeteer Toby Olié replaces Alice on film, falling through the rabbit hole with a tiny puppet. Jon Driscoll and Gemma Carrington's projections on layered screens alter Alice's world at will, expanding to make her small. Later, her rapid growth severely squashes her inside a minute room. Her tears of frustration and fear become a sea of silky waves floating on the stage, and Alice's perpetual internal chatter is replaced by images of heritage type-faces and other symbols. On the floor, Natasha Katz's lighting shadows Alice's moody solos, or throws into glorious sunlight a joyous company of flower-headed ballerinas and handsome cavaliers bursting into her underworld. The design's crowning glory, though, belongs to Bob Crowley, winner of a Tony and many other awards, who has filled audiences' heads with memories they won't want to forget, like the collapsible Cheshire Cat puppet with an enormous, detachable head.
The opening night cast of dancers (and twenty extras) flourished in this crazy world, living Lewis's characters with renewed stagecraft. Orchestra Victoria, too, and its chief conductor Nicolette Fraillon, seemed refashioned by the many challenges posed by Talbot's huge demands. Everyone seemed to have enormous fun.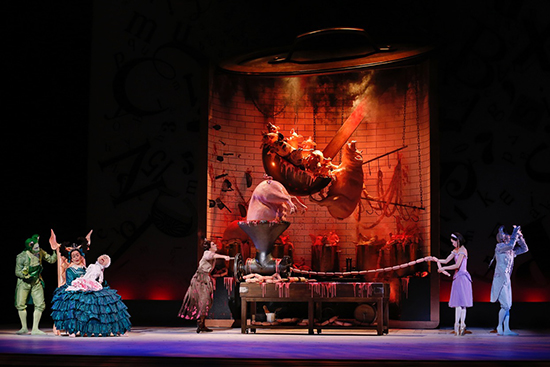 The artists of The Australian Ballet's Alice's Adventures in Wonderland
(photograph by Jeff Busby)
The second (steadier) performance was graced by Royal Ballet principal Lauren Cuthbertson, Wheeldon's Alice from the creation season, a ravishing dancer – fluid, lyrical, light, and feisty – whose charisma illuminates the stage. She is also a fine actor, from whom the whole company can learn much, not just Christopher Rogers-Wilson, Nicola Currie, and Bull will, who engaged with her most fully as Jack/Knave, Mother/Queen, and Lewis/White Rabbit.
If the first, noisy curtain calls didn't launch a standing ovation, the last of them certainly did, in a split second, with a burst of laughter and countless voices shouting, as the whole opening night cast, conductor, and production team held up shiny red YES cards above their heads. Never known to be blatantly political, this was a welcome move from The Australian Ballet.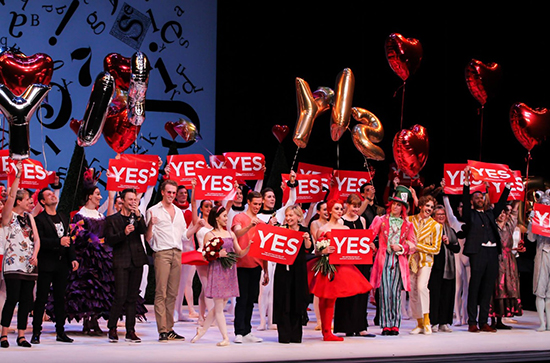 The curtain call of The Australian Ballet's Alice's Adventures in Wonderland
(image source: www.facebook.com/theaustralianballet/)
Alice's Adventures in Wonderland was performed by The Australian Ballet and choreographed by Christopher Wheeldon. It continues at the State Theatre, Melbourne, until 30 September, then at the Capitol Theatre, Sydney, from 5 to 22 December 2017. Performances attended: 12 and 13 September.
ABR Arts is generously supported by The Ian Potter Foundation.