Theatre
Apologia (Trafalgar Studios) ★★★
Kristin is a renowned art historian who has built a glittering career in the face of misogyny, developing an expertise that spans Renaissance frescoes and African tribal headdress. All the while she has remained true to the ideals of her activist youth: anti-establishment, anti-capitalist, anti-war, anti-religion, and feminist.
She is also a horrible mother. Her just-published memoir misses no detail of her professional life, yet fails to mention her sons. Peter is an investment banker with a specialty for lopsided deals with vulnerable developing nations. Simon is a depressed, failed author. Both resent Kristin for abandoning them as children to their father, seeming to choose professional glory over maternal responsibility. Neither, it seems, has ever shared their feelings with their mother.
In Apologia, Alexi Kaye Campbell's second play, we join Kristin on her birthday as she prepares somewhat half-heartedly to entertain her sons and their girlfriends. A faulty oven and a half-cooked chook presage an inevitable descent into recriminations among Kristin, Peter, and Simon for pasts they feel have been stolen from them. Peter arrives with Trudi, his ingénue of a girlfriend whose Minnesotan evangelism presents an easy target for Kristin's barbs. Claire, Simon's feisty girlfriend and a soap star, presents a less malleable foil, while Kristin's gay best friend and fellow activist Hugh joins the celebration but somehow never quite fits in.
This is the first revival of Apologia, which premièred off-West End in 2009 and was presented as part of Melbourne Theatre Company's 2011 season. It reunites Campbell with director Jamie Lloyd, who directed Campbell's début play, The Pride (2008), which also considers the long arm of the past.
The cast of Apologia (photograph courtesy of Trafalgar Studios)
Campbell has an unmistakeable talent for beautiful, poignant writing. When Trudi confesses her puzzlement at Kristin's lack of faith, Campbell gives Kristin perhaps the most evocative speech of the play. Depicting Giotto's emergence as an artist in deeply personal terms, Kristin passionately defends humanism and leaves Trudi (and most of the audience) wishing they had become art historians. It is at these moments that Campbell excels, where he gives himself and his characters space to reveal themselves and time for that revelation to be taken in.
But Apologia is let down by a reluctance to step beyond derivative tropes. Kristin resembles a lucid if slightly less intriguing Violet Weston, the vicious matriarch in Tracy Letts's August: Osage County. Trudi is a one-dimensional sketch of Honey in Edward Albee's Who's Afraid of Virginia Woolf?. The cross-talk at the climax of the first act, the dinner party where tensions finally spill into the open, attempts a poor imitation of Mamet-speak. And despite Desmond Barrit's considerable talent and valiant performance, Hugh never really transcends pantomime, a character trotted out with camp one-liners that increasingly come to be annoying distractions. It is as if Campbell aspires to a sort of Alan Ayckbourn-style treatment of his topic but veers too wildly between extremes of humour and intense emotion to achieve it.
We are left with a bundle of threads not simply untied but barely tugged. What should we make of Kristin's history of radical activism in the 1960s, for instance? The upheavals of that period consume the program notes and infuse the interval music. It is beautifully evoked by Soutra Gilmour's set, down to the last macramé hanging pot and spider plant. But the connection to the play's central themes, or even to Kristin's motivations, is hard to discern. We are offered a tantalising glimpse when Hugh takes Peter aside in the final moments of the second act to defend Kristin's choices. 'I was there,' he incants. We expect – finally – some insight into Kristin's younger self. But we never discover where 'there' was or why it mattered.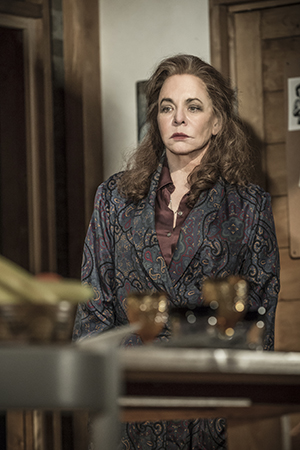 Stockard Channing in Apologia
(photograph courtesy of Trafalgar Studios)In such circumstances, venturing to consider performances risks unfairness. But Stockard Channing's masterful interpretation of Kristin cannot pass without some mention. She overcomes the deficiencies in the character's construction to deliver a portrayal that is at once sympathetic and unvarnished. We come to see Kristin's sharp tongue and occasional cruelty, for better or worse, as an extension of the intellectual acuity that is fundamental to the practice of her vocation. We are left with a nuanced understanding of just how strongly bound together her professional ambition and her sense of maternal responsibility and guilt really are. Laura Carmichael as Trudi manages to find depth in a character that is most often deployed as a clumsy storytelling device. Freema Agyeman as Claire offers a compelling stage presence that nicely balances Channing. They more than make up for Joseph Millson's rather shouty and unconvincing portrayal of Peter and his overacted performance as Simon (he plays both sons).
Apologia is a maddening play as Campbell takes us again and again to the brink only to choke and resort to farce, as if to apologise for troubling our emotions. A more thoughtful approach to direction, given this redoubtable cast, may have made up for the difficulties that Campbell's script throws up. As it is, this production has a watchable quality but never realises its potential.
Apologia (Trafalgar Studios), written by Alexi Kaye Campbell and directed by Jamie Lloyd, continues at Trafalgar Studio 1, London, until 18 November 2017. Performance attended: 4 August.
ABR Arts is generously supported by The Ian Potter Foundation.