Theatre
Kindertransport (Darlinghurst Theatre Company) ★★★
'The past is never dead. It's not even past.' William Faulkner's much-quoted line from Requiem for a Nun (1951) could be the subtitle for Diane Samuels's play Kindertransport, first performed in London by the Soho Theatre Company in 1993, which has just opened at the Eternity Playhouse, in Sydney. It is shocking to have to concede that with the many unaccompanied children who have been evicted from their homelands and are on the move today, Kindertransport is more relevant now than when it was originally produced.
In 1938, after the brutal destruction of Kristallnacht made the Nazi's intentions towards the Jewish population of Germany and Austria horrifyingly clear, the British government was pressured into permitting the temporary admission of ten thousand unaccompanied children into the United Kingdom from Germany, Austria, and later Czechoslovakia and Poland. This presented Jewish parents with a heartbreaking choice – either to send their children alone to a foreign country, with no control over how they might be received, or to keep them at home and face an increasingly uncertain future. Samuels's play explores the consequences of one family's decision.
Samuels deals fluidly with time. At the play's beginning, on one side of the stage, Helga, a young Jewish matron in Hamburg in 1938, is attempting to teach her soon to depart nine-year-old daughter Eva some self-reliance by learning to sew, while on the other, in 1990s London, we meet the very British Evelyn who is trying to encourage and equip her daughter Faith for life away from home. The themes of parental responsibility and the sense of abandonment felt by both parent and child are clear from the start.
Eva survives a tense journey to England during which she is menaced by a Nazi border guard and meets up with the kind-hearted Lil, who quickly becomes a surrogate mother. Beneath her childish bravado, Eva's vulnerability is close to the surface and when, as the war is about to begin, the authorities arrange for the children of London to be evacuated and she finds herself once again being put on a train and waved goodbye by a trusted adult she panics and jumps from the train, determined not to be abandoned again. Since we find it out early in the play, it is hardly a spoiler alert moment to admit that Eva morphs into Evelyn, a woman so determined to put the past behind her that she has never told her daughter about her background. It is Faith's shattering discovery of the truth that drives the other half of the play.
Samuels adroitly weaves the past and present together but some of the confrontations seem a bit contrived and the theme of the Ratcatcher, an evil version of the Pied Piper, which resonates throughout the play, is rather underdeveloped. However, the devastating effect of Eva's journey on all the characters rings true. Unfortunately, the director, Sandra Eldridge, has softened and sentimentalised Samuels's bleak ending.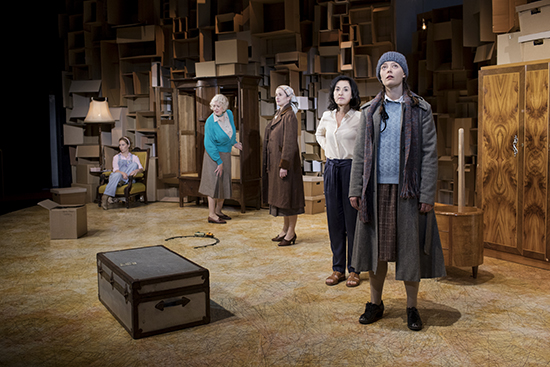 The cast of Darlinghurst Theatre Company's Kindertransport (photograph by Philip Erbacher)
The cast make the most of their opportunities. As Lil, Annie Byron overcomes the drawbacks of an unfortunate wig and a Manchester accent that comes and goes and gives us a warm but forthright Lil. Harriet Gordon-Anderson's Faith is a young woman who, at the moment when she needs to break free, is completely thrown by unexpected revelations. Emma Palmer, as Helga, is particularly fine in a ghostly, overwritten but powerful climactic confrontation with Evelyn at the play's culmination. Camilla Ah Kin's brittle, prickly Evelyn is never really able to let down her guard with her daughter and can only relax with Lil, though even in that relationship resentment runs deep. But the heart of the play is Sarah Greenwood's magnificent Eva. Greenwood takes Eva from the age of nine to seventeen. She shows us the girl's courage, vulnerability, and determination hardening into the defensive, guarded creature that she will become. She is especially moving as she stubbornly waits at a Manchester railway station for the train on which her parents will never appear. The cast is completed by Christopher Tomkinson, who plays the Ratcatcher and various other unsavoury male characters.
In spite of the play's flaws and Sandra Eldridge's rather undercooked direction, the basic emotional honesty of Kindertransport and its splendid cast make it a worthwhile evening.
Kindertransport (Darlinghurst Theatre Company), written by Diane Samuels and directed by Sandra Eldridge, continues at the Eternity Playhouse, Sydney, from 28 July to 20 August 2017. Performance attended: 3 August.
ABR Arts is generously supported by The Ian Potter Foundation.