Theatre
Ink (Almeida Theatre) ★★★★★
Rupert Murdoch is one of those towering but flawed figures of power beloved of dramatists. Shakespeare would have used him, if he'd had a time machine. David Williamson had a go in his play Rupert (2013), and he is reported to be writing a screenplay for a US television mini-series. Now the Brits have tackled him, in the shape of James Graham's play Ink, which has had its world première in London at the Almeida Theatre. Graham takes us back to the 'Dirty Digger' days in 1969, when a younger pre-phonetap-scandal Murdoch, fresh out of Australia, took over a moribund rag called The Sun, jacked up circulation to stratospheric levels, and permanently changed not only Fleet Street but the whole of Western print media. And he was only getting started.
Perhaps the most surprising thing about this splendid play, so well served by Rupert Goold's lively production, is that travelling with Murdoch is such an enjoyable ride. The story is a variant on the legend of Faust, with The Sun's new editor Larry Lamb as a dour Yorkshire Faust and Murdoch as a brilliantly seductive Mephistopheles – brash, foul-mouthed, impatient with old-school journalism and determined to give the readers what they want. He might be a devil but he has all the best tunes. You start to wonder whether he might be right.
As an old hack myself, I felt right at home with the nostalgic aspects of the scene: the smoky, scruffy newsroom, with everyone bashing away at typewriters; the pouring of hot metal and the roar of the presses; the assortment of recognisable newspaper characters, from the woman's page editor, tougher than most of the men, to the prissy deputy editor whose idea of fun is adapting the lesser-known works of Émile Zola (there's always a frustrated intellectual on every tabloid).
However, you don't have to be an insider to appreciate this drama. You don't even have to know all that much about newspapers. At the heart of the story is an intensely contemporary dilemma: what happens when you let the populist genie out of the bottle? This is one very significant step on the road that led to Donald Trump, to the everyone's-a-journalist world of the internet, the likes and the clickbait and the fake news.
But what fun it is, what a romp. What a battle with their arch rivals, the Daily Mirror, and its old-school editor Hugh Cudlipp's ideal of a campaigning working-class paper putting pressure on the UK government to improve the lot of the people. Murdoch and Lamb make Cudlipp look stuffy as they steal his thunder and delight in saucy stunts such as Pussy Week (it's about cats) and headlines such as 'Headless Body in Topless Bar'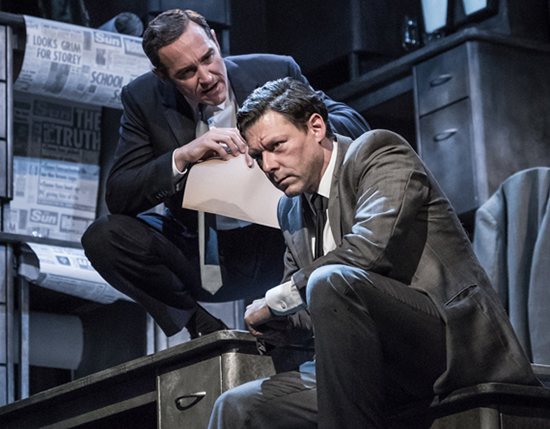 Bertie Carvel as Rupert Murdoch and Richard Coyle as Larry Lamb in Ink
(Almeida Theatre)
Cudlipp fumes and warns that if you are going to pander to basic instincts, you will have to keep feeding the beast. And so it proves. After the interval, things get considerably darker as Lamb, at first a reluctant convert, begins to out-Murdoch Murdoch in his zealotry. A tragic kidnapping comes much too close to home. But the darkest scene comes when Lamb, full of a very British embarrassment, tries to persuade one of the paper's glamour models to become the first Page Three girl. This is all the more effective because it is a subtle to and fro that refuses to reduce the girl to a victim. And yet we sense that a fatal line is being crossed that is about much more than bare breasts.
Broadly we know this story, if not the finer details. What enchanted me was the exuberant seduction, that feeling that Orson Welles as Citizen Kane summed up in a similar story of a great media mogul sinking into corruption, when he said he thought it might be rather fun to run a newspaper. Clearly it was fun, until that genie got out.
One of the chief pleasures of this production is the performances, which are uniformly fine, but the outstanding scenes lie in the crackling tension between Richard Coyle's Larry Lamb and Bertie Carvel's Rupert Murdoch. Carvel lights up the stage as the Dirty Digger, with his slightly stooping walk, his easy assumption of power, his fiendish way of turning the tables: 'That's what you taught me,' he keeps telling Lamb, branded with a double mark of Cain – a mysterious scar on his forehead and a faceful of printer's ink.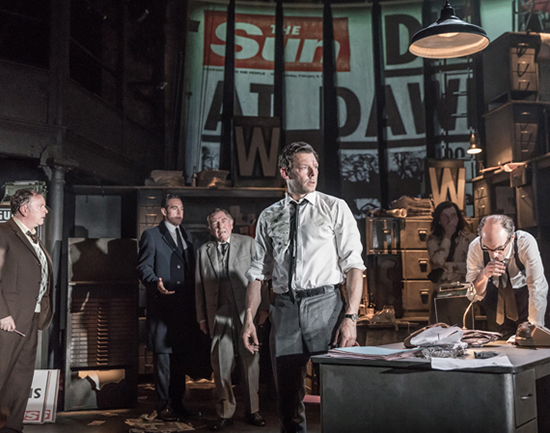 The cast of Ink (Almeida Theatre)
With a play that is at once universal and also very specific in its appeal, Ink will surely be picked up soon in Australia. We should all have a chance to see this study of 'our own Rupert': revolutionary, iconoclastic, a force of nature. Devilish, certainly, and yet you can't sheet all the blame home to him. He wanted to sell lots of papers, he picked an editor to do his work, dirty or otherwise, and then he moved on, leaving his indelible mark.
Ink, written by James Graham and directed by Rupert Goold, continues at the Almeida Theatre in London until 5 August 2017. Performance attended: 2 August.
Jane Sullivan has been a print journalist in Britain and Australia for more than forty years. She has never worked for Rupert Murdoch.
ABR Arts is generously supported by The Ian Potter Foundation.