Music
Turangalîla-Symphonie (Australian World Orchestra) ★★★★
Since 2011 many senior Australian musicians from international orchestras have gathered each year to form the Australian World Orchestra. This year's project included a national tour of a chamber ensemble of eight (AWO Chamber 8), with masterclasses and lessons to young musicians. The culmination was this performance by the whole orchestra in collaboration with the Australian National Academy of Music (ANAM) of Olivier Messiaen's behemoth and rarely performed Turangalîla-Symphonie, directed by Simone Young in Hamer Hall, Melbourne.
Olivier Messiaen's Turangalîla-Symphonie, literally translated from the compound Sanskrit word 'turanga' (speed, different concepts of time – backwards and forwards) and 'lîla' (the play of creation on a cosmic scale) was composed between 1946 and 1948. At the conclusion of World War II, the French composer (1908–92), a repatriated prisoner of war, was flattered to receive a commission from Serge Koussevitzky at the Boston Symphony Orchestra, one that came free of any stipulations. Messiaen's conception was a grand composition celebrating optimism, hope, and progress. The first performance was conducted by Leonard Bernstein on 2 December 1949. The American didn't seem to care for it; he never conducted it again. Messiaen described his composition as 'superhuman, overflowing, dazzling and abandoned'. One critic dismissed it as 'Hollywood trash'.
The work boasts epic proportions. Requiring more than 100 musicians, it is formed in ten movements and takes eighty minutes to perform. Neither a symphony in the traditional sense nor a concerto but something in between, Turangalîla was a précis of Messiaen's compositional technique developed over the previous two decades, gathering influences from East and West. Principally, his tonal language stemmed from seven modes (neither major or minor scales, containing inner symmetries). His attraction to these symmetrical modes stems partly from the heightened sense of tonal ambiguity they offer, a tonality that can be either supported or left hovering and unsettled. Birdsong was just beginning to enter his music. Hindu rhythms also feature. There are hints of Serialism or mathematical structuring of values. The composer also had a fascination for how colour relates to specific sounds or combinations of sounds. Sometimes scales and voices are juxtaposed to create a kaleidoscopic effect or sonic spectra that were quite specific in the composer's mind.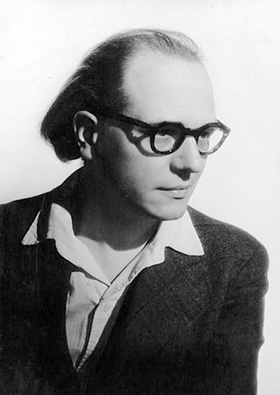 Olivier Messiaen (Wikimedia Commons)Controversially, however, it has to be said that the work has a very individual sensibilité, often outrageously unrestrained, psychedelic, and lurid in colour; this led to suggestions of kitsch or camp. Pierre Boulez came to regret his backstage quip after a preview of three movements in Paris before the US première that it was 'music for the bordello'. Mark Swed's 2010 review in the Los Angeles Times is worth quoting: 'An 18-wheeler of a symphony on a joy ride, the Turangalîla [has] French plates, Sanskrit graphics, the eerie whine of a UFO, horsepower and torque you wouldn't believe, [and] a voluptuous sleeper in the cabin for euphoric sex.' Unfettered sensuality might aptly describe the true message of the work.
The historical context of the work is a story of conflicted emotion: Messiaen's first wife, Claire Delbos, suffered from dementia from the early 1940s. Pianist Yvonne Loriod (1924–2010), for whom the work was written, was a student in Messiaen's class from 1941 and they soon fell in love. Delbos died in 1959, and Loriod and Messiaen were finally married in 1961. The work hints at the agony of unfulfilled erotic longing between Messiaen and his young student, both devout Catholics. Three works were composed at this time that dwell on the story of Tristan and Isolde: Harawi (1945), an impassioned heartfelt farewell to his wife, where the tale is transposed to the Andes; Cinq rechants (1948); and the Turangalîla-Symphonie.
The work develops as a sequence of layers that are both juxtaposed and superimposed, sometimes simultaneously forming gigantic, implacable, machine-like textures of apparently independent material. I have wondered if this could be read as symbolic of the composer's religious faith, where independent mosaic pieces or units of creation make up a greater divine whole, each part individual, characterful, and perfect in its own way. One could take this analogy further to suggest that Messiaen's music occasionally needs to sound as a massive ensemble of soloists performing together rather than what we might expect as a homogenised orchestral sound.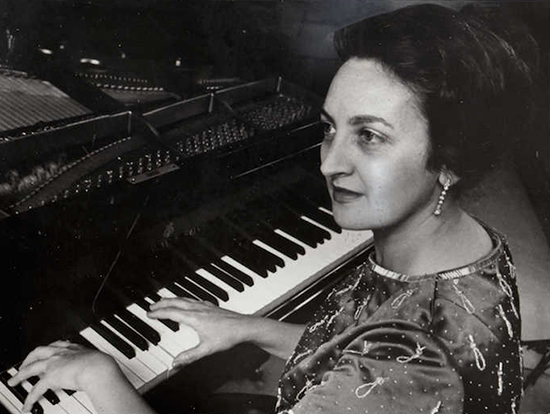 Yvonne Loriod (image courtesy of www.oliviermessiaen.org)
For this performance, ANAM's head of piano, Timothy Young, took the solo piano part. The piano is not used as a concerto instrument but as an extension of percussion leading a 'gamelan' grouped ensemble, including celeste and glockenspiels. Here, the spatial separation of this 'gamelan' made balance difficult, with the celeste, in particular, difficult to hear, the instrument being normally placed just behind the pianist. This is the first Messiaen I have heard Timothy Young play, and I found his performance perfectly understood and expertly realised. Often overlooked is that the modes of limited transposition each have their characteristics that need to be understood and savoured through careful voicing. Timothy Young's playing scampered both playfully and delicately, but it had plenty of aggression and grunt when needed in the granite depths of the Steinway's lowest octaves, such as at the conclusion of Développement d'amour. His elegantly articulated and shaped birdsong in the dreamy Jardin du Sommeil d'amour against lush, hushed strings was exquisitely conveyed, time also standing still for the ecstatic starscape conclusion to Chant d'amour 2.
Simone Young, who has conducted the work several times, refers to it as being 'close to her heart'. Her reading was certainly expressive and energetic throughout, though there were lapses of accuracy. Occasionally, entries of chords were ragged and phrases were simply not together, such as within the fortissimo love songs of the Développement d'amour and Final. Common to all the composer's organ and orchestral compositions, throughout the work there are massive, block-chordal progressions, such as at the end of the Introduction. These contain exquisite dissonances that need to be ecstatically enjoyed, but here they seemed delivered merely as in time and in tune.
The percussion section was generally excellent but sometimes lacked prominence, flavour, and character; I have always heard the temple block and maracas as being more colourful and soloistic. Jacob Abela's humming ondes Martinot, an early electronic keyboard, provided loads of sensuous vibrato and swooping portamento through a detailed, left-hand touche d'intensité. In several movements, though, the sound was simply not loud enough, particularly when accompanying the boisterous orchestral tuttis. The shrill, full-keyboard glissandos of Turangalîla I need to raucously cut through the thunderous orchestral texture. The pert piccolo and bassoon playing in Chant d'amour I and 2 delighted, as did some very fine shaping and shading from principal clarinet and flute in Jardin du Sommeil d'amour.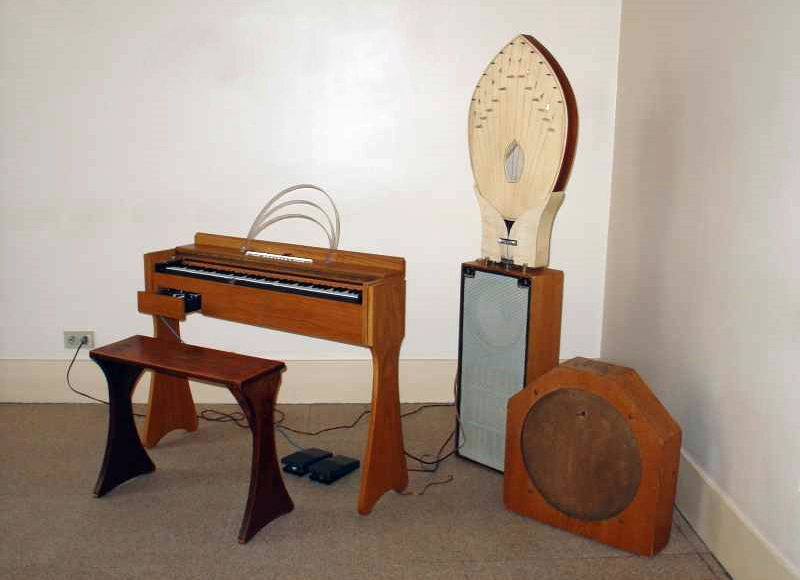 The ondes Martenot (Wikimedia Commons)
In the fifth movement, Joie du Sang des Étoiles, marked Vif, passionné avec joie, the entire ensemble finally let rip. It sounded like an outrageous, monstrous hoedown, with Simone Young's feet often lifted from the conductor's podium. This uproarious rendition featured some of the most satisfying playing of the concert. The ebullient tenth movement concluded in a joyous blaze of the composer's favourite key, F sharp major. To quote Messiaen himself, 'glory and joy are without end'.
The work and performance were accorded rapturous applause and a standing ovation.
Olivier Messiaen's Turangalîla-Symphonie, presented by the Australian World Orchestra and conducted by Simone Young, was performed at Hamer Hall, Arts Centre Melbourne on 29 July 2017.
ABR Arts is generously supported by The Ian Potter Foundation.