Film
The Trip to Spain ★★★★
Michael Winterbottom's three Trip films are, in essence, all the same: two middle-aged men motor through beautiful locations around the world and eat sumptuous meals in high-end provincial restaurants while impersonating celebrities, sniping at each other, and complaining about various physical and emotional ailments. On paper this doesn't sound enthralling, especially three times over, and yet each film is a thoughtful character study exploring themes such as ageing, family, love, and the need to be loved – without taking itself too seriously.
In this latest installment, Steve Coogan and Rob Brydon (who play approximations of themselves) have been commissioned by The Observer to review Spanish restaurants from Santander in the north to Málaga in the south. Coogan, fresh from filming a US television series, now seeks acclaim as a writer, and decides to document his journey in the style of Laurie Lee's As I Walked Out One Midsummer Morning (1969). Brydon's star is rising, having been cast in the lead role of a (fictional) Michael Mann film in the previous The Trip to Italy (2014). He now has two young children and leads a happy domestic life, whereas Coogan is in a tenuous relationship with his now married former lover Mischa (Margo Stilley). As the two men wind their way from the verdant Basque region to the parched, golden hills further south, they engage in a seemingly never-ending game of one-upmanship through congenial banter, loud impersonations in quiet restaurants, and sing-alongs in Coogan's Range Rover.
The film's heart lies in the mostly improvisational back-and-forth between the two leads. Brydon (Sancho Panza to Coogan's Don Quixote) is the most affable of the pair, and often sabotages Coogan's sincere musings with comic observations and over-the-top, spontaneous imitations of celebrities including Al Pacino, Mick Jagger, and Roger Moore. In The Trip (2010), the first in the series, these were often met with Coogan's pained sigh or outright condescension, but now he is more willing to dive into the role-plays, suggesting a growing affection for Brydon, who, at one point, remarks in a Bond villain voice: 'Come, come, Mr Coogan. I think you're beginning to thaw.'
The Trip to Spain is a visual feast, treating its audience to spectacular architecture, epic landscape shots, sweeping into locations like Cuenca's sixteenth-century convent overlooking a gorge, or inviting viewers to sit on balconies with the duo overlooking vistas at sunset. Many of Coogan and Brydon's improvisational set-pieces took place in upmarket eateries, and were bookended by shots of courses being prepared and served, mid-banter: plates of chorizo, rows of prawns and slices of capsicum, buttery fillets of fish, beef chops and lamb cutlets, and vino – lots of vino. Despite being commissioned to write about the cuisine, Coogan and Byrdon are never seen taking notes, aside from making exclamations like 'wow' or 'that's life-affirming butter'. Their assignment is clearly a pretext for Brydon to escape his domestic duties for a while, and for Coogan to reconnect with his twenty-year-old son, who is scheduled to meet them later in the journey. It is also an excuse for the two friends to get together again, though neither would admit that.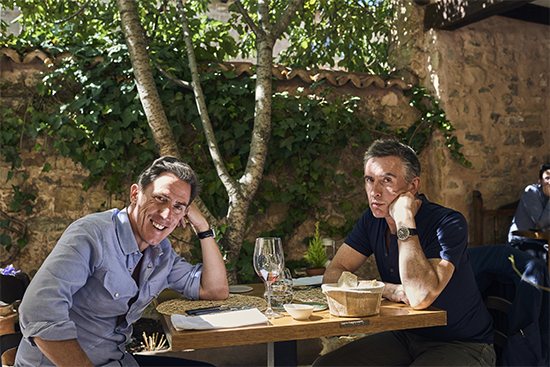 Rob Brydon and Steve Coogan in The Trip to Spain (Madman Entertainment)
Both men, now in their early fifties, are acutely aware of their mortality and determined to cling on to their youth. 'We're like teenagers', remarks Coogan, '... we're at the sweet spot in our lives ... we're ripe', to which Brydon concurs, 'Fifty is the best age'. Fear and desperation bubble beneath the surface. Brydon is more content with his lot in life; Coogan is in a constant state of flux. His desire to be taken seriously as a writer, now that he has 'conquered' the world of acting and been nominated for two Academy Awards (a fact of which he constantly reminds Brydon), leads to vexed phone confrontations with his LA and London agents, the latter of whom offers to pair Coogan up with an 'up and coming' co-writer for his television script, to which Coogan angrily exclaims, 'I've already up and come!'
Those expecting something new from The Trip to Spain will likely be disappointed. Elements of the previous films are brought back in an almost tongue-in-cheek fashion. For the third time, Coogan's assistant Emma (Claire Keelan) and The Observer's photographer Yolanda (Marta Barrio) join the pair halfway through the journey. Keen-eyed viewers will notice that the film's lighting becomes warm and bright when the four are together, as does Coogan's overall demeanour. Again, Brydon's impressions at the dinner table go into overdrive in the presence of the women. And once again there is sexual tension between Coogan and Yolanda.
Michael Nyman's delicate piano compositions are once more scattered throughout the film. Although songs like 'Franklyn' and 'Jack' are more suited to the wintry English north depicted so elegantly in the first Trip, they add poignancy to long shots of Coogan's lonely Range Rover crawling like an ant along winding roads and hillsides between the laughter and the banter.
Steve Coogan and Rob Brydon in The Trip to Spain (Madman Entertainment)
Although Winterbottom's two most recent Trips are essentially 'reheated leftovers' from the first film, they are nonetheless satisfying, and feature entertaining and completely natural performances from all the actors. As they part at the end, Coogan says to Brydon, 'See you in another country'. In all likelihood, the impressionists will be making more of these journeys well into their twilight years, griping about new aches and pains – and that's not a bad thing.
The Trip to Spain (Madman Entertainment), 120 minutes, directed by Michael Winterbottom, opens nationally on 3 August 2017.
ABR Arts is generously supported by The Ian Potter Foundation.