Advances
The Update - July 18, 2017

Recent ABR Arts reviews
Kaufmann in Parsifal
German tenor Jonas Kaufmann came, saw, and conquered when he made his Sydney and Melbourne débuts in 2014. Recently, Kaufmann made his début as Verdi's Otello at the Royal Opera House. John Allison reviewed it for ABR Arts, and noted: 'there is little getting away from the fact that Otello pushes Kaufmann to his limits and that he got through the evening by managing his voice carefully, as he always does.' Peter Rose, who attended the second night, having reviewed the Melbourne concert in 2014, found Kaufmann in pretty commanding form, helped by a thrilling performance from Antonio Pappano and his orchestra. Now Kaufmann returns to Sydney for three concert performances of Parsifal, a role he first undertook in 2013.
In these performances (August 9, 12, and 14), Kaufmann will be joined by Michael Honeyman, Warwick Fyfe, and Michelle DeYoung.
The Feuerle Collection
Heading to Berlin? The Feuerle Collection is one of the newest private collections in Berlin to be opened to the public. Housed in a former Nazi telecommunications bunker, subtly transformed by British architect John Pawson, it presents a selection of Désiré Feuerle's extraordinary Asian art collection. Highlights include fine Khmer sculptures (provenance not available, when ABR Arts enquired) and Chinese wood and stone furniture, all stylishly displayed and dramatically lit in a superb minimalist display. Feuerle likes mixing works from different cultures and epochs; the display also includes works by Anish Kapoor and photographer Adam Fuss. Visits are pre-booked by guided tour booked in advance and are limited to small groups.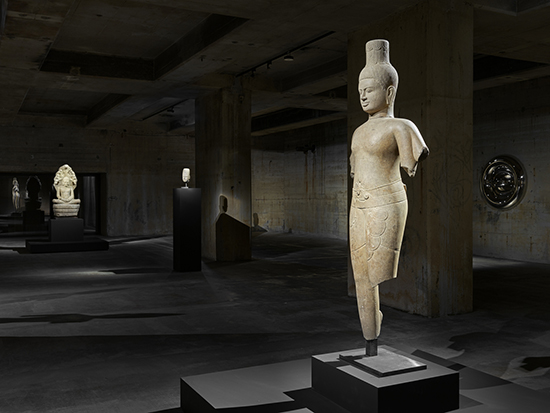 The Feuerle Collection (photograph by Holger Niehaus)
Pieter Wispelwey plays the Bach and Brahms Cello Suites
The great Dutch cellist Pieter Wispelwey returns to Melbourne with a remarkable three-concert program: successive performances of the Beethoven Cello Sonatas, the incomparable Bach Suites, and Brahms's Cello Sonatas (with pianist Caroline Almonte). The venue is the Melbourne Recital Centre and the dates are August 16, 17, and 18 respectively. Wispelwey will also perform the Bach Suites for the Sydney Symphony Orchestra at Angel Place on August 6 and 7. Courtesy of the Melbourne Recital Centre, we have one double pass to the Brahms concert (August 18) for a prompt new or renewing subscriber. See our giveaways section below.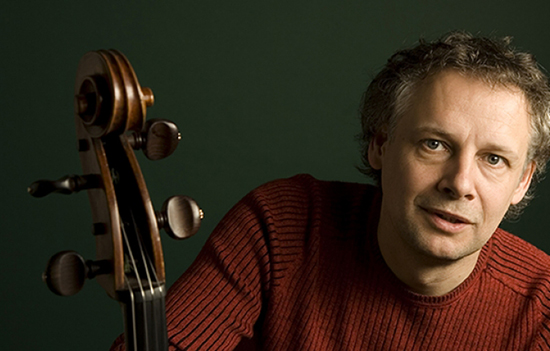 Pieter Wispelwey
MONA's 'anti-casino'
David Walsh has announced a $200 million redevelopment of his Museum of Old and New Art (MONA) precinct in Berridale, Hobart. 'HOMO' (Hotel Mona), a five-star 172-room casino, will be built on the existing site at Berridale, overlooking the Derwent River. Early concept art for the casino shows a large bronze-coloured steel and glass structure rising high above the architecture of MONA, the majority of which is underground.
'Some may think it's gotten a little out of hand ... but we seem to have some support,' said Walsh, '... and we can't rest on our laurels for ever.'
HOMO is to be built by Fender Katsalidis Architects who also built MONA, which was completed in 2011. According to Walsh, the build is expected to take three years from the commencement date, and will create 300 full-time construction jobs, as well as 120 ongoing full-time jobs.
The Pop-Up Globe in Melbourne (Vic)
A full-scale replica of London's second Globe Theatre will be 'popping up' next to Melbourne's Sidney Myer Music Bowl later this year. The three-storey, 900-person Pop-Up Globe will host performances of Othello, Much Ado About Nothing, Henry V, and As You Like It, as well as Around the Globe in 60 Minutes, a play about the Globe Theatre's history.
The first Globe Theatre was built in London by William Shakespeare's playing company 'The Lord Chamberlain's Men' (later renamed The King's Men) in 1559, before it burned down in 1613. One year later, the second Globe Theatre was built at the same site.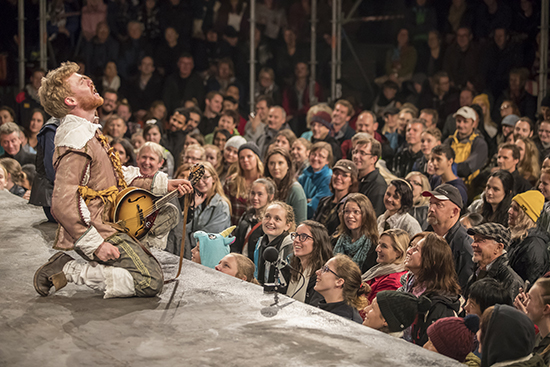 As You Like It being performed at the Pop-Up Globe
'We can't wait to welcome Melbourne audiences into to this unique space to experience Shakespeare like its 1614,' said the Pop-Up Globe's founder and artistic director Dr Miles Gregory. 'This isn't dusty Shakespeare. This is now. Alive. Like a party.'
The Pop-Up Globe season will run from 21 September to 12 November.
Kestin Indigenous Illustrator Award
Magabala Books is celebrating its thirtieth anniversary this year with the launch of its inaugural Kestin Indigenous Illustrator Award. The winner of the Award will be selected by Australian Children's Laureate Leigh Hobbs, and illustrators Bronwyn Bancroft and Ann James, and will receive $10,000, a mentorship and the opportunity to illustrate a children's story by author and illustrator Sally Morgan. According to Magabala Publisher Rachel Bin Salleh, the biennial award will 'support emerging illustrators to develop their craft, and encourage Indigenous artists who haven't illustrated before'.
The Award is funded by the Kestin Family Foundation, and application details can be found on the Magabala Books website.
Australian Dance Awards
The nominees for the 2017 Australian Dance Awards have been announced. Dance artists, educators, and administrators will vie for awards across twelve categories.
Nominees this year were involved in productions such as The Dark Chorus (Lucy Guerin for Outstanding Achievement in Choreography and Benjamin Hancock for Outstanding Performance by a Male Dancer) and Nijinksky (The Australian Ballet for Outstanding Performance by a Company and Kevin Jackson for Outstanding Performance by a Male Dancer), which were reviewed for ABR Arts
The awards ceremony, which will take place at the Arts Centre, Melbourne, on 24 September, will be preceded by Ancestors and Anecdotes: Forty years of Australian Contemporary Dance, an exhibition that pays homage to five dance pioneers: Carole Johnson, Cheryl Stock AM, Margaret Lasica, Shirley McKechnie AM, and Elizabeth Cameron Dalman OAM. Ancestors and Anecdotes will open at Lulu Gallery in North Melbourne on 21 September.
SALA Festival
More than 560 venues across Adelaide and surrounding regions, from 'pubs and cafés, wineries, bookshops, and even cemeteries', will be turned into pop-up art galleries for the South Australian Living Artists (SALA) Festival in August this year.
The Festival will feature 660 free exhibitions showcasing paintings, sculptures, jewellery, video, and multimedia by nearly 6,300 visual artists. Highlights include The Governor's Sculptural Garden, an exhibition at the gardens of Government House, featuring works by eleven sculptors; FRAN (Feminism Renewal Art Network) Fest, a statewide program of exhibitions and talks highlighting the work of South Australian women artists; and the SALA Gala Dada Dance, an 'absurd, avant-garde' fashion ball, inspired by the Dadaist art movement. The full program can be found on the Festival's website.
Australian Shorts at MIFF
Iranian-born writer-director Nora Niasari's Waterfall will be one of many short films to be premièred at this year's Melbourne International Film Festival (MIFF) as part of its Australian Shorts program, which features an array of diverse talent, on and off the screen.
Waterfall, a fifteen-minute short inspired by Niasari's personal experiences of growing up in Australia, follows a fourteen-year-old girl coming to terms with her Iranian mother's new Australian fiancé. The film features sound design from Livia Ruzic (Muriel's Wedding [1994] and Romeo and Juliet [1996]) and stars Australian actor Greg Stone.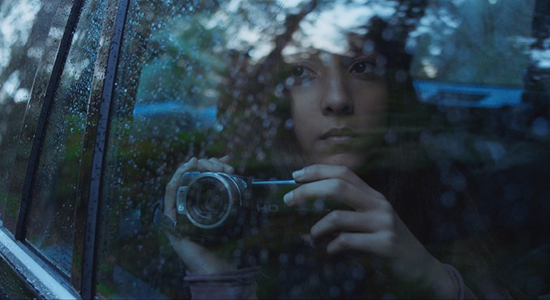 A still from Nora Niasari's Waterfall
(image courtesy of Melbourne International Film Festival)
Niasari began formulating the ideas for Waterfall while participating in a highly selective workshop run by Iranian filmmaker Abbas Kiarostami (Like Someone in Love [2013], The Certified Copy [2011]). Niasari's short film The Phoenix (2015) premiered at the 2015 Melbourne International Film Festival in the Accelerator program for emerging directors.
Other films in the Australian Shorts program include Audrey Lam's A River Twice, and Dylan River's Coat of Arms. The sixty-sixth Melbourne International Film Festival will run from 3–20 August 2017.
Boîte Millennium Chorus
Hundreds of voices will be raised in song for Haven, a multi-lingual concert by the Boîte Millennium Chorus, which consists of singers from 'the Seychelles, Africa, East Timor, Chile, the Caribbean, and the Indigenous nations of Australia'.
The themes of Haven are the concepts of 'refuge, freedom, and home, embracing change, and nurturing hope'. Highlights of the event include songs such as Goanna's 1980s hit 'Solid Rock' being performed by a 225-voice choir of Pitjantjatjara singers, and stories reflecting on the notion of 'haven' by Melbourne author and human rights activist Arnold Zable.
The concert will be performed at the Melbourne Convention and Exhibition Centre on Sunday 20 August at 2.30 pm.
Ballarat International Foto Biennale
Over sixty works by 'iconoclastic' American photographer David LaChapelle will provide the centrepiece for this year's Ballarat International Foto Biennale. LaChappelle is best known for his 'hyper-realistic, kitschy, and surreal' photographs of celebrities including Michael Jackson, Whitney Houston, and Courtney Love, which have appeared in magazines such as Vanity Fair, Rolling Stone, and Vogue.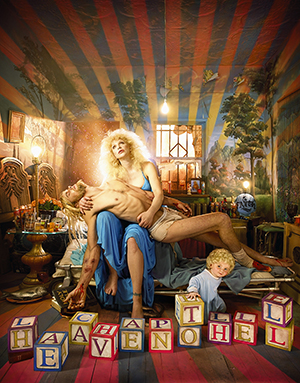 Courtney Love: Pieta, 2006, by David LaChappelle (image courtesy of Ballarat International Foto Biennale)'David LaChappelle is one of the rare photographers able to transcend the barriers between fine art and commercial photography, often with a profound social message,' said BIFB's Artistic Director Fiona Sweet, 'I am thrilled he has agreed to exhibit with us as an Australian first.'
Other highlights of the biennale program include TELL, an exhibition that shines a spotlight on contemporary Indigenous photographers; SELF/SELFIE, an exploration of the 'whimsical', 'narcissistic', and 'conformist' selfie phenomenon of the twenty-first century; and A Field Guide to the Stars, a series of 'snapshots of the galaxy seen with the naked eye, satellites, shooting stars, and rolling clouds', curated by Rebecca Najdowski.
BIFB will run from 19 August to 17 September, 2017.
La Sonnambula on demand
Victorian Opera's La Sonnambula has been made available to watch for free on The Opera Platform. It is the first Australian production to be streamed on the on-demand video streaming website, curated by Opera Europa.
'[Victorian Opera] aims to make opera as accessible as possible through a range of means, including digital technologies,' said VO's Managing Director Andrew Snell, '... this is another wonderful opportunity to showcase our work on the world stage.' La Sonnambula will be available on The Opera Platform until 31 October 2017.
La Sonnambula was performed at the Arts Centre, Melbourne on 5 May 2017, and was reviewed by Peter Rose for ABR Arts.
Giveaways
Thanks to Melbourne Opera, three new or renewing subscribers to Australian Book Review will receive double passes to Richard Wagner's Romantic opera Lohengrin at the Regent Theatre, Melbourne, on Monday, 7 August, at 7 pm.
Thanks to the Melbourne Recital Centre, one new or renewing subscriber will also receive a double pass to Pieter Wispelwey Plays Brahms at the Melbourne Recital Centre on Friday, 18 August, at 7 pm.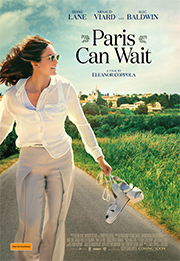 Thanks to Transmission Films, ten new or renewing subscribers will also receive double passes to Paris Can Wait directed by Eleanor Coppola, and starring Diane Lane and Alec Baldwin.
To be eligible for these giveaways, you must be a current or new paid subscriber to the print edition of ABR or to ABR Online. To be in the running please email Grace Chang at This email address is being protected from spambots. You need JavaScript enabled to view it. with your full name and contact details. Preference is given to subscribers who have not received a giveaway in recent months.