Music
Das Lied von der Erde and Schubert's Unfinished Symphony (Melbourne Symphony Orchestra) ★★★★
Schubert's most famous 'unfinished' work, the Eighth Symphony, is unconventional in a number of ways, its B minor key and the opening movement's 3/4 pulse not least of them. Mahler's grand Lied is a match in strangeness – setting, as it does, a miscellany of ancient, wry Chinese poetry to music that is supremely European, for all its oriental reference, and absolutely of its time – its tonal shifts signalling 'Twentieth Century' in music's equivalent of neon.
So it was an inspired piece of MSO programming to pair the Symphony and the great Lied. Schubert is never going to be mere curtain raiser, and in the MSO's splendid rendering on Thursday night, the Unfinished was an achieved whole, its melodies seamless and sublime, its great chordal progressions disturbing and challenging – as Schubert always is. In its characteristic alternations of profound and playful, sonorous and lyrical, it prepared the audience for the work to come. But it also lingered, like an indelible context.
I am sure most of the audience came to hear the Mahler. But the Schubert, particularly in this performance, with an orchestra in full voice and its strings under exquisite control – their extraordinary, recurring legato skeins of melody a revelation – was superb, and entirely satisfying. Unfinished? Who would ask for more than this integration of the celestial and terrestrial, transcendence and the percussive blood pulse of doom? I should mention MSO's clarinets and oboes, piercing and achingly beautiful, and the cellos – dark, rich, and almost too poignant to bear. On this occasion, an interval, even one spent silent in the stalls, was welcome – a moment to absorb Schubert's tumult and beauty before the sensory assault to come.
Mahler's title, Das Lied von der Erde, intimates a lyric pastoral, a song cycle in a grand tradition of evoking the natural world, full of longing and lyric pathos. But nothing about this monumental work is predictable, least of all its libretto. There is no herdsman wending his way into a benign landscape to ease you into the music. Instead, a brass fanfare and a tenor at full, strident stretch and wine beckoning in a golden goblet, (Schon winkt der Wein im gold'nen Pokale), but first he will sing you a song! The song of sorrow that shall resound laughingly in your soul. In the German, consonants predominate: Das Lied von Kummer / soll auflachend in die Seele euch klingen.
Stuart Skelton is a fine tenor, equal to the steep ascent of pitch and volume that the song (and insistent orchestration) demands. He is also able to switch gears after the rapid acceleration of the opening bars, and expand into the broad sonority of the song's refrain: Dunkel ist das Leben, ist der Tod (Dark is life, dark is death). The refrain is almost a relief, despite its sombre assertion. The orchestra pulls back a little from its frantic pace and the clash of sound subsides.
For this first song, Mahler uses the poetry of the eighth-century Chinese poet, Li-Tai-Po. Who can understand the subtleties and mood of the poetic original of this and the succeeding five songs (by different poets), given that they are strained through French and then German translations, and Mahler's own interpolations? Few, if any of us, I suspect– a tunnel for scholars to burrow in. What matters is the way in which Mahler has used his selection of these seven very different poems from Hans Bethge's (1876–1946) collection, Die Chinesische Flöte (The Chinese Flute). Mahler was too good an artist to be influenced simply by the prevailing fashion for Chinoiserie. The poems must have appealed to his sense of the extreme fluctuations of life and nature; their sentiments become springboards into a model of symphonic invention and vocal virtuosity. Sometimes the lyrics come as a shock, as in this first song, with its third-stanza descent into nightmarish vocal and orchestral imagery: Seht dort hinab! Im Mondschein auf den Gräbern / hockt eine wildgespenstische Gestalt. / Ein Aff ist's. (Look down there! In the moonlight, on the graves / crouches a wild, ghostly figure – / It is an ape!) And then the swerve back to Bacchanalian exhortation (echoes of Don Giovanni?): Jetzt nehmt den Wein! Jetzt ist es zeit, Genossen! (Now take the wine! Now is the time, friends.)
Here, the balance between orchestra and voice in Thursday's performance seemed sometimes awry. Skelton is a strong and dramatic interpreter, but not even his vocal presence could always prevail. In his two later songs, the interplay between voice and orchestra was more sympathetic, and in his vigorous, embodied reading of the lyrics and music, Skelton did suggest an irony in the original poetry that one hopes is there – if only to temper the emotional anarchy of the songs.
Mahler's own circumstances at the time – the death of his young daughter, his professional travails in a time of increasing anti-Semitism, and his heart condition – would be quite sufficient to explain an immersion in the darkness, edging towards nihilism, of much of the lyrics and music. But the strangeness, the ambivalence, the momentary visions of beauty in the Chinese lyrics, and Mahler's embrace of them, come together with darkness to compose a depth and complexity in the work that transcends despair. But conveying that richness, and seaming together the emotional extremes that the songs comprehend, is no easy task. Thursday's performance, admirable in so many ways from both orchestra and singers, did not seem to me to always achieve the work's elusive unity.
Where Skelton's performance was electric, Catherine Wyn-Rogers, with her beautiful pre-Raphaelite eyes fixed on eternity, was a study in stillness and decorum (even the sable silk velvet of her kimono-gown was à propos). Her performance had dignity, grace, and faultless articulation, crucial in these songs, which move so swiftly from one emotional register to another. Her voice is lovely, if not plangent, and grew more penetrating as the work progressed, culminating in a final, profound rendering of the Der Abschied (The Farewell). I think the whole audience sank with her in relief as she sat down for the orchestral interlude between the song's two parts (poems by Mong-Kao-Yen and Wang Wei), before rising again for the exactitudes of the final section and its lingering, heartbreaking ewig (for ever).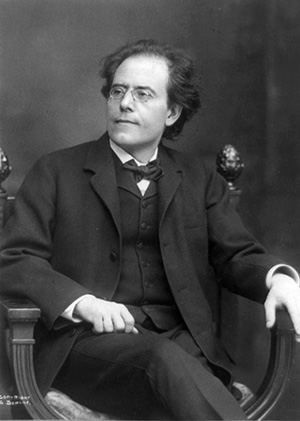 Gustav Mahler (Library of Congress via Wikimedia Commons)Mahler never heard Das Lied von der Erde performed. He died in May 1911, six months before his great friend, Bruno Walter, was able to conduct singers and orchestra for a performance in the Munich Tonhalle, on 20 November 1911. (Walter's 1952 Decca recording, with Kathleen Ferrier, Julius Patzak and the Wiener Philharmoniker, remains my favourite, although friends tempt me to the Otto Klemperer, Christa Ludwig, Fritz Wunderlich HMV recording of 1964–66). It is difficult to credit that a work of such range and complexity ('excessively modern' according to Henry Wood, who nonetheless conducted it in London in 1913) should have been heard only piecemeal by its composer. But then Beethoven never 'heard' his Missa Solemnis. So we are privileged the MSO's performance is there to remind us of Mahler's dramatic finesse and orchestral mastery, his knack for highlighting particular instrumental tonalities even in the great sweep of his orchestral structures. What a conductor he must have been himself!
And a man of what are still our times – fraught, alive to beauty, and too conscious of all that the world brings. Listening to Mahler, I was reminded of the related and resonant artistry of the London-born poet Isaac Rosenberg, who died on the Western Front on April 1918. This is the opening of his great poem, 'Break of Day in the Trenches':
The darkness crumbles away
It is the same old druid Time as ever,
Only a live thing leaps my hand,
A queer sardonic rat,
As I pull the parapet's poppy
To stick behind my ear.
Droll rat, they would shoot you if they knew
Your cosmopolitan sympathies.
There is an ideal world in which Gustav Mahler will set the poetry of Isaac Rosenberg, and Franz Schubert will smile.
Das Lied von der Erde and Schubert's Unfinished Symphony (Melbourne Symphony Orchestra), conducted by Andrew Davis, was performed on 29, 30 June, and 1 July, 2017. Performance attended: 29 June.
ABR Arts is generously supported by The Ian Potter Foundation.