Festivals
Dark Mofo 2017 (MONA)
Every winter for the last few years, Hobart has soaked itself in a shade of deep red and invited a mass of bodies to cavort and feast on its flesh for MONA's annual winter arts festival of 'darkness, light, birth, death, and renewal', Dark Mofo. Therefore, the performance by Viennese artist Hermann Nitsch, where a similar thing happened to a freshly slaughtered bull, should have caused little fuss. And yet, of course, it did. Nitsch's 150.Action was labelled 'perverse' by Hobart's Mayor Sue Hickey, who, along with the Australian Christian Lobby, questioned the Tasmanian government's decision to fund the event; Animal Liberation Tasmania started a petition, requesting an intervention from Hobart City Council, worried that it might 'reflect badly on the core values and image this city strives to uphold'; and the usual chorus of commenters plied their outrage on social media, and pointed to it as yet another example of how artists and the 'loony left' were morally bankrupt. Regardless, a nonplussed Nitsch went about his gory business in front of a select audience, behind closed doors, and the sun came up the next day.
Nitsch has been performing his Orgien Mysterien Theater, known as 'Actions' (the Hobart one was the 150th), since the birth of the Viennese Actionism art movement in the 1960s, where highly transgressive performance art pieces, often using the human body, were performed to live audiences. In Nitsch's Actions, a dense, dissonant keen of church organs and trumpets, punctuated by rolling timpani, provides the soundtrack to a precise ritual involving naked bodies, rope crucifixions, and copious amounts of blood, before an animal carcass is torn apart by a frenzied horde of participants. The end result is a series of objects and canvases called 'relics', splattered and flecked with blood and flesh. At a Q&A, Nitsch was asked about how he felt about the controversy that has always dogged his work. After explaining the conceit of his Orgien, and his aim of 'bringing the sensuality of poetry closer to the public' through imagery and music inspired by Nietzsche, Schopenhauer, Bach, Chopin, and John Cage, he simply shrugged, and after a long pause, replied, 'Some people like my work and some don't. What can I do?'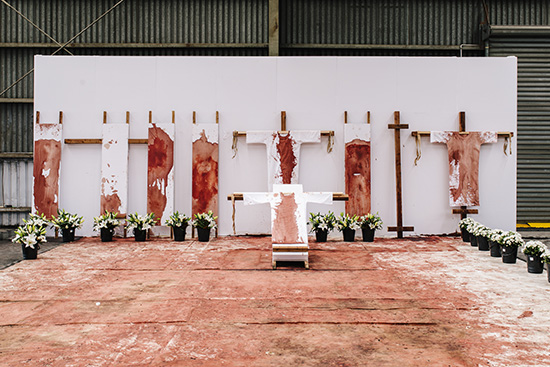 150.Action installation by Hermann Nitsch
(image courtesy of Dark Mofo/Lusy Productions
It is easy to dismiss the piece as 'just sick', as Mayor Hickey did – it is after all, a stomach-churning proposition – but to do so undermines how effectively Nitsch's work satirises the moral ethics of religious rituals and raises discussions about the relationship between culture and violence, while overwhelming the senses. Nitsch's childhood was coloured by the events of World War II, and one gets the sense that the piece was conceived as a catharsis for the German and Austrian people, still grappling with their conscience during and after those dark times.
Besides Nitsch's bloody performance piece, the second week of this year's Dark Mofo was characterised by thrumming, pulsating, electro-machinations of deep bass, metal, lasers, and light. Norwegian musicians Ulver performed their latest 'symphonic pop' album at the Odeon Theatre, The Assassination of Julius Caesar (2017), an exploration of modern human folly that takes aim at subjects across history as varied as Nero, Pope John Paul II, Charles Manson, and Diana, Princess of Wales. Frontman Kristoffer Rygg's soaring vocals, driven by synthesisers and pounding drums, were accompanied by a flawlessly choreographed laser show and digital screen projections.
At the same venue the following night, German industrial music pioneers Einstürzende Neubauten put on a rousing show that melded the chaos of their custom-built instruments (made of scrap metal and building materials) with frontman Blixa Bargeld's indefinable cool. At the beginning of almost every song, a new contraption, each as wonderfully absurd as the last, was wheeled out. Conventional bass and electric guitars and keyboards were paired with large plastic containers and piping taped together, a bucket of metal shards was dropped from atop a ladder, and metal sheets and bars of varying sizes produced thunderous drumbeats or delicate xylophone sounds depending on how they were struck. Over the past thirty-seven years, Einstürzende's oeuvre has evolved from discordant noise to more coherent and conventionally structured songs like the heavy, industrial 'Haus der Lüge', or the slow, hypnotic 'Total Eclipse of the Sun', with Bargeld's vocals shifting between deep-voiced drawl to a high-pitched shriek. Barefoot and wearing a sharp grey suit, he told anecdotes, at one point lamenting the fact the troupe weren't able to bring along a jet engine component (it was too heavy); instead they opted for a small contraption made from table legs found in a Berlin art museum. The set was capped off with 'Silence Is Sexy', a slow bass-line lounge song, punctuated with long moments of almost unbearable silence, where the entire band would freeze, before Bargeld drew in a long, crackling lungful of smoke, and resumed his seductive drawl to cheers and whistles from the crowd.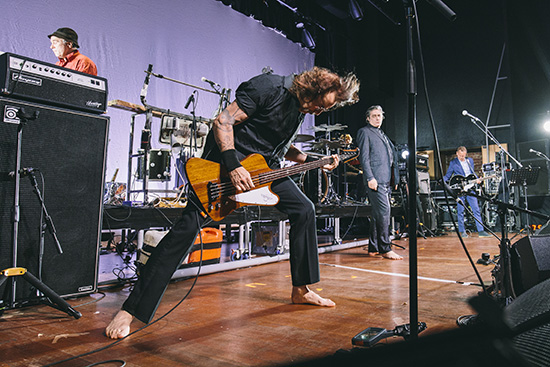 Einstürzende Neubauten at Dark Mofo 2017
(image courtesy of Dark Mofo/Lusy Productions)
Dark Park, the festival's 'public art playground', was dominated by Chris Levine's iy_project 136.1 Hz, a huge, technicolour laser installation, stretching across the park, with lights reaching nearly ten kilometres into the sky, and accompanied by a haunting, twinkling score by Marco Perry, matched, supposedly, to the frequency of the rotation of the Earth (136.1 Hz). In Dark Park's main warehouse, attendees patiently queued up for Alfredo Jaar's The Sound of Silence, a poignant silent film poem about the short, troubled life of Kevin Carter, the Pulitzer Prize-winning photojournalist who took the iconic 1994 photograph of a starving South Sudanese child being watched by a vulture.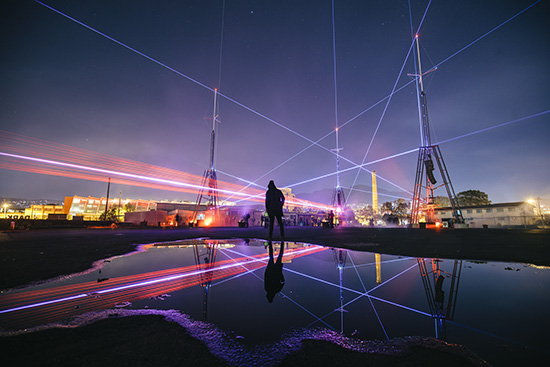 Chris Levine's iy_project 136.1 Hz at Dark Mofo 2017
(image courtesy of Dark Mofo/Lusy Productions)
The Purging ceremony, where participants write down their deepest darkest fears and regrets and place them inside a Balinese-inspired 'Ogoh-ogoh' effigy to be burned, was mercifully short. Last year's burning of the papier–mâché sea dragon involved a long, drawn-out pantomime. This year's monster of choice was, bizarrely, a Tasmanian Tiger. One can only assume that this was a nod to Walton Ford's mass of Thylacines tearing at each other in his striking triptych, The Island (2009), which featured in MONA's 'On the Origin of Art' exhibition earlier this year, rather than an unjustified dig at the state's extinct animal icon.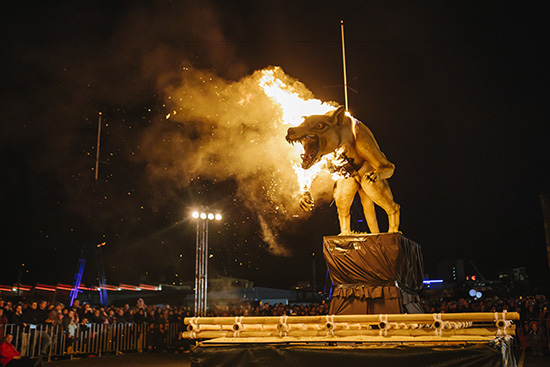 The Purging at Dark Mofo 2017 (image courtesy of Dark Mofo/Lusy Productions)
With the return of the long awaited third series of David Lynch and Mark Frost's Twin Peaks, it seemed only right that the festival should feature a concert dedicated to the series' soundtrack. From the gothic, surreal sensibility of the programming, to the crimson red curtains inside Winter Feast (the festival's culinary hub), Dark Mofo has always had a Lynchian quality to it. Californian experimental group Xiu Xiu, consisting of Jamie Stewart, Angela Seo, and Shayna Dunkelman, performed songs from their 2016 album, Plays the Music of Twin Peaks at the Odeon Theatre, taking Lynch and Angelo Badalamenti's score and twisting it to produce a more overtly darker, distorted sound. Highlights of the set included an even grungier, electric take on the sexy, sleazy 'The Pink Room', and a slowed down, dreamlike version of the Grammy Award-winning main theme 'Falling', before it ended in a chilling reading from Laura Palmer's diary.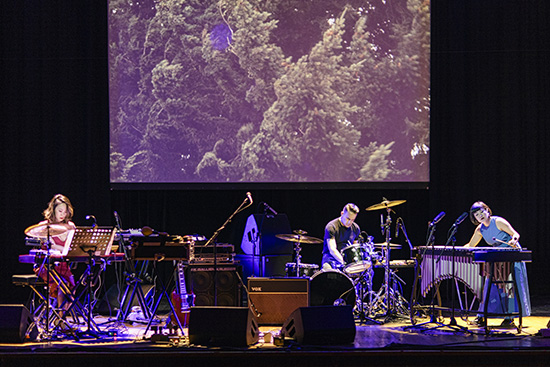 Xiu Xiu Plays the Music of Twin Peaks at Dark Mofo 2017
(image courtesy of Dark Mofo/Lusy Productions)
One of the most impressive and inclusive works of this year's festival was the eerily beautiful Siren Song, a series of gentle, mournful incantations by female vocalists that played through 550 loud speakers positioned round Hobart's waterfront, every dawn and dusk from 8 to18 June. Crowds, from the waterfront to the city centre, would stop in their tracks to listen to the achingly beautiful music, looking upwards as a helicopter weaved and spun in the skies above, like some sort of metallic insect. A few locals were heard saying they wished that this were a permanent fixture, much like the daily adhans, or 'calls to prayer' of cities like Istanbul. Perhaps this was the year that Dark Mofo officially became so much more than – to quote George W. Bush at Trump's inauguration – just 'some weird shit' to Tasmanians, but an aspect of their cultural identity.
Dark Mofo (MONA) ran from 8–21 June 2017. Performances attended: 15–19 June.
ABR Arts is supported by The Ian Potter Foundation.