Opera
Cunning Little Vixen (Victorian Opera) ★★★1/2
Leoš Janáček was more than sixty years old when his operas finally began to attract attention. After the much delayed success of Jenůfa (1904), he went on to produce another four major works on which his operatic reputation became established. They included The Cunning Little Vixen, which premièred in the Moravian city of Brno in 1924. Like Katya Kabanova (1921) and The Makropulos Affair (1925), it took another four decades before receiving its UK and American premières.
Moravia was a part of old Czechoslovakia, and its tales and folklores were a great influence on Janáček and his fellow countrymen Bedřich Smetana and Antonín Dvořák. Unlike those of his predecessors, Janáček's work enveloped a more sophisticated style, revealing a wider European influence which was evident by the 1920s. When a Brno newspaper serialised a novel with cartoon illustrations (Liška Bystrouška by Rudolf Těsnohlídek), the idea of adapting the work for stage took hold. It would be a series of transitional vignettes, with humans playing animals as well as people in all the joys and sorrows of one life cycle following another.
Apart from the music, the composer also wrote most of the libretto and added his own ending. As a consequence, the work took on a deeper meaning. The result was a mixture of sentimentality and stark realism reminding me of a blend of Disney's Bambi (1942) and a David Attenborough documentary. The action veers between comedy and tragedy in equal parts with some of Janáček's most striking orchestral writing occurring intermittently.
Stuart Maunder's new production for Victorian Opera brings out the similarity of life's perpetual cycle as it affects us all. Even the seemingly irrational and frustratingly emotional paths we take are magnified for us all to ponder. Despite the Vixen's death by shooting, her offspring continue life's journey until their own inevitable demise by whatever means. The change of the seasons and the shorter life cycles by many of the creatures in the forest is brought home at the opera's finale, when the Forester reflects poignantly on life itself.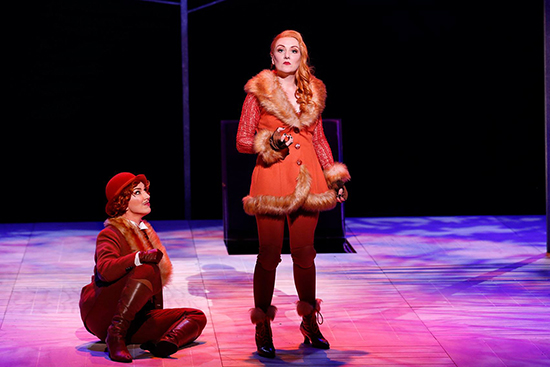 Antoinette Halloran and Celeste Lazarenko in Victorian Opera's production of Cunning Little Vixen (photograph by Jeff Busby)
Celeste Lazarenko was a delightful Vixen – mischievous, seductive, with a voice that never faltered. The handsome Fox, sung by Antoinette Halloran, was equally impressive; their Act 2 duet was a highlight of the evening. In his striking outfit, Barry Ryan was a convincing Forester, and his Act 3 monologue was beautifully sung. Other fine performances came from Dimity Shepherd, doubling as the Forester's wife and the Owl, Samuel Dundas as the Poacher, and Brenton Spiteri as the Schoolmaster as well as a rather large Mosquito. The roles of the Parson and the Badger were well handled by Jeremy Kleeman. The Chorus and Children's Chorus completed a well-matched cast.
Roger Kirk's colourful and imaginative costumes were appealing and ideally suited to the characters/animals depicted on stage. I loved the frog and I can see how younger audiences would be captivated by the activity in the forest, even if they were oblivious to the deeper meaning of the work. The costumes contrasted well with set designer Richard Roberts's rather stark but effective set. This was cleverly illuminated to match the season by lighting designer Trudy Dalgleish.
Orchestra Victoria (or what there was of it) played well under Jack Symonds. However, for me a large attraction of this work has always been the very moving and lush orchestral Interludes and Preludes which separate various scenes. On this occasion the sound from the pit did not always rise to the occasion; at times it was threadbare and thin. This was especially noticeable in the non-vocal parts of the score. It spoiled an otherwise excellent performance. Perhaps the choice of a chamber music-sized orchestra was related to the size of the venue. However, I felt that a major Janáček work deserved better.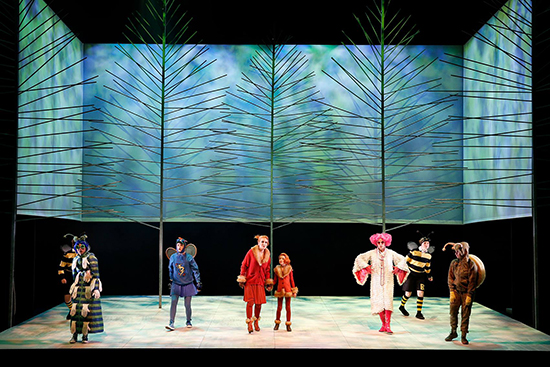 Victorian Opera's production of Cunning Little Vixen (photograph by Jeff Busby)
There are several excellent recordings of this work. The 1981 Decca recording in Czech has a cast headed by the delightful Lucia Popp as the Vixen, accompanied by the Vienna Philharmonic Orchestra conducted by Charles Mackerras (a Janáček enthusiast). If you prefer a version in English, there is none better than the EMI 1991 set with Simon Rattle conducting the Royal Opera House Covent Garden Orchestra and featuring a stellar cast headed by Lillian Watson and Thomas Allen.
Cunning Little Vixen (Victorian Opera) continues at the Playhouse, Arts Centre Melbourne, until 1 July 2017. Performance attended: 22 June.
ABR Arts is generously supported by The Ian Potter Foundation.