Opera
Otello (Royal Opera House) ★★★
When the world's most famous tenor tackles one of the most famously challenging of all tenor roles, the scene ought to be set for an evening of tension and drama. Only some of that tension and drama, however, actually came from the stage of the Royal Opera House, Covent Garden when Jonas Kaufmann made his début in the title role of Verdi's penultimate opera. There was just as much tension and drama as his fans, not to mention those who had paid top whack for the hottest ticket of the season, battled it out at the box office only to spend agonising months waiting to see whether he would turn up. Against wide expectations, the German tenor – who took several months off from singing last winter to deal with an injury to his vocal cords, and even after recovery remained prone to cancellation – was correct and present on the first night.
Much was riding on the occasion, then, and not only for these reasons. Covent Garden has heard and seen all the greatest Otellos; even the role's creator, Francesco Tamagno, sang the part there. Legendary names such as Jean de Reszke and Lauritz Melchior have trodden that stage as Verdi's Moor, and if no one present now will have heard them, plenty in the audience remember other slightly more recent names indelibly associated with the part (I spoke in the interval to a couple of Argentinians who remembered hearing Ramón Vinay sing his most famous role under Thomas Beecham at the Teatro Colón in Buenos Aires, then one the high temples of opera). Vinay was also a famous Covent Garden Otello, and in operatic terms it is not all that long since Jon Vickers and Plácido Domingo 'owned' the part at the house. It is not a role tackled lightly by anyone, and many questioned whether Kaufmann, not one of nature's Otellos, was wise in going there. If he successfully silenced the 'will he/won't he?' chorus, Kaufmann left more than a few echoes of 'should he?'.
He came, he sang – but he didn't quite conquer. Nor did he embarrass himself. Kaufmann is far too canny and intelligent an artist for that, and his admirers would be right to point to his unusual, introverted sensitivity and dark colourings as evidence that he was doing the role his way. No Verdi role contains more subtleties; it doesn't have to be trumpeted out in barnstorming fashion, and indeed some phrases need to be half-sung, half-sobbed. (Verdi's letters from before the 1887 La Scala première show how concerned he was that Tamagno would sing unrelentingly.) There were moments (the Act 3 soliloquy, 'Dio mi potevi scagliar', for example) when Kaufmann's hushed introspection and pianissimo whisperings were refreshing and convincing. Yet there is little getting away from the fact that Otello pushes Kaufmann to his limits and that he got through the evening by managing his voice carefully, as he always does. He sang and looked like he does in every other role – yet Otello is by its very nature a different sort of part, vocally and dramatically.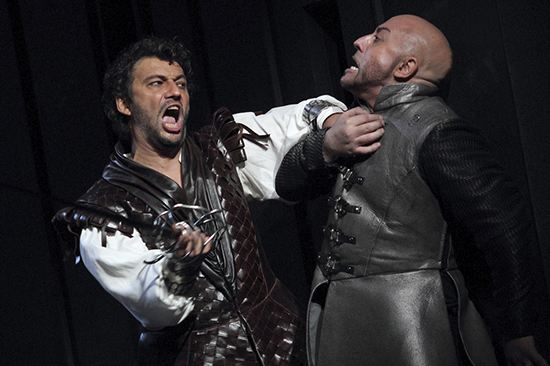 Jonas Kaufmann as Otello and Marco Vratogna as Iago in The Royal Opera House's production of Otello (photograph by Catherine Ashmore)
Lacking vocal beefiness or the tinta implied by some of Verdi's lines, Kaufmann sounded polite. His opening 'Esultate!' was measured and this Otello's duet with Iago at the close of Act 2 lacked excitement. But if the vocal requirements are demanding, merely matching up to them is not enough – they gain meaning only in conjunction with a crazed, jealous presence. Kaufmann, a stock actor scarcely interested in those around him on stage, keeps well away from the character's emotional extremes, and conveys little suggestion of the Moor's outsider status (though not blacked up, he appeared to have been given a spritz of fake tan). A romantic lead rather than a leader with nobility, Kaufmann never gives the impression of being a proud figure bidding farewell to pomp and circumstance, nor a tragic one whose fall moves the audience. He was slightly swallowed up by the enormity of the opera – a case, perhaps, of Jonas and the Whale. More seriously, it was all rather more Byronic than Shakespearian.
Maybe that had something to do with the way Keith Warner built his new production – replacing the long-running Elijah Moshinsky staging of 1987 vintage – around Kaufmann. Warner was certainly accommodating of his star, but arguably left him too much to his starry devices. The director's interest seemed to rest, not unnaturally, more with Iago, who, in the striking opening image, was seen weighing up the options of two very different masks – opting from the 'lavra infernal' while smashing the less menacing one as the first chord crashed in. Iago was very much in control here – though Otello assumed the same pre-curtain position at the start of Act 3 – and the production was not without its psychological insights. Marco Vratogna, a late substitute for Ludovic Tézier, could perhaps in the circumstances be forgiven for playing him as a cardboard villain who oozed evil rather than insinuated it. (The librettist Arrigo Boito wrote that Iago 'must appear jovial and straightforward and good-natured; he is believed honest by all except his wife, who knows him [too] well'.) Vratogna had snarling power, but his tone was monochrome.
The staging was far from cliché-free (Act 3's huge Lion of Venice ended up smashed in pieces, alongside some graffiti), and its imagery (a big black ship that appeared to have sailed in from Der fliegende Holländer, a sword-fight seemingly lifted out of Pirates of the Caribbean) was visually unremarkable. Boris Kudlička's tall set consisted of tall latticed walls that were constantly shifting, like the ground under Otello's feet. In fact, it was all rather tame by Warner standards, trying hard it seems to satisfy Covent Garden's traditionalists. Costumes (by Kaspar Glarner) were in 'period', and Desdemona was smothered by a pillow, not something to be taken for granted in productions these days. All that stands in the way of Maria Agresta being a classic Desdemona is a little more purity of tone, but she gave a lovely performance – singing her Willow Song and Ave Maria with aching sadness – that made her the most authentically complete of the principals.
Maria Agresta as Desdemona in The Royal Opera House's production of Otello
(photograph by Catherine Ashmore)
The smaller roles were well done, with Frédéric Antoun's Cassio proving himself again a nicely musical, elegant singer tenor, as befits the character's vanity. Kai Rüütel's Emilia was warmly sympathetic and In Sung Sim's Lodovico make a strong impression. But among the supporting cast, Simon Shibambu was the most imposing, with his strongly sung Montano. The chorus could have sung with more vigorous attack, but otherwise the score made its full impact. Antonio Pappano's Otello may be a known quantity, yet it is a very welcome one, and he ensured that each of the through-composed acts followed a powerful trajectory. He pointed up detail to make one hear the textures afresh, not least in his striking accompaniment to the Willow Song, and generally drew orchestral playing of bituminous bite. Pappano is rumoured to be leaving Covent Garden when his contract expires in 2020, after eighteen year as music director, but at least there are still a few seasons left in which to enjoy his Verdi.
Otello, directed by Keith Warner for the Royal Opera House, runs until 15 July, 2017. Performance attended: 21 June.
ABR Arts is generously supported by The Ian Potter Foundation.