Advances
The Update - June 20, 2017
Recent ABR Arts reviews
Des Cowley reviews the 2017 Melbourne International Jazz Festival
Bronwyn Lea reviews Noises Off (Queensland Theatre and Melbourne Theatre Company)
Andrew Fuhrmann reviews Macbeth (Melbourne Theatre Company)
Michael Halliwell reviews Hamlet (Glyndebourne Opera Festival)
Patrick McCaughey reviews Giacometti (Tate Modern)
Anwen Crawford reviews A Quiet Passion (Palace Films)
Hamlet at Glyndebourne
ABR Arts opera critic Michael Halliwell was present at Glyndebourne on 11 June for the world première of Brett Dean's opera Hamlet – and his 2,000-word five star review was one of the first to be published anywhere. When ABR Editor Peter Rose – leading the ABR Shakespeare tour – caught up with him in London two days later, Michael Halliwell described the opening-night reception as the most enthusiastic and demonstrative he had ever witnessed at Glyndebourne. The ABR tour then moved to Glyndebourne for the third performance. Brett Dean and Canadian librettist Matthew Jocelyn met the group and spoke about the three-year gestation of this new opera. ABR Arts can report that an Australian season of Neil Armfield's production is likely in the near future. Let us hope that some of the principals accompany the production. Allan Clayton and Barbara Hannigan were superlative as Hamlet and Ophelia, but equally notable were Rod Gilfry (Claudius), Sarah Connolly (Gertrude), Kim Begley (Polonius), and the redoubtable John Tomlinson as the Ghost, the Gravedigger, and the First Player. It was an unforgettable night.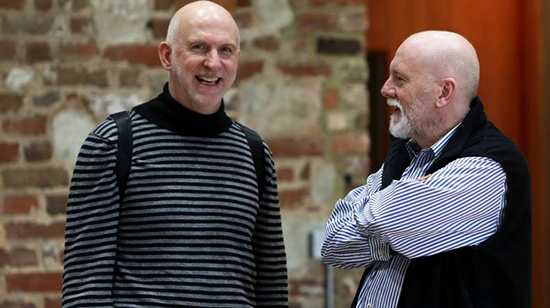 Matthew Jocelyn and Brett Dean (photograph by Sam Stephenson)
The Chamber 8
In late July this year, the Australian World Orchestra will be conducting its first Australian chamber tour. The AWO Chamber 8 on Tour will feature eight Australian musicians from international and national orchestras performing a program of Beethoven's Horn Septet and the Dvořák Double Bass Quintet, in Brisbane, Sydney, Melbourne, and Perth. The soloists are: Andrew Bain (Horn), LA Philharmonic Orchestra; David Berlin (Cello), Melbourne Symphony Orchestra; Natalie Chee (Violin), First Concertmaster, Radio Symphony Orchestra, Stuttgart; Paul Dean (Clarinet), Brisbane Senior Lecturer of Clarinet and Head of Woodwind at the Queensland Conservatorium; Dan Dodds (Violin), Festival Strings Lucerne; Matthew McDonald (Double Bass), Berlin Philharmonic; Tahlia Petrosian (Viola), Gewandhaus Leipzig; and Lyndon Watts (Bassoon), Melbourne, formerly Munich Philharmonic.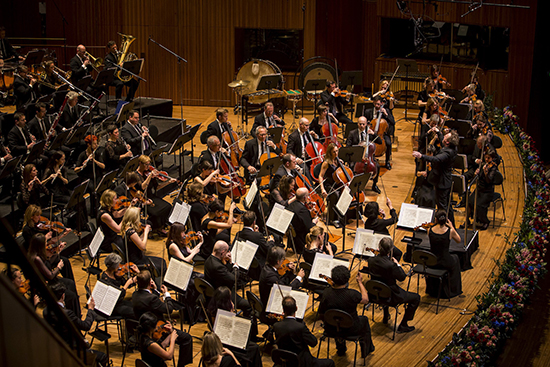 Australian World Orchestra (photograph by Anna Kucera)
Thanks to AWO, we will be giving away one double pass to each of the four Chamber 8 concerts across Australia. For more information, see our giveaways section below.
King Leer
Shakespeare's works have always been prescient in their tragi-comic explorations of human folly, but never more so than in the age of the Donald Trump. Recently New York's Public Theater received a torrent of violent abuse from Trump supporters for its portrayal of a Trump-like figure being assassinated in Oskar Eustis's production of Julius Caesar, which ended its Free Shakespeare in the Park run on 18 June. Apart from backlash on social media, performances were interrupted with protests and stage invasions, and large companies like Delta and Bank of America acquiesced to the vitriol and pulled their sponsorship of the production. Bizarrely, other American Shakespearean companies have also received threats and hate mail including Shakespeare & Company and Shakespeare in Dallas.
Eustis addressed the controversy by pointing out that 'one of the dangers unleashed when you try to preserve democracy by non-democratic means' is that 'a large crowd of people, manipulated by their emotions, taken over by leaders who urge them to do things that not only are against their interest ... destroy the very institutions that are there to serve and protect them'.
Earlier this month the Washington Post reported that during a full cabinet meeting, members took turns around the table to heap fulsome praise upon the president, causing some on social media to draw comparisons to the opening act of King Lear – tellingly, and frighteningly, there appeared to be no Cordelias amongst the many Regans and Gonerils.
Charles Dutoit
Swiss Conductor Charles Dutoit will celebrate forty years of working with the Sydney Symphony Orchestra with two concerts in late June. Dutoit, now eighty, will conduct Debussy's Pelléas et Mélisande on 23, 24, and 28 June, before joining world-renowned Argentinian pianist Martha Argerich (with whom he has a daughter, Annie Argerich) for Beethoven's Piano Concerto No.1 on 29 and 30 June, and 1 July. Zoltán Szabó will be reviewing both concerts for ABR Arts. For more information on both concerts, visit the Sydney Symphony Orchestra website.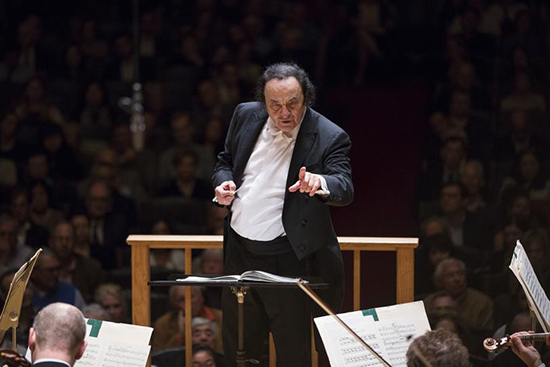 Charles Dutoit (image courtesy of the Sydney Symphony Orchestra)
Miles Franklin Literary Award shortlist
The Miles Franklin Literary Award shortlist was announced at the Australian Booksellers Association's gala on 18 June. All five titles were written by first-time nominees and were reviewed by ABR in 2016 and 2017: An Isolated Incident by Emily Maguire (Picador), The Last Days of Ava Langdon by Mark O'Flynn (UQP), Their Brilliant Careers by Ryan O'Neill (Black Inc.), Waiting by Philip Salom (Puncher & Wattmann), and Extinctions by Josephine Wilson (UWA Publishing).

Speaking on behalf of the judges, State Library of NSW Mitchell Librarian Richard Neville noted the diversity of this year's field, which explored themes such as 'the restorative power of love, the pernicious influence of the past on the present, unconventional identities, grief, media, masculinity, and small country towns'. The judging panel this year also included journalist and columnist Murray Waldren (The Australian), Emeritus Professor Susan Sheridan, literary critic Dr Melinda Harvey, and Sydney bookseller Lindy Jones.
Each of the 2017 shortlisted authors receives $5,000 from Copyright Agency's Cultural Fund, and the winner, who will be announced on 7 September, will receive $60,000.
UWA's WINTERarts Festival
The University of Western Australia's festival of arts and culture, WINTERarts will begin on 1 July. The festival will include 'exhibitions, concerts, literary events, skills workshops, tours and a dedicated children's holiday program'.
This year, UWA will also host two masterclasses by Heather Taylor Johnson about 'writing from and about bodily trauma and experiences', for poets and prose writers alike. Taylor Johnson will also be launching her new book Shaping the Fractured Self: Poetry of chronic illness and pain (UWAP) at an event on 10 July. Anna Spargo Ryan reviewed her book Jean Harley Was Here in the May 2017 issue of ABR.
Meanwhile, the WA Writers Professional Development Day, on Saturday 15 July, will give aspiring writers the chance to learn about the entire publishing process from industry professionals. For the full festival program, visit UWA's WINTERarts Festival website.
The Ones at fortyfivedownstairs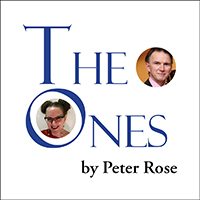 Calling all absurdists! Peter Rose (Editor of ABR) is writing a series of duologues called The Ones, about a married couple who happen to be publishers. Peter Rose and Francesca Sasnaitis – members of The Highly Strung Players – will present the first two of these duologues: 'The Ones After Them' and 'The One We've Been Talking About' at fortyfivedownstairs on Monday, 31 July (6 pm). The Highly Strung Players is an ensemble dedicated to the performance (rehearsed readings) of works of absurdist drama, past and present.
Jenny Orchard
The winner of the 2017 Sidney Myer Fund Australian Ceramic Award is contemporary artist Jenny Orchard for her work The Imagined Possibility of Unity. The judges chose Orchard's work from a shortlist of five artists working in the ceramic medium.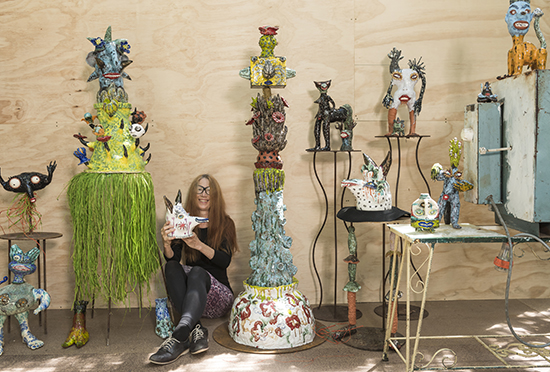 Jenny Orchard (photograph by Greg Pier)
'Orchard has been at the forefront of ceramics as a contemporary medium for more than forty years', said the judges, and her work 'acknowledges art and design histories, including The Memphis Group (1981–87)' of Italian artists.
Jenny Orchard receives a $50,000 prize. All five shortlisted works will be on display at the Shepparton Art Museum until 13 August.
MYO's 50th Birthday
The Melbourne Youth Orchestra will celebrate its fiftieth year with the New Worlds concert at the Melbourne Recital Centre on Sunday 2, July. The concert will open with Mikhail Glinka's Ruslan and Ludmilla overture and a new commission by Australian composer Graeme Koehne, Songs of the Open Road, supported by the Australia Council for the Arts. The concert will close with Dvořák's Symphony No. 9 'From the New World'.
In a generous move, MYO's Chief Executive Offier Dorian Jones has announced that complimentary tickets will be provided to disadvantaged young people from ages eleven to eighteen to attend the concert through the support of the Newsboys Foundation. For more information on New Worlds, visit the MYO's website.
Melbourne Rare Book Week
Bibliophiles, rejoice! Over fifty free events and exhibitions will take place from 30 June to 9 July for the Melbourne Rare Book Week. Highlights of the festival include By a Lady: The world of Jane Austen, a multimedia exhibition by Monash University students to mark the 200th anniversary of the author's death; Johnson & Boswell, Holmes & Watson: Real and literary friendships, a lecture exploring the connections between historical and literary characters; The Antiquities of Mexico: Charles La Trobe and Lord Kinsborough, a discussion about origins of ancient peoples; and Gideon Haigh will 'unravel the mystery' of the iconic photograph of cricketer Victor Trumper leaping out to drive, detailed in his book Stroke of Genius (ABR, December 2016). For a full program, visit the Melbourne Rare Book Week website.
Giveaways
Thanks to Australian World Orchestra, four new or renewing subscribers to ABR will receive a double pass to any one of the AWO Chamber 8 on Tour concerts. The concerts will take place in Brisbane at 7.30 pm on Monday 24 July at the Queensland Performing Arts Centre, in Sydney at 7.30 pm on Tuesday 25 July at the City Recital Hall, in Melbourne at 7.30 pm on Thursday 27 July at the Melbourne Recital Centre, and in Perth at 7 pm on Monday 31 July at the Perth Concert Hall.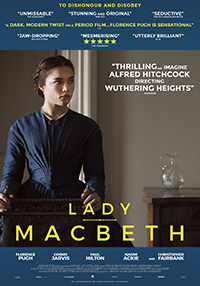 Thanks to Sharmill Films, five new or renewing subscribers to ABR will receive double passes to Lady Macbeth, based on the 1865 novel Lady Macbeth of the Mstensk by Nikolai Leskov.
To be eligible for these giveaways, you must be a current or new paid subscriber to the print edition of ABR or to ABR Online. To be in the running please email Grace Chang at This email address is being protected from spambots. You need JavaScript enabled to view it. with your full name and contact details. Preference is given to subscribers who have not received a giveaway in recent months.