Music
2017 Melbourne International Jazz Festival
Marking its twentieth anniversary, the Melbourne International Jazz Festival (MIJF) had much to celebrate in 2017. I can vividly recall the first Festival in 1998, a weekend-long event attended by what seemed like a handful of us, moving in unison between city venues. Even then, it proved a memorable experience, highlighted by three astonishing performances by Brad Mehldau, an up-and-coming pianist, still in his twenties, who had yet to make a name for himself. But that is exactly the sort of experience festivals should and do deliver.
In the intervening years, the MIJF, like any fledgling festival, weathered its ups and downs, endeavouring to strike the right balance between musical artistry and ticket sales. If the musical buzz and crowded venues of recent MIJFs are anything to go by, this calibration has been successfully managed. More importantly, the festival has achieved its success by paying respect to the elders of jazz, while at the same time embracing musicians whose innovations signal future directions for this music.
This year's opening event featured American guitarist Bill Frisell, performing music from his most recent recording, When You Wish Upon a Star (2016), a personal take on the television and film music he listened to in the 1950s and 1960s. While Frisell's music today is a far cry from his avant-garde salad days playing with John Zorn's Naked City, he has honed, since then, a distinctly personal and recognisable sound, so much so that we might comfortably coin the term 'Frisellian' to explain a particular guitar tone. His performance featured his current trio of bassist Thomas Morgan and drummer Rudy Royston, along with singer Petra Haden, daughter of the late great bassist Charlie Haden. Petra's vocals were to the fore throughout the performance, much more so than on the album. She sang idiosyncratic versions of classics such as 'Moon River', 'Alfie', and the James Bond theme 'You Only Live Twice'. Frisell's guitar, as expected, provided beautiful accompaniment to these songs, ambient and minimal, and always pitch-perfect. His is a laconic style, always measured, prioritising 'feel' over technique, and devoid of extraneous notes. At the same time, Frisell used loops and effects to create lush soundscapes behind Petra's wordless vocalising. Nowhere was this more effective than in Enrico Morricone's masterful 'Once Upon a Time in the West' and 'Farewell to Cheyenne'. An ever-restless musician, Bill Frisell has, for many years now, explored a terrain that – despite incorporating music by other composers – is increasingly his own, a musical vision made up of scraps and bits, a timeless blend of jazz, blues, country, and old-time Americana.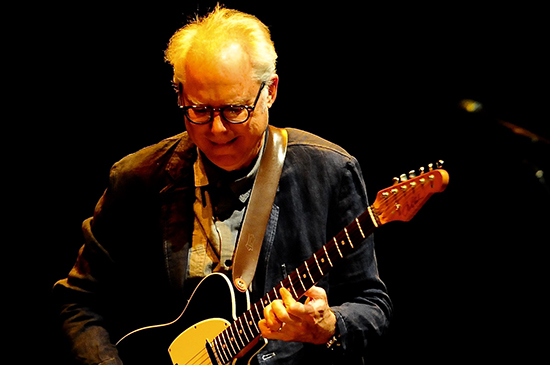 Bill Frisell performs at the 2017 Melbourne International Jazz Festival (image courtesy of Densham Images)
Perhaps the most anticipated event of the festival was the first ever Australian appearance by pianist Carla Bley, one of the great jazz composers of the past half-century. Her work stands in direct lineage with composers such as Gil Evans and George Russell, and she in turn has provided inspiration to younger composers such as Maria Schneider. Bley's body of composition, whether for large ensembles or chamber trios, is peerless, and, at age eighty-one, she remains the embodiment of the creative spirit. Her concert at the Melbourne Recital Centre was performed with her current trio, made up by bassist Steve Swallow, her musical and life partner, and saxophonist Andy Sheppard. Despite having played together for over twenty years, the trio has recorded only three albums to date, most recently for the ECM label. Theirs is a music of bare essentials, accentuating a stripped-down palette often associated with pioneering music of the Jimmy Giuffre Trio in the 1960s (a trio that recorded Carla's songs and included first husband, Paul Bley, and Swallow). This form of drummer-less chamber jazz, placing emphasis on shading and nuance, demands near-telepathic communication – something Bley's trio demonstrated throughout. Swallow's five-string semi-acoustic bass traced delicate lines in and around Bley's piano, while Sheppard, switching between soprano and tenor sax, added colour and texture. The highlight came with the extended three-part suite, 'Andando el Tiempo', drawn from the 2016 album of the same name, which lyrically explores the theme of addiction and recovery. This is music forged from space and silence, clean and precise in its delivery, by turn playful and emotive, at all times complex.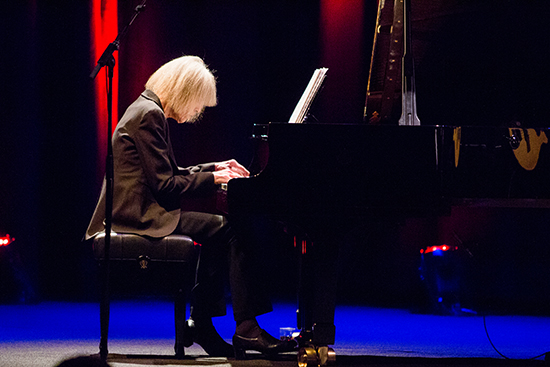 Carla Bley performs at the 2017 Melbourne International Jazz Festival
(photograph by Kevin Peterson)
The MIJF's Artistic Director, Michael Tortoni, previous owner of Bennetts Lane Jazz Club for nearly twenty-five years, opened his new club The Jazzlab just in time for this year's Festival. The new space, located in Brunswick, is modelled on the original Bennetts Lane room, right down to the furniture and fittings. With its intimate club atmosphere, it was a perfect venue for a host of international and Australian acts. Bill Frisell delivered a more relaxed trio performance on Sunday evening, stretching out with a series of open-ended improvisations. On Tuesday, Carla Bley, supported by the sixteen-piece Monash Art Ensemble, performed music from her 2008 concept album Appearing Nightly, a homage to the big band music she listened to in New York in the 1950s. Weaving in strands of Duke Ellington and Count Basie, popular song, Charlie Parker and Dizzy Gillespie, this was a thoroughly modern twist on an old tale.
Australian trio The Necks brought their unique brand of improvised music to The Jazzlab for a four-night residency, playing to capacity crowds. Their Monday night performance was an intense affair, offering two long, uninterrupted sets. While they incorporate elements of jazz language, The Necks also draw upon a range of styles, including minimalism, electronica, and ambient music. For some, listening to The Necks is like watching paint dry; for others (including myself) their slow-burn performances are full of tension and drama. The audience is complicit with the trio, as they risk failure at every turn, attempting to translate a core group of sounds – piano, bass, and drums – into an unending array of spontaneous compositions. Certainly, on this night, their performance was a triumph, their repetitious patterns and motifs intensely focused, inducing a trance-like state amongst listeners.
Donny McCaslin's Saturday evening gig at The Toff in Town proved a blistering workout, his quartet pushing the music to pulsing extremes. Jason Lindner, switching between acoustic piano and electronics and synthesiser, generated high-energy throughout, aided by Zach Daniger's rock-style drumming. While McCaslin has been playing and recording since the late 1980s, it was his collaboration with David Bowie on the singer's final album Blackstar (2016) that catapulted McCaslin and his band to star status. Understandably, McCaslin's extended take on Bowie's 'Lazarus' was a highlight. Given the stellar musicianship and in-built elasticity of this band, it is easy to see why performers such as Bowie, Kendrick Lamar, and others have increasingly sought to include jazz musicians on their recordings.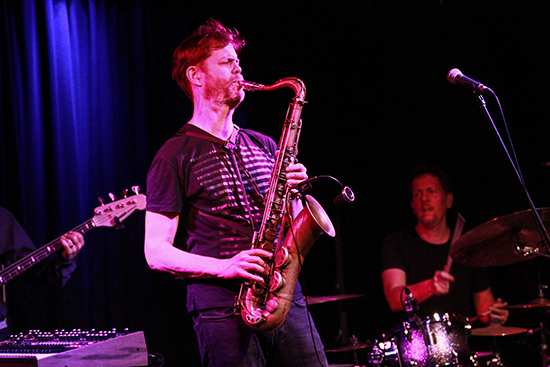 Donny McCaslin Group perform at the 2017 Melbourne International Jazz Festival (photograph by Suraj Jayawickrama)
It was gratifying to see so many Australian musicians deliver outstanding performances during the Festival. Spirograph Studies and the Paul Williamson Quartet both offered brief, flawless sets at the Melbourne Recital Centre in support of Bill Frisell and Carla Bley respectively. Pianist Hue Blanes performed the world première of his 2017 PBS Young Elder of Jazz Commission at The Jazzlab, a suite of music that draws upon political speeches, ranging from Pauline Hanson and Paul Keating, to 'The King's Speech' and Martin Luther King's 'I have a dream'. The recorded voices had been manipulated to follow the rhythms of the composition and vice versa, and Blanes and his trio managed the high-wire act of moving seamlessly between whimsy and genuine profundity.
Undoubtedly, the Australian highlight came with Paul Grabowsky's towering performance of his latest long-form suite, 'Moons of Jupiter', at The Jazzlab on Saturday night. His sextet was awash with talent: trumpeter Scott Tinkler, alto saxophonist Scott McConnachie, bassist Philip Rex, drummer Dave Beck, with Peter Knight on laptop and effects. The hour-long work, featuring sections named after Jupiter's moons ('Ganymede', 'Europa', 'Callisto') was a tour de force: bold, complex, energetic, experimental. Grabowsky literally thundered on piano, while Knight contributed unorthodox layers of electronic chirrups and bleeps, and Dave Beck drummed as if his life depended on it. The ferocious twin attack of Tinkler and McConnachie brought to mind Tinkler's earlier work with Mark Simmonds's Freeboppers (surely one of the most exciting live acts in Australian jazz history). In every way, this is a stunning, monumental composition, performed by a group of musicians operating at peak levels of artistry.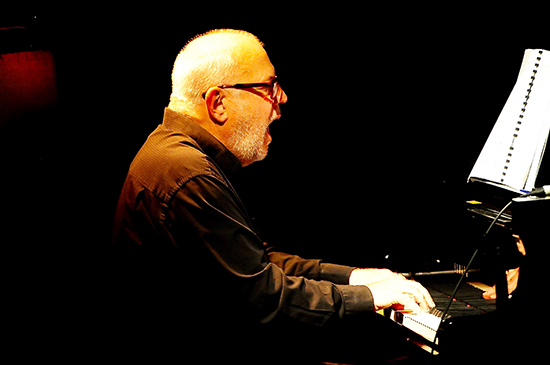 Paul Grabowsky performs Moons of Jupiter at the 2017 Melbourne International Jazz Festival (image courtesy of Densham Images)
With more than 100 performances over ten days, spread across a host of Melbourne venues, it was impossible to do more than sample what was on offer. Inevitable programming clashes meant missing a number of key performances, including Armenian pianist Tigran Hamasyan; the collaborative venture between Japanese pianist Satoko Fujii and Australian pianist Alister Spence; American pianist Kenny Baron; the Jim Black Quartet; singer Dianne Reeves, and others.
My final evening was given over to Andrea Keller's beautiful song cycle Still Night, based on poems by Keats, Whitman, Proust, Yeats, E.E Cummings, Dylan Thomas, and others. Keller again displayed her extraordinary compositional skills, the music – played by her trio of piano, guitar, and saxophone – delicately underpinning the lyricism brought to these songs by vocalists Vince Jones and Gian Slater. It was a mesmerising performance, delicate and fragile, exploring themes of death, grief, and loss.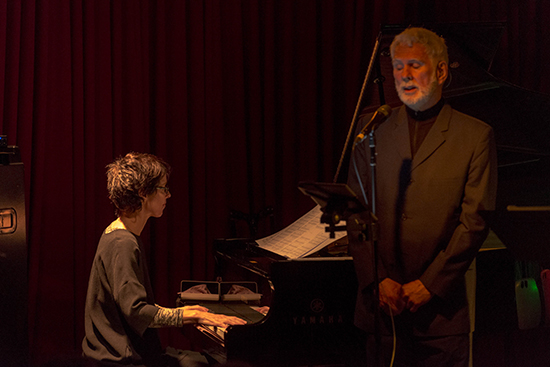 Andrea Keller and Vince Jones perform Still Night: Music in poetry at the 2017 Melbourne International Jazz Festival (photograph by Stuart Buchanan)
While jazz has often been marginalised by our funding bodies, this festival demonstrated that there are significant audiences for this music. And while a number of people I spoke to acknowledged they were 'new' to jazz, all said they would return. One can only hope that this plays out over the calendar year, not just at festival time, and that recent converts will seek out what is regularly programmed in Melbourne, whether at the newly opened The Jazzlab, Uptown Jazz Café, Bird's Basement, Paris Cat, or more experimental spaces such as Bar 303 in Northcote or the Brunswick Green. Increasingly, jazz has broadened its audience by inserting itself into the wider marketplace via a range of musical forms, from rock to rap to world music to popular song. The MIJF celebrates this growing diversity and plurality, comfortable in the knowledge that jazz in the twenty-first century is no longer a monolithic genre, but instead a living musical organism that mutates constantly, regularly influencing and being influenced by everything it comes into contact with.
The Melbourne International Jazz Festival ran from June 2 to June 11 2017.
ABR Arts is generously supported by The Ian Potter Foundation.