Theatre
Noises Off (Queensland Theatre and Melbourne Theatre Company) ★★★★
If you've done your homework and you think the answer to the 'ultimate question of life, the universe, and everything' is 42, you'd be wrong. You've read the wrong book. The actual meaning of life is not to be found in Douglas Adams's The Hitchhiker's Guide to the Galaxy but in Michael Frayn's farcical masterpiece, Noises Off: sardines. The answer is always sardines.
Or so thinks Lloyd Dallas (Simon Burke), the Cambridge-educated director, reduced to intellectual rubble and close to a coronary thanks to his efforts to coax a middle-aged, scatter-brained actress – named Dotty no less – to remember her props and exits. 'Doors and sardines,' Lloyd explains, airing his exasperation. 'Getting on – getting off. Getting the sardines on – getting sardines off. That's farce. That's theatre. That's life.'
A multi-award-winning novelist and playwright, Michael Frayn's credits include Copenhagen (1998) and Democracy (2003), as well as several screenplays (notably Clockwise [1986] starring John Cleese). He has been rewriting Noises Off ever since it premièred at the Lyric Hammersmith in 1982, tirelessly honing the meta-farce into the work of structural perfection that opened to an almost full-house at QPAC's Playhouse on 8 June.
Noises Off, a play within a play, follows Dallas and the second-tier cast of Nothing On across three devolving performances. In the first act, the actors flounder through a late-night dress rehearsal of a British sex farce housed in a country manor. In act two, about a month later, the set spins to expose the backstage antics of the actors, who, when not sharing a bed, are at one another's throats. In act three, toward the end of the company's tour, the set returns to front stage and we watch the now barely decipherable play as if we were the audience at the Municipal Theatre in Stockton-on-Tees.
Designer Richard Roberts's set evokes the 1970s, with the manor's fifty shades of drab décor, and the rotary dial telephone in the living room, whose line and coiled cord affords the actors shameless opportunities for entanglement gags. Crucially he's put all the doors in all the right places, as necessitated by the play's fiendishly precise choreography of door slamming.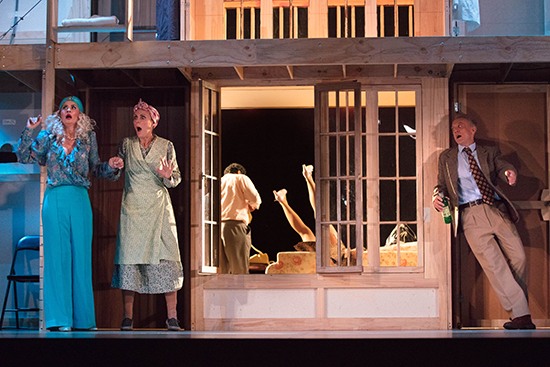 Nicki Wendt, Louise Siversen, and Simon Burke in Queensland Theatre and Melbourne Theatre Company's Noises Off (photograph by Rob Mccoll)
If the technology of the period is now obsolete, so too are the play's gender politics, though perhaps not quite much as we might hope. The obligatory 'bombshell', Brooke Ashton – we can hardly blame farce when it meets its brief and trades in stock characters – is played superbly by Libby Munro, who could easily be a body double for the new Wonder Woman's Gal Gadot. Treading the boards in little more than a white bra and suspender belt, she proves that, while the play's representation of women might be several decades in arrears, the idealised female figure has firmed up considerably since the 1970s.
In the spirit of gender equality there are multiple trouser falls – what would a bedroom farce be without at least one? – from Hugh Parker who takes the bulk of laughs as Freddie Fellowes. But it's Louise Siversen – one of the few actors who manages to keep her gear on through all three acts – who steals the show as Dotty Otley playing Mrs Clackett, with her hilarious shape-shifting and splendid comic timing.
Director Sam Strong sees Noises Off as the 'funny cousin' to Lord of the Flies (1954). William Golding's literary masterpiece, he says, reveals how the wrong environment can draw humanity's dark side to the surface. Instead of an island, Frayn offers a theatre as a petri dish in which to examine human behaviour: illicit affairs and petty jealousies emerge, followed by gross acts of sabotage, and magnificent emotional meltdowns.
The actor in this view is a metaphor for the human desire to present an acceptable face to the world. We construct our lives as if on a theatre set, curating our speech and behaviours front-stage for our audience, while corralling all our excesses, inconsistencies, and defects backstage. When reality intrudes on the pretence, pandemonium – and sometimes hilarity – ensues.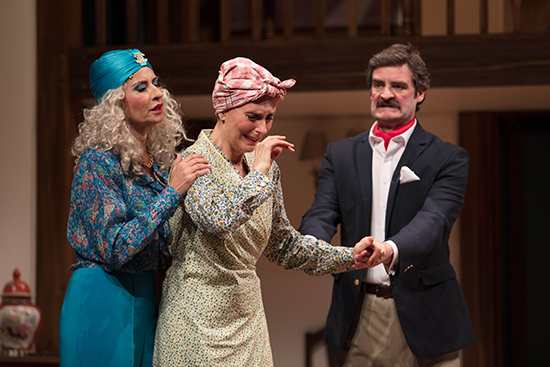 Nicki Wendt, Louise Siversen, and Hugh Parker in Queensland Theatre and Melbourne Theatre Company's Noises Off (photograph by Rob Mccoll)
Given a purist reading, Noises Off is simply an elaborate set of physical jokes strung together for our communal entertainment. 'In the theatre the audience is released by the laughter of the people around them,' Frayn says, to contrast the experience of live theatre with the solitary act of reading. With a novel there's no corporate reaction, no contagion. Slapstick theatre makes for belly laughs, yet it can be difficult to discern the performative laugh from the genuine.
At intermission, I watched one audience member thumb through realestate.com on his phone, while another trawled David Jones's midseason sale. Perhaps the answer to the ultimate question of life is not sardines after all.
Noises Off (Queensland Theatre and Melbourne Theatre Company), directed by Sam Strong, continues at the Playhouse, QPAC, until 25 June, 2017. Performance attended: 8 June.
ABR Arts is generously supported by The Ian Potter Foundation.