Film
A Quiet Passion ★★★1/2
An account of the life of Emily Dickinson can, like that of a saint, be reduced to its elements of spiritual and physical suffering. She was acutely sensitive, frequently ill, and when she died she left behind thousands of unpublished poems. It would be easy to portray her as a heavenly creature, temporarily descended upon nineteenth-century Amherst, Massachusetts from a more empyreal realm. Immortality, after all, was one of her major poetic themes. A Quiet Passion, Terence Davies's new film about Dickinson's life, doesn't stint on her struggles, but it does give us a woman who was also clever, passionate and stubborn.
The film's short prelude sketches the Dickinson siblings in their adolescence. Emily, her sister Lavinia, and her brother Austin are educated, exuberant and ready to match wits with their elders. In one scene they banter over tea with a disapproving aunt, and for a moment it seems that the film will be, of all things, a comedy of manners. But while the siblings' verbal sparring carries on into adulthood, their high spirits do not. The adult Austin, in particular, played by Duncan Duff, exudes a melancholy at odds with the film's opening, and which the script leaves unexplained.
Cynthia Nixon is more convincing, and more evocative, in the central role of Emily. We sense from her performance how a young woman's joys have dwindled, over time, to a brittle and even embittered sense of self. Her life's possibilities, both material and emotional, are constricted, even more so because she refuses to countenance marriage. She has little choice but to remain with her parents, helping to keep house. Dickinson's father Edward (Keith Carradine), a respected lawyer, is stern, though he does allow his daughter the crucial liberty of rising before dawn to write. Her mother, also Emily (Joanna Bacon), is kind-hearted but feeble. 'My life has passed as if in a dream, as if I had never been part of it,' she tells her daughter. One has the sense that the younger Emily is determined, at least on the page, to make herself more felt.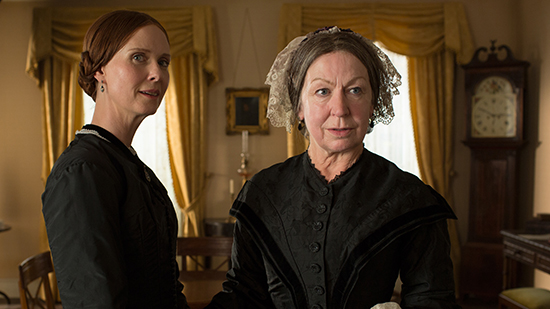 Cynthia Nixon and Joanna Bacon in A Quiet Passion (Palace Films)
A Quiet Passion, like most films about writers, sticks to the life that can be dramatised, rather than the writing process, which can't. Nixon does read several of Dickinson's poems in voiceover, and she interprets them well – her readings, like her onscreen performance, capture the blend of slyness and seriousness that went into Dickinson's poetic voice. But the pairing of words and images is, at times, too literal, and has the effect of making Dickinson's writing seem like a commentary upon her life, which both is and isn't true. There is something genuinely weird in Dickinson's poetry, a riddling mystic spirit that eludes explanation. The profusion of her imagination, when set against her reclusive habits, is one reason why she continues to fascinate.
As a director, Davies is familiar with both the wounds and enchantments of family life. His earliest films, Distant Voices, Still Lives (1988) and The Long Day Closes (1992), drew upon his childhood memories of Liverpool, England, and with those films he established a cinematic style that was based upon the visual elegance of the fixed frame, juxtaposed with drifting, dreamy sound collages of spoken dialogue, inner monologue, and song. A Quiet Passion is a more conventionally made film, which is disappointing in so far as I might have expected Davies, of all contemporary filmmakers, to show a more intuitive, expansive feel for the cinematic possibilities of Dickinson's poems.
The script, also written by Davies, is strongest when it focuses upon Dickinson and her relationship with Lavinia (Jennifer Ehle). Though also unmarried, Lavinia was nevertheless the more socially capable of the sisters, and as we watch Emily gradually withdraw from society, we also see how Lavinia, in Ehle's intelligent characterisation, handles her with a mixture of patience and frank concern. Lavinia sees how Emily's self-restraint is also a kind of self-indulgence, a refusal to assume the common burden of joining in with the world.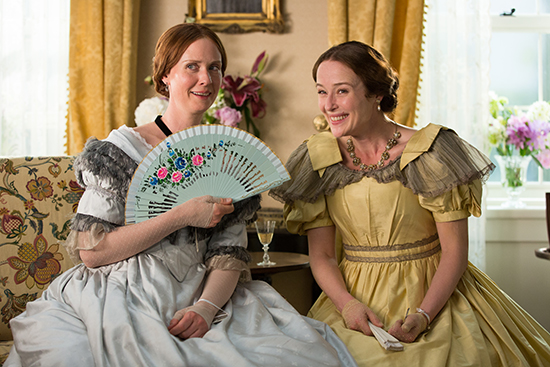 Cynthia Nixon and Jennifer Ehle in A Quiet Passion
(Palace Films)
Nevertheless, without that refusal is it doubtful that we would have Dickinson's poetry; her vocation was to solitude as well as to literature. In real life, Lavinia provide Emily, especially after the latter's death, with a crucial conduit to the public, because she strove to have her sister's poems posthumously published. During her lifetime Dickinson had also had other readers and champions of her work, including her brother's wife, Susan Gilbert, and his mistress, Mabel Loomis Todd. This complicated and intimate tangle is rather simplified in the film: Susan is reduced a bit part, while there is no indication that Mabel and Emily were correspondents. But still, this is Davies' interpretation of Dickinson's life, and within the parameters that he has set, the conflict works. Emily, in her anger at her brother's infidelity, draws attention to the double standards that applied to men and women of her time. The quiet passion of the film's title is, in part, her refusal to submit to such hypocrisies. Within the confines of her bedroom she found a liberty of soul that could not have existed outside of it.
A Quiet Passion (Palace Films), 125 minutes, written and directed by Terence Davies. In cinemas from June 15.
ABR Arts is generously supported by The Ian Potter Foundation.