Film
The Sense of an Ending ★★★1/2
The Sense of an Ending is an intelligent and thought-provoking adaptation of Julian Barnes's novel of the same name, which won the 2011 Man Booker Prize. Director Ritesh Batra (The Lunchbox) and screenwriter Nick Payne (Constellations) have created a sensitive film that is very different from Barnes's elegantly nuanced novel but remains faithful to its central themes of history and memory.
The film stars Jim Broadbent (Iris, Gangs of New York, Moulin Rouge!) in the central role of Tony Webster, a dour and cautious divorced man in his sixties, whose younger self is played by Billy Howle in his screen début. In an unexpected bequest, Tony receives a diary and £500 from Sarah Ford (Emily Mortimer), the mother of an old girlfriend of his, Veronica Ford (Freya Mavor). After their relationship ended forty years ago, Veronica 'traded up' with his old school friend, Adrian Finn (Joe Alwyn), who died soon afterwards. Tony sets out to locate Veronica (Charlotte Rampling), who is in charge of Adrian's diary. When they meet again, Tony realises that Veronica is still as 'mysterious to the fault' as she was when they knew each other. In lieu of the diary, she gives him a photocopy of a letter he sent her and Adrian all those years ago. This evidence of what he is, or was, like engenders powerful emotions and forces Tony to confront his flawed recollections of pain and pleasure. His younger self has, in a sense, returned to shock his older self, causing him profound remorse.
'History is that certainty produced at the point where the imperfections of memory meet the inadequacies of documentation', as Adrian was wont to say. The poignancy of Adrian's aphorism, as Tony remembers it, resonates now. He realises that the letter is a link in the chain of responsibility of what happened to Adrian and the devastating consequences of past actions. The idealistic and enigmatic Adrian Finn is a pivotal presence in the novel, but the film fails to develop this character and he remains a mystery.
Charlotte Rampling as Veronica in The Sense of an Ending (Roadshow Films)
Despite Charlotte Rampling's dignified and simmering performance, the older Veronica is less substantial than in the novel. The filmmakers have taken considerable licence with Barnes's text. Barnes encouraged Batra and told him to 'go ahead and betray me'. This they have done. For example, they have Tony stalking Veronica. Batra has commented: 'The Veronica in the book is a tragic figure that really works within the book, but our Veronica is someone who is full of life, and her life is more interesting than Tony's.' I don't agree. Veronica in the novel is like a vector for Tony's emotions. However, Barnes has always held that 'As long as you've handed it over to highly talented people, you have to let them fly free with it.'
Given carte blanche, therefore, to extrapolate place and character, Nick Payne has developed the minor character of Susie – Tony and Margaret's young daughter, married with two children in the novel – into a fully fleshed out thirty-six-year-old unmarried, pregnant woman (Michelle Dockery).
Tony gets on well with his ex-wife, Margaret (Harriet Walter), a calm, practical woman, but when he confides in her about Veronica she is disturbed to learn that he has been virtually stalking the woman.
Another addition to the cast is the postman, who provides a means for showing how Tony has been changed by the ordeal of excavating his memories and dealing with their repercussions. Tony's two London school friends, Colin and Alex, who feature significantly in Part One of the novel and don't appear in Part Two, which is set in the present, make a brief appearance in the film as older men. The filmmakers have injected these new scenes with humour – comic relief in an otherwise serious film.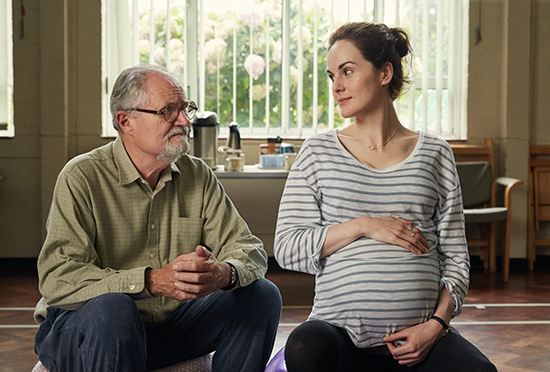 Jim Broadbent as Tony and Michelle Dockery as Susie in The Sense of an Ending (Roadshow Films)
Batra hopes the film will be viewed as a complement to the book. The film certainly works in its own right as a mature and understated drama. Told with restraint from Tony's viewpoint in the present, with flashbacks to the past, this beguiling drama withholds secrets and invites the viewer to solve the puzzle. As Veronica tells Tony, 'You don't get it. You never did.'
This is a film to be recommended, whether you have read the book or not. The ambiguities at the heart of the story throw up many tantalising questions. 'I can't know what it is that I don't know,' says Adrian Finn. 'That's philosophically self-evident.'
The Sense of an Ending (Roadshow Films), 106 mins, directed by Ritesh Batra, is adapted from Julian Barnes's novel The Sense of an Ending (2011).
ABR Arts is generously supported by The Ian Potter Foundation.