Video Games
What Remains of Edith Finch (Giant Sparrow/Annapurna Interactive) ★★★★ and Little Nightmares (Tarsier Studios/Bandai Namco Entertainment) ★★★★
The rise in popularity of so-called 'walking simulators' in recent years propagated an existential crisis in the gaming world. In video games like Dear Esther (2012), Firewatch (2016), and Everybody's Gone to the Rapture (2016), the absence of an overriding purpose troubled gamers used to goal-oriented fetch quests and destructive tasks. In this new genre, nothing much happens. The player wanders around a finite environment – an island in the Hebrides; Shoshone National Forest; a 1980s Shropshire village – with no aim other than exploration as a means to convey an unfolding narrative. In each case a poignant story is revealed, delivered by a narrator or visual cues. In Dear Esther, a bereaved man reads letters to his dead wife. Firewatch has a forest fire lookout coming to terms with early onset dementia in his partner. In Everybody's Gone to the Rapture, an English village has been abandoned and the player must discover why.
What Remains of Edith Finch (★★★★) falls partially into this category of games, which are now more akin to 'novel simulators' rather than scenic hikes. Edith is the last remaining member of the ill-fated Finch dynasty. Their labyrinthine Washington seafront property is derelict. Edith explores the house for the final time and delves into the stories of her many dead relatives. When Edith investigates, the player is plunged into back-story narratives that appear in the form of puzzles, games, and text that fades after viewing.
These short narratives about the cursed Finches are presented in a variety of artistic styles. Magic realism plays a major role as the player becomes a series of animals devouring everything in their path, or an infant playing with toys that come alive in a bathtub. There are bittersweet passages that poke fun at 1950s monster movies, and disturbing scenes with young Calvin Finch's poorly placed swing-set and Milton Finch's kite in a storm. Saddest of all, perhaps, is the wonderfully realised suicide of Lewis Finch, who worked in a fish-canning factory and escaped from the grind by imagining himself regent of a fantastical kingdom.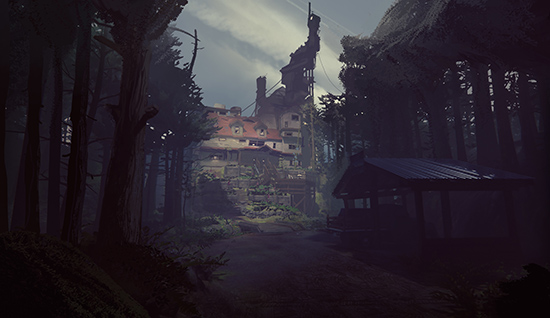 What Remains of Edith Finch? (Giant Sparrow/Annapurna Interactive)
The power of Edith Finch to transport players into an inner world is considerable. The story can be completed in a few hours, but the environment within the house is rich, and deserves closer examination. Every book, photograph, and trinket tells a story of its own. Walking among the debris of a character's life is a touching experience, enhanced by a moving soundtrack composed by Jeff Russo, who also scored television dramas Fargo and The Night Of .
An unreal world tinged with horror also features in the new game from Sweden's Tarsier Studios, Little Nightmares (★★★). Tarsier, best known for their LittleBigPlanet (2008–14) series of games, has developed a surreal environment reminiscent of Japanese horror movies, or the seminal 1991 French film Delicatessen, directed by Jean-Pierre Jeunet and Marc Caro.
Little Nightmares is a straightforward platform puzzle game where the player takes control of a nine-year-old girl in a yellow anorak. Known only as Six, the girl is trapped in a gloomy underground resort called The Maw. Guests at this bleak vacation spot appear as waddling grotesques and bloated corpses. They come to feast on captured children, the whole process overseen by a geisha called The Lady.
As Six journeys through The Maw towards the surface, she encounters the sort of nightmarish creatures that might inhabit a fairy tale by the Brothers Grimm. A blind janitor fashioned from rope repeatedly stalks the shadows. Deadly black inchworms drop from the ceiling. Two obese chefs, determined to add Six to the pot, cook up a feast from the butchered limbs of caged children.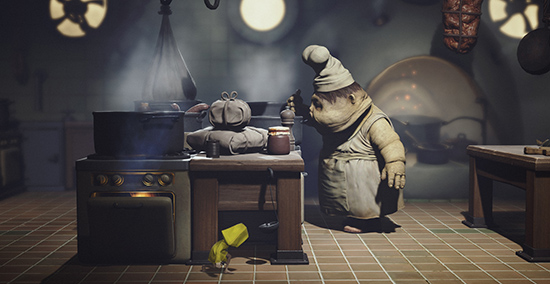 Little Nightmares (Tarsier Studios/Bandai Namco Entertainment)
This story can also be completed in a few hours, as Six makes her way towards daylight and, potentially, freedom. Whilst the atmosphere of surreal horror is undeniable – sinister enough to render the game unsuitable for young players – the experience of manoeuvring Six through the levels can be frustratingly finicky. Leaps and landings must be precisely nailed, and when inevitable mistakes are made the player is cast back to much earlier progression points.
Macabre details save Little Nightmares from rote platform mediocrity. The occasional noose is glimpsed in the bowels of the ship, indicating that some children may have taken their own lives rather than be dismembered for dinner. One sequence in which Six must wade through a room heaped with shoes seems to refer to Auschwitz. This may be going too far, but the game succeeds, for the most part, in conveying some of the terrors of childhood.
What Remains of Edith Finch (Giant Sparrow/Annapurna Interactive) is available on Playstation 4 and PC. Release Date: 26 April 2017. Little Nightmares (Tarsier Studios/Bandai Namco Entertainment) is available on Playstation 4, Xbox One, and PC. Release Date: 27 April 2017.
ABR Arts is generously supported by The Ian Potter Foundation.