Theatre
Awakening (MUST and fortyfivedownstairs) ★★1/2
German playwright Frank Wedekind (1864–1918) was one of those rare artists whose work lies at the nexus of several major movements – in his case expressionism, modernism, and epic theatre – while never quite conforming to strict definitions of what those movements have come to mean. He suggests other, more famous artists to follow, like Brecht and Genet, but can also quite seriously lay claim to a movement of his own; without the sharply satirical cabaret known as Die Elf Scharfrichter in which Wedekind starred back in 1901, Christopher Isherwood would most likely not have been captivated by the kind of entertainment that led to his Berlin Stories (1945). It's tempting to think that the decadent sexual liberation of Weimar sprang unseeded from an earlier, more repressed time, the result of a natural post-World War I euphoria, but Wedekind's work proves that this kind of deeply unsettling anti-authoritarianism was well in play in Germany decades before.
Indeed, Spring Awakening was written in 1891 which – given its overt themes of atheism, homosexuality, masochism, rape, and youth suicide – seems extraordinarily prescient and courageous. It is little wonder it was banned for many years, and when performed, was heavily censored. It concerns a group of school children, some as young as fourteen, grappling with the strictures and hypocrisies of an education system that refuses to acknowledge their autonomy, let alone their humanity. The play dares to conceive of young people as fully integrated and nuanced personalities in their own right, and does so half a century before the concept of the teenager was widely understood.
Writer and director Daniel Lammin, in conjunction with Monash University Student Theatre (MUST), has adapted Wedekind's text in intriguing, sometimes frustrating ways. He sets the play in fin de siècle Germany but then introduces mobile phones and selfies, in a heavy-handed attempt to draw contemporary parallels. In the second act he takes this concept further – the starchy period costumes give way to modern dress, and casual profanity makes its way into the text – but the idea isn't developed; Lammin never explores the ways in which contemporary teenage life differs from that of a hundred years ago, preferring unsophisticated generalisations about 'not being understood'. There is an interesting correlation to be drawn between the laissez-faire freedoms of modern kids and the autocratic constrictions of the past, and the fact that neither satisfactorily prepares young people for adulthood, but Lammin seems incapable of drawing it.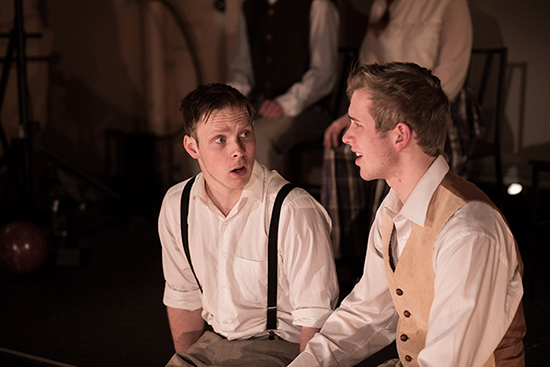 James Melcher and Eamonn Johnson in Awakening (photograph Nura Sheidaee)
More interesting than the temporal shifts are the games Lammin's adaptation plays with characterisation. The six actors (Nicola Dupree, Samantha Hafey-Bagg, Eamonn Johnson, James Malcher, Sam Porter, Imogen Walsh) share the central roles of Melchior, Moritz, and Wendla in what can be read as a comment on the fluidity and instability of identity in young adults. Self-actualisation can often be a process of 'trying on roles', and the actors' rationing of the parts suggests this rather ingeniously. Similarly, Dupree and Walsh play Wendla's mother simultaneously. Having two actors play a single character may be an attempt to dramatise the power imbalance between parent and child, but it's a rather clunky device and serves only to slow the pace.
Pace is problematic throughout Awakening. The opening sequence, with the actors sitting on chairs facing the audience in blank anticipation, is interminable, and the scene transitions seem to take forever. For a production that purports to be the embodiment of youthful urgency and vigour, it's often surprisingly slack and hesitant. This is as much the fault of the acting as the direction: most of the student cast are stretched beyond their abilities, with only Hafey-Bagg and Malcher managing to pull off the constant shifts and lightning-quick changes the adaptation requires.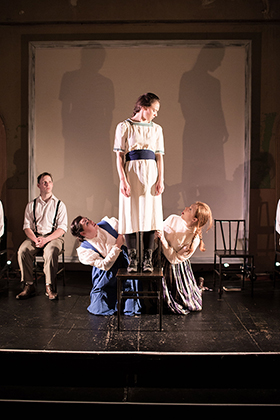 The cast of Awakening
(photograph Nura Sheidaee)Technically the production is strong, with a set design (Julia Kaddatz) so simple it verges on the puritanic, and a lighting design (Shaun Haney) that is powerfully dynamic. The projections (Justin Gardam) act as a lovely framing device, and provide a spookily effective sequence of text messages that highlight the isolation and emotional vulnerability of youth.
In much the same way that Isherwood's Berlin Stories was transformed into Cabaret, Spring Awakening was adapted into a smash hit Broadway musical in 2006. With its aggressive mashing of contemporary and period trappings, it provided much of the framework that Lammin adopts here. Goethe undeniably romanticised youth suicide with his Sorrows of Young Werther (1774), and given the controversy around this year's Netflix adaptation of Jay Asher's 2007 novel Thirteen Reasons Why, a production that confidently reintroduced Wedekind into this debate would have been welcome. Awakening isn't quite this; it tends to flatten and simplify where it should challenge and complicate, advancing little on Pink Floyd's theory of an education system that sees kids as 'just another brick in the wall'. Wedekind isn't lost to us, but he's also not exactly found.
Awakening (Monash University Student Theatre and fortyfivedownstairs), written and directed by Daniel Lammin, is an adaptation of Frank Wedekind's play Spring Awakening (1891). The season continues until 21 May 2017. Performance attended: 13 May 2017
ABR Arts is generously supported by The Ian Potter Foundation.