Advances
The Update - May 9, 2017
Vale Michael Gurr
Melbourne-born playwright, author and screen writer Michael Gurr has died at the age of fifty-five after a short illness. Gurr directed the plays Crazy Brave (2000) and Sex Diary of an Infidel (1992). He was speechwriter for Steve Bracks in the campaign that returned the ALP to power in Victoria in 1999, and he wrote the memoir Days Like These (2006, MUP).
In her tribute to Gurr in Daily Review, actor and writer Elly Varrenti described him as 'something out of the box ... so wicked, so old-young, so singular, so confident without swagger, so unwittingly beautiful.'
A public memorial for Michael Gurr will be held at Melbourne's Malthouse Theatre on Monday 15 May at 6.30 pm.
The Pearlfishers and Patrick Nolan at OperaQ
Opera Queensland will celebrate the return of Bizet's The Pearlfishers to Queensland after fifteen years by offering 2,500 tickets priced at just $25 each. OperaQ's $25 ticket initiative has allowed 'thousands of Queenslanders' to experience opera for the first time 'for the price of a beer and a pizza', since 2015. 'We want to encourage as many people as possible to share the emotion of seeing a real opera for the first time, of hearing the power of the voices and seeing this amazing 400 year old artform up close,' said OperaQ artistic director, Lindy Hume
The Pearlfishers, directed by Michael Gow and starring Emma Matthews, Aldo Di Toro, Andrew Collis, and Grant Doyle will run from 25 May to 3 June, 2017 at the Lyric Theatre.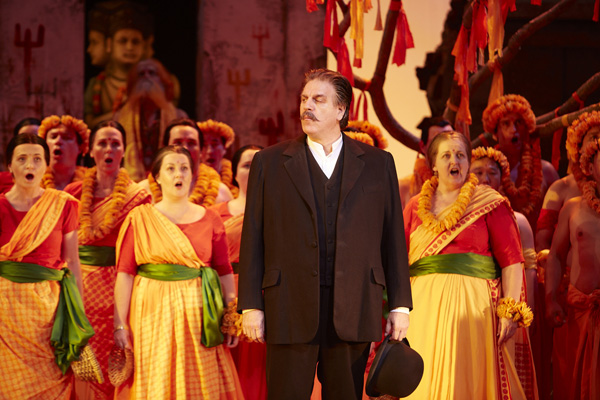 Daniel Sumegi as Nourabad in Opera Australia's 2016 production of The Pearlfishers
(photograph by Keith Saunders)
Opera Queensland has also announced that Patrick Nolan will be its new artistic director, from November 2017. In a career spanning almost three decades, Mr Nolan has worked in opera, theatre, and outdoor events, and was the former artistic director of physical theatre company Legs on the Wall.
'As the new Artistic Director of OperaQ, I want this space to be alive to the time we are living in and open to audiences of all ages and walks of life ...,' said Mr Nolan, '... I can't wait to start the conversation.' Lindy Hume will finish her term in late October.
Shrine at fortyfivedownstairs
The Kin Collective have joined forces with fortyfivedownstairs and Director Marcel Dorney to present the Melbourne première of Tim Winton's Shrine, a play set on the 'rocky headlands' of the South Coast of Western Australia', 'that shines a light on the tangled bonds of one Australian family'. Shrine stars Ally Fowler (Wentworth and Neighbours) and Christopher Bunworth (Boy Out of the Country), and runs 24 May – 18 June 2017.
Thanks to fortyfivedownstairs, ABR is giving away three double passes to Shrine. See our giveaways section below for more details.
Sydney Writers' Festival
Under the new directorship of Michaela McGuire, this year's Sydney Writers' Festival will host a number of key novelists, journalists, and social commentators in a rich and diverse program 'tied together by the theme of "refuge"'.
'Across the 2017 Festival, some of the world's most curious, compassionate, irreverent but respectful, intelligent and argumentative writers will be offering up their brilliant works as temporary respite', said McGuire, 'and interrogating the forces that compel us to come together and find sanctuary.'
International guests this year include, among many others, satirist Armando Iannucci, writers George Saunders, Brit Bennett, Roxanne Gay, and Anne Enright (who will deliver the opening address), Pulitzer Prize-winning journalists Susan Faludi (who will deliver the closing address) and Thomas Friedman, and 2016 Man Booker Prize winner Paul Beatty. Local writers include Robert Dessaix, Ali Cobby Eckermann, Clementine Ford, Stan Grant, and John Safran.
This year's Live and Local program will broadcast key events to regional audiences in 'arts centres, libraries, and writers' groups' in all states and territories.
The 2017 Sydney Writers' Festival will be held between 22 and 28 May. For more information, visit their website.
Isaac Drandic
Isaac Drandic
(British Council Australia, via Flickr)Actor and director Isaac Drandic has been announced as Queensland Theatre's Resident Dramaturg. Drandic will provide 'literary management and dramaturgy support to Queensland Theatre's Programming department' from Cairns.
QT's Artistic Director Sam Strong – only three shows into his 2017 program – made the announcement amid 'twenty-year high subscriptions and record-breaking box office success'. 'Isaac's appointment speaks to so many of Queensland Theatre's goals and ambitions,' said Strong '... it's a coup to have a dramaturg whose extensive practice straddles Indigenous and non-Indigenous work.' On his appointment, Drandic said, 'There isn't a better job anywhere in the country.'
Isaac Drandic was the associate director of Ilbijerri Theatre Company from 2012 to 2015. Among numerous acting and directing credits, he was the recipient of a Victorian Indigenous Performing Arts Award in 2008 and was recently nominated for a 2016 Green Room award for direction of Blood on the Dance Floor, which won most outstanding independent theatre production.
Aardman Animations at ACMI
The Australian Centre for the Moving Image (ACMI) will host Wallace & Gromit and friends: The magic of Aardman, an exhibition showcasing the 'sketchbooks, concept drawings, storyboards, sets, and puppets' of the 'idiosyncratically charming' British animation studio.
Aardman Animations, now in its fortieth year, is the studio behind the Claymation television series' Wallace & Gromit and Shaun the Sheep, and the films Chicken Run (2000) and Flushed Away (2006).
Studio co-founders Peter Lord and David Sproxton will be at ACMI for a series of events and workshops to share their experiences and impart some 'tricks of the trade'. On 29 June, Lord and Sproxton will present a master class hosted by 'Academy Award-winning Australian animator Adam Elliot (Mary and Max and Harvey Krumpet)'. On 1 July, Peter Lord will conduct a 'hands-on' workshop on claymation.
Wallace & Gromit and friends: The magic of Aardman will run from 29 June 2017. For more information visit the ACMI website.
An animator works on the set of a Wallace & Gromit feature
(photograph courtesy of ACMI)

Rory Jeffes
Managing Director Rory Jeffes will leave the Sydney Symphony Orchestra to become the CEO of Opera Australia. 'I see the role of Opera Australia CEO as a new challenge that I am excited to take on,' said Mr Jeffes, who has been with the SSO for the last twelve years.
'It's great for Australia that he will remain a leader of the arts community here', said SSO Chairman Terrey Arcus, 'For the SSO, it creates the opportunity to view things afresh through the leadership of a new chief executive.'
Rory Jeffes will leave the SSO at the end of July 2017.
Madman acquires Garage Entertainment
Madman Media Group has acquired Garage Entertainment, a production company and streaming platform dedicated to sports films and television content. According to Madman, the acquisition of Garage will allow it to reach an 'aggregated subscriber base of over 600,000 registered users across 'video-on-demand' platforms, and add a substantial number of sports films to its library of 'feature film, anime, and documentary' content. Garage Entertainment produced the Australian surf documentary Bra Boys (2007), narrated by Russell Crowe.
Giveaway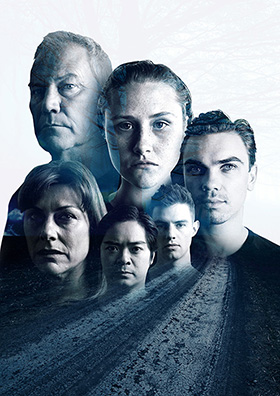 Thanks to fortyfivedownstairs, three new or renewing subscribers will receive double passes to Shrine, a play by Tim Winton (27 May – 18 June 2017). Tickets are valid within the first week of the performance.
To be eligible for this giveaway you must be a current or new paid subscriber to the print edition of ABR or to ABR Online. To be in the running please email Grace Chang at This email address is being protected from spambots. You need JavaScript enabled to view it. with your full name and contact details. Preference is given to subscribers who have not received a giveaway in recent months.