Opera
La Sonnambula (Victorian Opera) ★★★★
Vincenzo Bellini – fresh from the success of I Capuleti e Montecchi in Venice – spent the July and August of 1830 on Lake Como biding his time. He was struck by the folk songs of the female workers at the textile mills as they made their way home. These idylls were to flavour his sixth and pastoral opera, La Sonnambula, ossia I due fidanzati Svizzeri.
The handsome, fashionable composer – dismissed by Heine as 'a sigh in dancing pumps' – was twenty-eight. He was seeing much of the famous soprano Guiditta Pasta, whose histrionic flair, and vocal power would shape his next three operas. Though attached to another (married) Guiditta (Turina), Bellini, ever ambitious, flirted with the idea of marrying Pasta's daughter.
For his next opera, Bellini and his librettist Felice Romani chose Victor Hugo's scandalous new play Hernani. Romani was late, as always, and by January 1831, though several duets and trios had been composed, Bellini had abandoned Ernani, possibly because of concerns about possible censorship. (Verdi would adapt Hugo's play as Ernani in 1844.)
Instead, Bellini and Romani drew on a recent ballet which had in turn been derived from a comedy by Eugène Scribe and Casimir Delavigne (1819). They moved the drama from Provence to Switzerland. Bellini was in the habit of working slowly: hence ten operas in fifteen years, no match for Donizetti's prolificity. But this time Bellini wrote quickly, incorporating some of the sketches intended for Ernani, as he would in Norma and I Puritani. He later pronounced it a 'fluke' to have finished the opera in six weeks.
La Sonnambula had its première at Teatro Carcano, Milan on 6 March 1831, with Pasta as Amina and Giovanni Battista Rubini as Elvino. After the triumphant première, Bellini wrote: 'Here you have the happy news of the uproarious success of my opera last night at the Carcano. I will say nothing about the music, for you will read of that in the press. I can only assure you that Rubini and Pasta are two angels who enraptured the entire audience to the point of madness.'
Mikhail Glinka, who was present, corroborated this in his memoirs: 'Pasta and Rubini sang with the most evident enthusiasm ... In the second act the singers themselves wept and carried their audience along with them so that, in that happy season of carnival, tears were continually being wiped away in boxes and stalls alike ... I too shed tears of emotion and ecstasy.'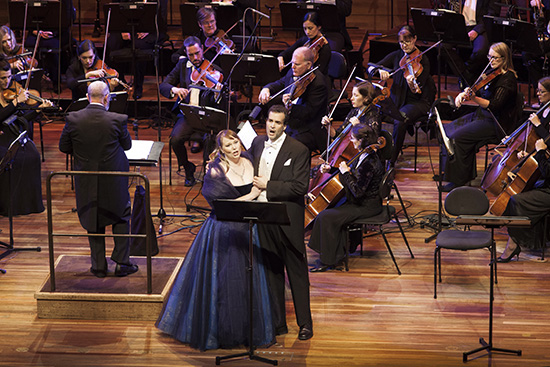 Jessica Pratt and Carlos E. Bàrcenas in Victorian Opera's La Sonnambula
(photograph by Charlie Kinross)
Bellini has always had his devotees, and his critics. Reviewing John Rosselli's brisk, incisive biography of Bellini (1996), Peter Porter wrote: 'There has always been something lovable about Bellini's music, some essence, hard to pin down, which separates him from his more generously gifted contemporary, Donizetti. Morbidezza, "long, long melody", refinement of sensibility, an innate nobility of utterance: Bellini's charm is as easy to recognize as it is hard to classify.'
For bel cantists, La Sonnambula – done well – retains its emotive appeal, with its ceaseless lyricism, its long-breathed melodies, its phenomenal coloratura, its inwardness and melancholy. For some it is the quintessential Bellini opera. In other ways it is atypical, for the voice dominates La Sonnambula much more so than in the other operas. Quite often the voice is exposed or left unaccompanied. Thus it calls for singers of high accomplishment and poise.
Criticisms of Bellini's orchestral deficiencies are almost clichéd. Berlioz, no devotee, helped it along in his obituary: he dismissed Bellini as a 'second-rate musician ... unskilled at large-scale musical organization, little versed in the science of harmony, and virtually ignoration of instrumention'. Bellini, though not unaware of these criticisms, was defensive. Asked to reorchestrate Norma in the French style, he wrote: 'You are mistaken: here and there it might work, but in general I would find it impossible because of the plain and flowing nature of the melodies, which admit no other kind of instrumentation than what is there already: and this I have fully thought through.' Bellini was not Sicilian for nothing.
The story, of course, is very silly. There have been some famous productions (notably Luchino Visconti's at La Scala, for Callas and later Sutherland), but this is one opera that really lends itself to concert performances. Twice Amina, most tuneful of orphans, is found sleepwalking, the first time in a very inappropriate bedroom. She scandalises the village and her combustible fiancé, and is only forgiven when the villagers learn about somnambulism. As John Rosselli has remarked: 'Sleepwalking tapped the romantic interest in the unconscious and the strange.' All ends happily – a rarity in Italian opera.
Victorian Opera has in recent years brought us much Bellini. The program states that 'Bel canto holds a special place in the heart of our company.' La Sonnambula follows concert stagings of Norma (2014) and I Puritani (2015).
This was Jessica Pratt's fourth appearance with Victorian Opera, a luxury for the company, given her international stature. It follows the stage La Traviata (2014) and Lucia di Lammermoor (2016), and the concert I Puritani. Pratt, who recently made her début at the Metropolitan Opera as Queen of the Knight, has been singing Amina in Europe for several years.
Her singing was every bit as good as it was in that memorable Puritani. There were many highlights: Amina's first aria, 'Come per me sereno' and the brilliant cabaletta that follows; her Act One duets with Elvino; 'D'un pensiero e d'un accento', the ensemble that closes that act. Then Amina is largely absent until the long scene that completes the opera, Ah! Non credea mirarti'. Here, softly or unaccompanied, the beauty of Pratt's tone and the accuracy of her singing were at their most obvious. This magnificent aria (sung with great feeling by Maria Callas in a 1965 concert) was followed by a suitably exultant 'Ah! Non giunge uman pensiero' – one of the most celebrated cabalettas in the Italian repertoire. Pratt sings it on YouTube:
Greta Bradman – fresh from her operatic début in Sydney, where she sang Mimì – was Lisa, the flirtatious landlady of the inn who persuades the piqued Elvino to marry her instead of Amina. Bradman has such an interesting voice, with an ample middle, almost Callas-like at times, then an effervescent top. Lisa's demanding first-act aria opens the opera, hard for any singer. Bradman was even better in the second act: 'De'lieti auguri a voi son grata', a joyful trillathon which revealed her commanding technique and comic potential. It will be good to see her in Mozart operas.
Roxane Hislop was Teresa – owner of the mill, and guardian to Amina. Teresa doesn't have much music, but what we do have is choice. Hislop's rich, secure mezzo was at its best in the beautiful quartet that precedes 'Ah! Non credea mirarti'.
Rubini, for whom the role of Elvino was written, was famous for his range, up to F or G in altissimo. Often the tenor music is often transposed, though not by the likes of Alfredo Kraus and Nicolai Gedda (heard here in thrilling form with Joan Sutherland at the Met in 1963). Carlos E. Bárcenas, who sang Elvino, is perhaps the most expressive tenor in the world, even in concert. Bárcenas's pitch, it must be said, was wayward, but his high notes, of which Elvino has many, were secure and idiomatic, even the four top C's in Elvino's first duet with Amina.
Paolo Pecchioli was superb as Count Rodolfo, commanding in his great cavatina 'Vi ravviso, o luoghi ameni' and very funny when he flirts with Amina and suavely bamboozles Elvino. It is easy to see why Pecchioli has sung some of the great bel canto roles with conductors like Mehta, Chailly, and Salonen. Let's hope we hear this outstanding bass again.
Richard Mills conducted, rather ponderously, it must be said, in Act One, though the tempi livened up in Act Two. The chorus was in excellent form.
After the brilliant première of La Sonnambula, Norma followed at La Scala in December 1831, with Pasta as the Druidess. (Remarkably, in one year she had created the roles of Anna Bolena, Amina, and Norma.) Bellini would be dead within four years, aged thirty-three. On his tombstone is a quote from 'Ah! Non credea': 'Oh! I never thought that you would die so soon.'
John Rosselli should have the final word on La Sonnambula: 'Gravely simply, intimately tough, the opera sits at an angle to the present age, which finds innocence a stumbling-block; it may even strike some as ridiculous. In time, however, the laugh will not be on it.'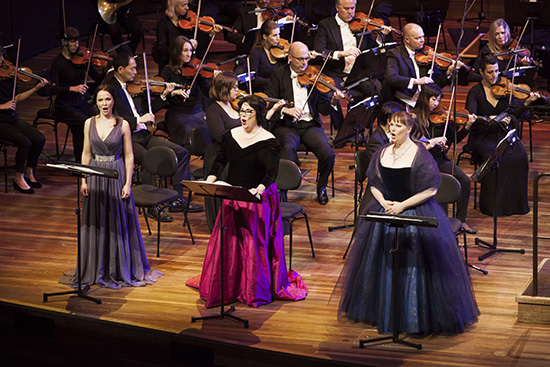 Greta Bradman, Roxanne Hislop, and Jessica Pratt in Victorian Opera's La Sonnambula (photograph by Charlie Kinross)
Unlike Norma, La Sonnambula has not been recorded often. Callas – a celebrated and immensely feeling Amina – recorded it for EMI (1957), and there is a famous La Scala recording from 1955, conducted by Leonard Bernstein, with a sensational 'Ah! Non giunge'. Sutherland recorded Sonnambula twice for Decca – eighteen years apart; Bonynge conducted both times. Sutherland's singing in 1962 was decidedly moony, but the coloratura is remarkable, especially in 'Son Geloso del zeffiro errante', some of her finest on record. Nicola Monti, who was no Pavarotti, was Sutherland's first Elvino, and Callas's. Pavarotti was a brilliant Elvino in the 1980 Decca recording, which also has the great Nicolai Ghiaurov as Rodolfo. Natalie Dessay, another celebrated Amina, recorded the opera for Virgin Classics in 2006.
La Sonnambula was presented by Victorian Opera, a concert version in Hamer Hall, Art Centre Melbourne on 5 May 2017. This performance will be streamed on The Opera Platform from July 2017.
ABR Arts is generously supported by The Ian Potter Foundation.