In 1980, Brett Whiteley completed his famous portrait of Patrick White, Patrick White at Centennial Park 1979–1980, disagreements over which caused a terminal rupture in the friendship between the two men. Of his intentions for the painting Whiteley said, 'Could I make a vision of the feeling of his literature plus how he lived, and the complexity of him as a person, his humour, his bitchiness, his pronouncements?'
Director James Bogle is, in many ways, asking that same question of Whiteley himself and his art with this fast-paced alluring patchwork of a documentary. Indeed, like the White portrait, some artistic licence, along with techniques of collage and even fantasy, combine to produce a fascinating glimpse of a brilliant artist whose work and life retain a special place in Australia's cultural consciousness.
Bogle's largely narratorless film charts Whiteley's journey from a childhood in the affluent Sydney suburb of Longueville to his death at fifty-three in a Thirroul motel room in 1992, an event that several of the film's talking heads suggest was inevitable in the wake of Whiteley's on-again-off-again heroin addiction, which lasted the best part of twenty years. The narrative is driven by diary entries recited by actors, tasteful dramatisations, and old interviews (including with one of Whiteley's biographers, Barry Pearce, the makers opting not to approach Ashleigh Wilson, author of Brett Whiteley: Art, life and the other thing, for a more contemporary angle on Whiteley).
These storytelling devices are balanced, quite beautifully, by a manipulation of graphics in which motion is brought to still photography. In a charmingly lo-fi way, images are overlayed and interspersed with each other, while others are edited to produce a three-dimensional effect. Occasionally reminiscent of Terry Gilliam's Monty Python animations, the technique brings a vibrancy and expressiveness to that comparatively staid staple of similar documentaries, the faded old black-and-white photo.
Another endearing feature of the film is Whiteley's unique manner of speaking in the mish-mash of interviews that have been collated. His rampant chatter is incomprehensible gibberish at times – the film opens with one of his more nonsensical soliloquies as he disappears down a philosophical rabbit hole – but there is certainly something colourfully, chaotically poetic to his turn of phrase. Many of his heroes after all – Rimbaud, Baudelaire, Dylan – were literary figures, even if he does lament grappling with 'the battleship heaviness of words'.
Words, of course, feature heavily on a number of Whiteley paintings – including The American Dream, his spectacular multi-medium expression of confusion and disgust at the Vietnam War. One of the most entertaining sections of Whiteley covers the years in which Brett, wife Wendy, and daughter Arkie lived in New York in the late 1960s as this enormous eighteen-panel painting was created. Its depiction of violence and apocalypse saw Whiteley exploring aesthetics that echo Theodor Adorno's remark, 'The darkening of the world makes the irrationality of art rational: Radically darkened art.' The American Dream was a precursor to Whiteley's fabled Alchemy, also in eighteen panels, which, though less political and more spiritual than its predecessor, continued this electrifying period in Whiteley's career, when his goal appeared to be a kind of compassionate provocation of an existentially complacent public.
Wendy Whiteley is almost as much the star of Whiteley as Brett himself. Her descriptions of their life together are sad, funny, and, thankfully, devoid of sentimental nostalgia. The film confirms that Wendy was not only his artistic muse and loyal companion (until their 1989 divorce at least), but also remains the faithful guardian of his legacy (see her reaction to the recent trial over alleged Whiteley forgeries), and the most insightful interpreter of his work – perhaps more so than the man himself.
Indeed, if there is one theme threaded throughout Bogle's documentary it is the mystery of where Whiteley's visions and inspiration came from. His devotion to exploring Rimbaud's 'derangement of the senses' dictum through drugs and alcohol was certainly one factor, but the film makes it clear that Brett, Wendy, and others saw his gift as a mysterious bestowal from god-knows-where.
This can arguably lead to an over-mythologising of this Australian icon – I am not old enough to have experienced Whiteley's presence and stature on the nation's cultural scene. From this vantage point it seems that in discourse today Whiteley can be elevated to the point that, like Rimbaud, the storied image of the man, the legend, overshadows both the works themselves and his humanity. Whiteley does not shirk away from the latter – in the film Wendy describes him as 'vicious' to live with, and his extramarital affairs in terms that verge on the patronising, seeing him as an immature boy going through a 'phase'.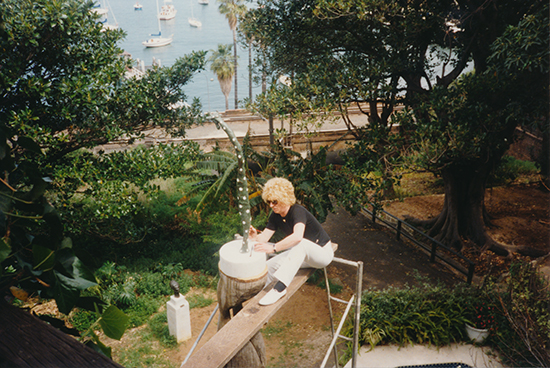 Brett Whiteley working on a sculpture in the garden of his Lavender Bay home
(photograph by Frannie Hopkirk)
Bogle is ultimately successful in juxtaposing the flaws and inconsistencies of the man with the undoubted genius of his paintings, producing an imaginative, unconventional film that leaves the viewer happily 'transmuted', to use one of Brett's favourite terms, into an intoxicating reverie that is not unlike the dazzling effect of the paintings themselves.
Whiteley, 90 minutes, directed by James Bogle. Distributed in Australia by Transmission Films. In cinemas from 11 May 2017.
ABR Arts is generously supported by The Ian Potter Foundation.