Theatre
Three Little Words (Melbourne Theatre Company) ★★
There is something more than a little ersatz about Three Little Words, the latest play by Joanna Murray-Smith. It has all the usual parts, but it doesn't feel like a real play.
It opens – you'll never guess – in a suburban living room. Tess and Curtis (Catherine McClements and Peter Houghton), a convivial middle-aged couple, are celebrating their twentieth wedding anniversary. To celebrate this auspicious landmark, they've decided to get a divorce. Tess, it seems, has had enough. She still loves Curtis, but she finds him a bit of a bore. She wants more from life. More of what exactly she does not know. It's just a feeling, a 'yearning'. Curtis is quietly heartbroken but goes along with the plan because – well, why not? He is sensitive to a fault and determined to support his wife in everything. Even their teenage daughter (never seen) is cool with it.
Annie and Bonnie (Kate Atkinson and Katherine Tonkin), however, are shocked. They are friends of the family who, like Tess and Curtis, have been a couple for twenty years. In a series of shouty back-and-forths, they try to convince Tess that her desire for self-fulfilment is a pipedream and that she is trashing a not-so-bad marriage for the sake of a romantic illusion, an airy nothing, a fantasy. In part, their dismay is selfish. Long-term relationships are hard work, and they too have had their ups and downs, their secret hungers and confusions. What if divorce is somehow contagious? Tess, they reason, had a duty to stick it out. She failed and now they are all in danger.
It is not as if any of this is obviously preposterous. Happily wedded couples do sometimes agree to end things more or less amicably for the sake of a change. And of course what begins amicably sometimes ends in open warfare. And yet Three Little Words somehow manages to make it seem like the most implausible nonsense in the world, a simulacrum performance.
Throughout the play, the actors perform on a large, square platform crowded with the most unexceptional possible furnishings. It looks like an Ikea gallery; perhaps it's meant to. 'I don't want to be saddled with history,' says Tess. 'I'm going to only buy Ikea. It's cheap and its ubiquitous and it doesn't touch your soul.' She follows through on this promise and solemnises her separation from Curtis by purchasing one of those omnipresent BEKVÄM step stools. Is this meant to show up the superficiality of her desire for freedom? In any case, the banality of the set only exaggerates the overall feeling that this is not a real play, that it is somehow a showroom play, with as much substance behind it as a shelf of faux books.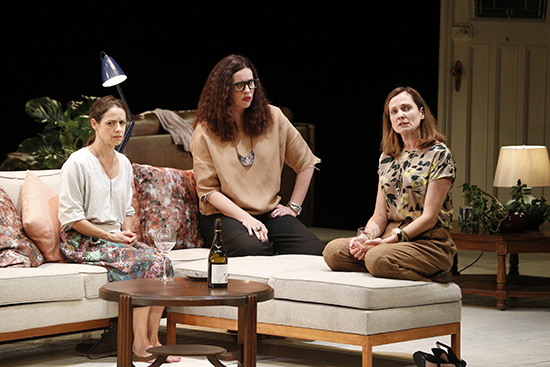 Kate Atkinson, Katherine Tonkin, and Catherine McClements in Three Little Words (photograph by Jeff Busby)
Not that all the books in this play are fake. Much is made of F Scott Fitzgerald's Tender Is the Night. It was over this book that Tess and Curtis first bonded. Fitzgerald, says Curtis, expertly captures the surfaces of privilege. Tess agrees. And perhaps Three Little Words, which, in its own way, is about feckless and doomed lovers, is meant to be something like that: a critique of the restlessness and disappointments of today's privileged, always worried about what they might be missing out on, never satisfied with what they have. And yet it is hard to take seriously a show that offers up such flimsy epigrams as 'Loyalty is the lie we tell ourselves to justify our fear'.
Still, there are one or two zippy exchanges and funny lines. Often I wished that this production could be cut free of living-room naturalism and social satire, and done over as pure farce. Joanna Murray-Smith can do farce well, as she proved most recently with Day One, a Hotel, Evening (2011). And so much here might be excused if the actors themselves could laugh a little. For example, the cumbersome antique item called a tantalus cabinet, a name so pregnant with significance that it begs to be giggled at. Director Sarah Goodes, however, treats the play as though she were still working on Switzerland, the psychological thriller by Murray-Smith that Goodes directed for the Sydney Theatre Company in 2014. It all seems so ponderous, so slow and stiff and laboured. Meanwhile Paul Jackson has lit the stage as if he confused the play with Pinter's Homecoming, all twilight and melancholy.
Catherine McClements is nonetheless pretty good as the ingenuous Tess, and offers throughout a fine blend of girlish optimism and middle-aged mania. Like Nicole in Tender Is the Night, she has a 'moving childish smile that is like all the lost youth in the world'. She stands at the corner of the stage, shrugs her shoulders, sighs and stares longingly out past the audience, as though the yearning for something different were the most natural and human yearning of all. Despite her capriciousness and her inadvertent rudeness, this woman, in McClement's hands, does come off as innocent and sympathetic in her sincerity. In comparison, Peter Houghton, Kate Atkinson, and Katherine Tonkin all tend toward transparency, disappearing into the scenery, snorting and puffing from behind the couch.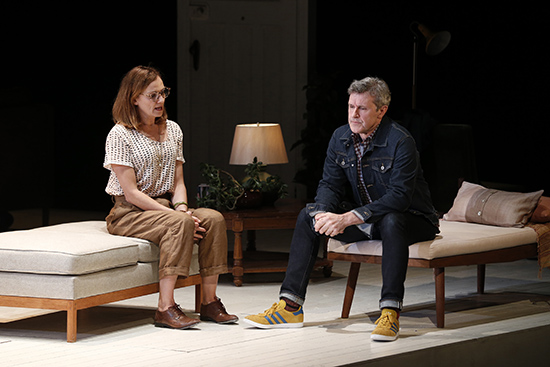 Catherine McClements and Peter Houghton in Three Little Words
(photograph by Jeff Busby)
Three little words. Which words? Perhaps – is that it? There is very little in this play which isn't announced in the first ten minutes. It is like a Potemkin play. We get the big façade, but there is nothing behind it, or very little: no clever reveal or discovery scene, no killer twist, no confounding reversal. The shouting just gets louder as everyone slides toward misery and meanness.
Three Little Words (Melbourne Theatre Company) is written by Joanna Murray-Smith and directed by Sarah Goodes. The season continues in the Sumner Theatre, Arts Centre Melbourne until 27 May 2017. Performance attended: 22 April.
ABR Arts is generously supported by The Ian Potter Foundation.