Art
Not As the Songs of Other Lands: 19th Century Australian and American Landscape Painting (Ian Potter Museum of Art)
Opportunities to see nineteenth-century American art are rare in Australia. This beautiful small exhibition offers fascinating parallels between Australian and American landscape painting of the period, both popularly admired as expressions of a national psyche, revealing comparable interests in territorial expansion, exploration, settlement, displacement of prior inhabitants, transplantation of European values, and a deep reverence for the natural world. Loans from the Terra Foundation Collection of American Art are brought together with paintings and prints from Melbourne University's Russell and Mab Grimwade 'Miegunyah' Collection, plus a few important paintings from other Australian institutions.
In large part, the works of art look similar because their subject matter appeals to our biological instincts about where we might or might not wish to live: fertile valleys, rivers, sweeping prospects, sheltered spots with cosy buildings; or, conversely, stormy weather, and unfamiliar wilderness, possibly inhabited by people who did not want to move. Our evolved aesthetic preferences are put to use by artists to tell cultural stories, which in nineteenth-century America and Australia were – and still are – sometimes alike and often not. In fact, the differences between these 'national' landscape traditions are probably at least as interesting as the parallels between them. On the face of it a history lesson, Not As The Songs of Other Lands has plenty to say about the here and now.
European–American history began centuries before Captain Cook (although Australian Aboriginal history is three times longer than Native American). The United States of America varied demographically from the start – Spanish, Dutch, French, British, and more – united in part by revolution, annexation, and purchase, then catastrophically split by civil war. It was the revolutionary War of Independence that meant Britain needed somewhere other than America to send convicts.
Only two of the American artists represented in the exhibition were not born in America; whereas none of the 'Australians' were Australian-born. Indeed, Australia wasn't a nation until 1901. North America seemed to its seventeenth- and eighteenth-century colonisers a truly New World, with infinite resources for the future clear across the continent – its Manifest Destiny; and a pervasive sense of exceptionalist, often classically inspired noble purpose imbues much American literature, oratory, and art. 'Westward the course of empire takes its way,' wrote Bishop George Berkeley in 1726, in Verses on the Prospect of Planting Arts and Learning in America (UC Berkeley is so-named because it was a long way west). Religion played a greater part in American colonisation than in Australian, with the Pilgrim Fathers and others leaving Europe specifically for religious freedom. And the transcendentalism expressed in the so-called Luminist paintings of Martin Johnson Heade and Fitz Henry Lane has no close counterpart in Australian art.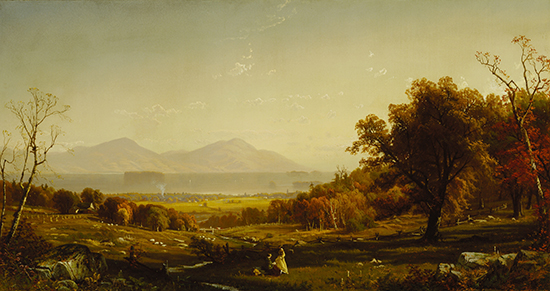 Lake George from Bolton's Landing by Alfred Thomas Bricher, 1867 (Terra Foundation for American Art, Daniel J. Terra Collection)
The exhibition's title is a line from 'An Australian Symphony', by the patriotic Queenslander George Essex Evans, born in 1863 in England and lauded by Alfred Deakin as our 'national poet'. Evans evokes the 'windswept plain, the dim blue peak' and 'dead gray trunks and boulders red', his gist being that Australia is a lovely but lonely, silent, and rather tentatively engaged-with place. There are no covered wagon trains heading west in depictions of that upside-down 'new' land. We Australians still cling mainly near the coast.
For all their differences, there are also wonderful synchronicities between these respective national visions. They are revealed in both the arrangement of the exhibition and the fine, affordable catalogue. Perhaps most notable, visually, is the transition from sublime distant mountainscapes in the Romantic tradition, in subjects by Thomas Cole and Eugene von Guérard, to the intimate all-encompassing high-horizoned picnic spots painted later by Tom Roberts, Charles Conder, John La Farge, and George Inness. The impetus to paint history is seen in both John Glover and, via literature, Thomas Cole, the founding father of the Hudson River School of American national landscape (though he was born in Lancashire). Von Guérard, born in Austria, trained in Dusseldorf, Germany, as did a number of American landscape painters, before he came here in the 1850s. Artists had international ambitions then as now.
In her thoughtful catalogue essay, Meaghan Katz explains that the 'cultures that created this art were imperfect and unfinished'. So too, of course, are both today.
There are many unfinished stories that these works of art still point to in 2017. When we look Glover painting Tasmanian corroborees, or Worthington Whittredge an Indian encampment in Colorado, and ask whether their nineteenth-century attitudes to settlement in the wilderness and their depictions of First Peoples were flawed, we must ask, I believe, are we honestly managing a whole lot better? The proposition that things are ordained or inevitable can be a very human comfort: that cities can expand unsustainably; that bleached coral is of no significance – or, anyway, that nothing can be done about it; that clean coal is real because we're told so; or that offshore detention centres are of no concern while out of sight. What are we actually doing with our golden soil and boundless plains these days?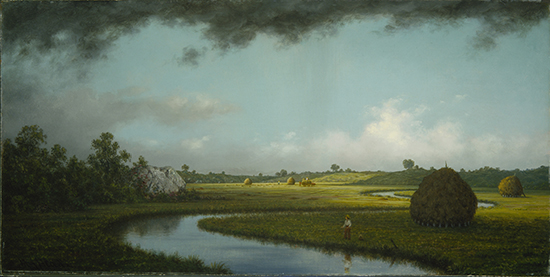 Newburyport Marshes: Approaching Storm by Martin Johnson Heade, ca. 1871 (Terra Foundation for American Art, Daniel J. Terra Collection)
A cross-disciplinary international symposium, Parallel Histories, was held 6–8 April. Richard Bell's Embassy will take place in the exhibition space 28–30 April: a program of discussions, screenings, and performances.
Ian Potter Museum of Art in collaboration with the Terra Foundation of American Art, Chicago and Giverny. The Ian Potter Museum of Art, The University of Melbourne, 14 March to 11 June 2017.
ABR Arts is generously supported by The Ian Potter Foundation.