Dance
Lord of the Flies (New Adventures and Re:Bourne) ★★★
William Golding's Lord of the Flies (1954), about a group of British schoolboys marooned on a tropical island during a nuclear war, has been adapted for radio, stage, and screen. Acclaimed theatre director Peter Brook's austere, 1963 black-and-white film, with a superb cast, is by far the best and only authentic one of three screen adaptations to date. Stage versions by Nigel Williams (1996) and Timothy Sheader (2011) have been well received around Britain as recently as 2016. Why it has not been made into an opera for young singers is hard to fathom.
This adaption by Matthew Bourne's company, New Adventures, and its charitable division, Re:Bourne, is the first in dance form. It is the result of the Scottish Arts Council's approach to Bourne, to develop a production bringing young boys and adults, and professional dancers, into a genuine creative project. For Bourne, made internationally famous and infamous by his contemporary Swan Lake in 1995 (he replaced female swans with athletic men, story-book royals with a neurotic prince and a vivacious, blonde commmoner), this was a welcome invitation. As he explains in a program note, he had long admired Golding's novel and it was the only story he would consider.
Bourne's Flies is no traditional dance show by élite artists, but a social enterprise that necessitated finding and training boys and young men in intense classes, workshops, personal and artistic development; some of them would not have had a dance class or any interest in dance. A clever idea became a phenomenon across thirteen cities in the United Kingdom. Thousands of workshop participants took to dance like ducks to water, and those lucky enough to be chosen to perform Flies, like Bourne's swans to the stage.
The Melbourne season, the first outside the United Kingdom, is a culmination of a six-month collaboration with Arts Centre Melbourne. It features nine British and Australian professional dancers, and twenty-three amateurs from around Victoria. The première opened with a bang – the explosion that brings the schoolboys' aeroplane down to an abandoned theatre's stage – and closed to a warm, standing ovation. The performances, from top professionals to the smallest of boys, aged just six, were terrific, all glowing with conviction.
Although Flies was an immediate hit at the Theatre Royal, Glasgow, in 2011, critics identified problems in the scenario written by Bourne, who directed it, and his assistant Scott Ambler, who choreographed it. It is a big ask of any creative team to translate a complex literary work into a wordless ballet about the rise of anarchy and cruelty when social decorum and rules break down, and fear is whipped into a murderous frenzy.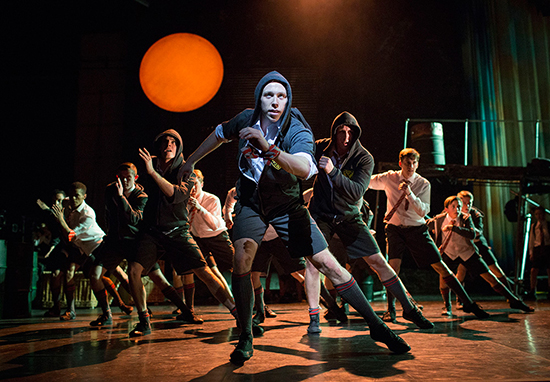 The cast of Lord of the Flies (photograph by Helen Maybanks)
Golding's novel falls almost dramaturgically into three 'acts', each one progressively opening up the nature of each character, no matter how small, as loyalties shift under the influence of the sensible, decent Ralph, who is the group's elected leader, or the cynical and snobbish Jack, whose snooty fellow-choristers stick with him in defeat. Brook adopted Golding's literary colouring of each character very simply, by way of demeanour, naturalism, and timing. Here, in the first act at least, the dance movement feels generic, beginning with marching and squad formations, then differing clusters for the 'biguns' and the 'littluns' as Golding called the boys, intersecting and morphing on the huge stage, then up and across a triple-tiered platform which is always present.
Disappointingly, Ambler's first-act choreography offers little more than brushstrokes of characterisation; only Ralph (Dominic North) and Jack (Daniel Wright) are given strong, delineating, gestural styles, while Piggy (Luke Murphy), a crucial voice in the novel, is under-developed. Like Ralph he is the conscience of the story, someone who can see the tragedy unfolding in front of him. Golding describes him as 'a specialist in thought now, [who] could recognize thought in another'. Half-blind, his spectacles smashed, it is no wonder thast he is terrified of the increasingly violent Jack and urges Ralph to defend his authority.
Simon (Patrick Weir), another seer, and Ralph's only other constant friend, is also not fully drawn until the much stronger second act, in a lyrical solo perfect for an adolescent boy. This dance, and the quartet with three pig-masked boys, who presage his savage murder by the group, is the best choreography in the work. The 'littluns', to whom Golding paid delicate attention, were often harder to read, but their enthusiasm gave the audience some sense of their fear and innocence. The absence of a synopsis in the otherwise informative program did not make it easy for the audience.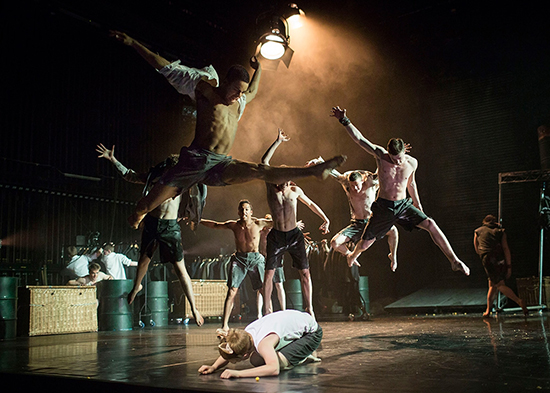 The cast of Lord of the Flies (photograph by Helen Maybanks)
Music by Terry David, lighting by Chris Davey, and sound design by Paul Groothuis gave the theatre a funky, rock concert atmosphere at first, but generally delivered the required atmospherics, even if the overall effect was sometimes overwhelming.
Lord of the Flies, presented by Arts Centre Melbourne, New Adventures, and Re:Bourne, is currently playing at the Arts Centre until 9 April. Performance attended: 5 April 2017.
ABR Arts is generously supported by The Ian Potter Foundation.