Music
Jazz Greats Weekend at Monash
That Monash University has become a national leader in jazz studies is far from surprising when we consider the calibre of its teaching staff: pianist and composer Paul Grabowsky, saxophonist Rob Burke, trumpeter Paul Williamson, and trombonist Jordon Murray, among others. Students have had the opportunity to perform and record with visiting international artists such as Dave Douglas, Enrico Rava, and Tomasz Stańko. Recent alumni have included award-winning musicians Hugh Blaines, Olivia Chindamo, Joe O'Connor, and James Mustafa.
The Jazz Greats Weekend, part of the 2017 Monash Academy of Performing Arts (MAPA) program, looked, at first glance, like a bold attempt to broaden the audience for jazz concerts, an essential strategy given Monash's stated intention to open a dedicated jazz space at the University in 2019. James Morrison, for example, is one of Australian jazz's few household names, an irrepressible personality known as much for his showmanship as for any musical innovation, and who willingly plays the role of modern-day jazz ambassador in much the same way that Louis Armstrong and Dizzy Gillespie did in earlier times.
The Saturday evening concert (★★★★1/2) began with a forty-five-minute set by Morrison and his septet of young musicians. It was a typically enjoyable, if slightly predictable, performance that featured a set of tunes – a funky opener, a ballad, a blues – that played to the band's obvious strengths. It proved a rousing warm-up for the main event: a new work, commissioned by MAPA, by young jazz composer James Mustafa, featuring James Morrison as guest soloist.
James Mustafa, an exciting composer and multi-instrumentalist, was awarded 'Young Australian Jazz Artist of the Year', among other honours, at the Australian Jazz Bell Awards in 2015. His début album, The Last Sanctuary (Jazzhead, 2014), recorded with his twenty-piece orchestra, was both a significant musical achievement and, in local jazz terms, a runaway bestseller. Like Duke Ellington, Mustafa composes with his musicians in mind, emphasising their particular talents and tonal range. For this performance, he certainly had a rich palette at his disposal – an eighteen-piece orchestra that included some of Australia's leading jazz artists: pianist Paul Grabowsky, saxophonist Julien Wilson, and trombonists James Macaulay and Jordon Murray.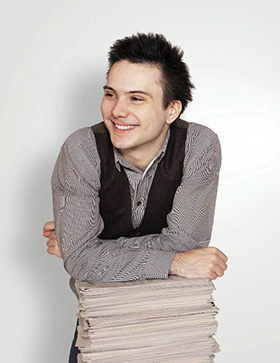 James Mustafa Mustafa's extended three-part suite celebrated his own journey as a musician, and specifically his musical relationship with James Morrison, which began with an impromptu jam session when the trumpeter visited his school. The first movement was loosely based on John Coltrane's 'Impressions', the piece they played together on that first occasion, and its modal theme, highlighting Morrison's exquisite trumpet playing, recalled the great collaborations between arranger Gil Evans and Miles Davis. The second movement, entitled 'Of Things to Come', could have been the score to an imaginary film, with Morrison – this time on trombone – dreamily floating across Jack Pantazis's crisp, gentle guitar lines and Grabowsky's plinking piano. The final movement, 'Long Way from Home', featured Morrison on flugelhorn and trumpet – cool and hot – with the movement's centrepiece being a fiery solo from Julien Wilson.
The evening was a testament to Mustafa's exceptional compositional skills, as well as being an affectionate homage to Morrison's role as musical mentor and educator. Mustafa's suite, with its emphasis on texture and tonal colours, was more aligned with the work of composers such as Gil Evans, Maria Schneider, and James Argue, rather than any standard big band fare. Morrison, to his credit, held his natural exuberance in check, delivering a performance that sought only to enhance the complexity and beauty of this music.
The second evening of the Jazz Greats Weekend (★★★★) was devoted to the songbook of our most recent Nobel Laureate for Literature, as arranged by Grabowsky, and featuring singers Kate Ceberano and Joe Camilleri. The pairing of Bob Dylan and Grabowsky certainly leant an air of anticipation to the event, particularly given that Dylan's music has rarely garnered the attention of jazz artists in the way that a fellow songwriter like Joni Mitchell's has. The reality is that these days you are more likely to hear Radiohead and Nirvana played in jazz clubs than Dylan.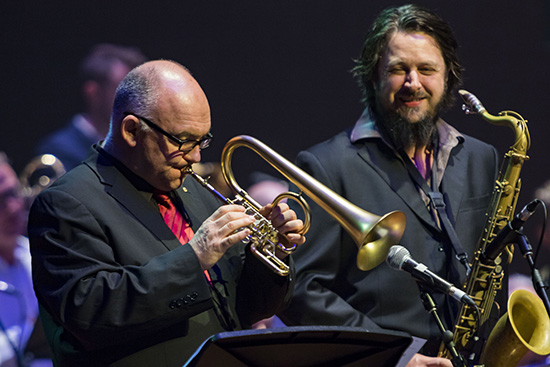 James Morrison performs at Monash Academy of Performing Arts's Jazz Greats Weekend (photograph by Greg Ford)
Grabowsky's quartet – saxophonist Rob Burke, bassist Jonathan Zion, and drummer Luke Anderson – began with a version of 'The Times They are a Changin' that was so radically deconstructed I suspect few in the audience recognised it. This seemed the perfect opener for what, in Grabowsky's words, was an evening intended to 're-interpret and re-imagine' Dylan. The main part of the evening saw the quartet backing singers Joe Camilleri and Kate Ceberano, who brought along their hand-picked Dylan selections. Both made surprising, rather than obvious choices, with Camilleri giving weight to Dylan's later work, including 'This Dream of You', from Modern Times (2006), and the superb 'Things have Changed', Dylan's contribution to the soundtrack for the film Wonder Boys (2000). Ceberano delivered a magical reading of 'Make You Feel My Love', from Time Out of Mind (1997), and she dipped twice into Planet Waves (1974), firstly with a Samba version of 'Forever Young', followed by a spirited reading of 'Wedding Song'. There were occasional misfires: Ceberano's version of 'Blowin' in the Wind' felt bloated with sincerity, and Camilleri's take on 'One More Weekend', performed in the style of John Lee Hooker, sounded a far cry from Dylan or jazz. Grabowsky and his quartet, as could be expected, played inventively throughout. If I came away not fully convinced that jazz musicians will henceforth be stampeding to Dylan's cannon, I also wondered whether our latest Nobel Laureate shouldn't consider taking a quartet of jazz musicians on the road with him.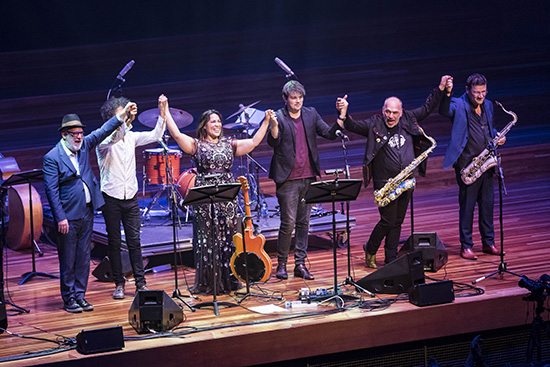 Jazz Greats Weekend (photograph by Greg Ford)
Both concerts were performed before almost full houses at Robert Blackwood Hall. While I set out harbouring some uncertainly about the Jazz Greats Weekend trading on celebrated names like James Morrison and Bob Dylan, I came away mostly convinced by the results, reassured once again that jazz is a broad church, capable of embracing everything from the extremes of the avant-garde through to popular song.
Jazz Greats Weekend at Monash took place at the Robert Blackwood Hall, 25–26 March 2017.
ABR Arts is generously supported by The Ian Potter Foundation.