Advances
The Update - March 28, 2017
Ian Potter Museum of Art
There is a terrific exhibition at the Ian Potter Museum of Art – a return to form for this university art gallery after all those rather mixed football-themed exhibitions funded by (and named after) Basil Sellers. Not As The Songs of Other Lands: 19th Century Australian Landscape Painting explores the political, economic and cultural aspirations revealed by artistic representations of the land in Australian and American art during the nineteenth century. It's a great opportunity to see some of the finest works by Eugene von Guérard, John Glover, and Nicholas Chevalier, and to encounter some exceptional American artists. The exhibition – organised in association with the Terra Foundation for American Art – runs until 11 June, with a two-day symposium, Parallel Histories, 6–8 April.
Adelaide Festival ends with a bang
This year's Adelaide Festival was one of the most successful in the event's fifty-seven year history. More than 284,000 people attended a range of 'theatre, music, opera, dance, film, and visual arts' events, generating a total box office income of $4.08 million over twenty days – a forty-four per cent increase on last year's figures.
Much of the festival's success this year can be attributed to programming devised by joint Artistic Directors, Neil Armfield and Rachel Healy. Ten shows sold out, including Barrie Kosky's Saul, extolled by Michael Morley in ABR Arts for its quality of singing, astonishing series of tableaux, and restless theatricality, and Armfield's own production of The Secret River, which was the State Theatre Company of South Australia's 'highest grossing and fastest selling show in the company's history'.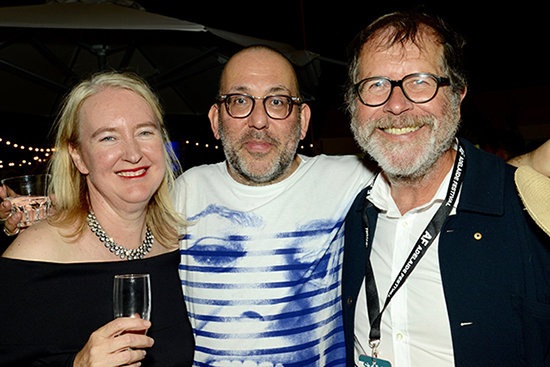 Rachel Healy, Barrie Kosky, and Neil Armfield at the 2017 Adelaide Festival (photograph by William Yang)
Michael Morley's review of Saul, as well as three one-man shows, Wot? No Fish!!, Portraits in Motion, and Richard III, will be published in the April 2017 issue of ABR.
Christoph von Dohnányi
Legendary conductor Christoph von Dohnányi has criticised religious intolerance and exclusionary policies in an impassioned blog, 'Principiis Obsta – Resist the Beginnings', 6 February 2017. Maestro von Dohnányi – nephew and godson of theologian Dietrich Bonhoeffer (who was murdered by the Nazis) – wrote: 'Bonhoeffer would be extremely unhappy observing a tendency of religious intolerance in the country he once admired so much for its freedom and acceptance. He never could have imagined that this strong, great nation would find itself in the political and ethical crisis it now faces ... What kind of world are we living in? A world of 'Texas first!', 'California first!', Asia, Africa, America, Europe or Australia 'first!'? Or do we live in a world that puts human dignity, humanity, fearlessness and compassion above everything else? In its great days our much-loved USA was such a country.'
Christoph von Dohnányi made his Australian début in April 2016 at the age of eighty-six, conducting the Sydney Symphony Orchestra.
ACMI's new $240,000 VR program
The Australian Centre for the Moving Image has announced a new commissioning program designed to 'invite visual artists to produce bold, new and ambitious works' using virtual reality technology. Thanks to ACMI, in partnership with the City of Melbourne and Catriona and Simon Mordant, the annual program will award $80,000 per year to a mid-career or established visual artist to 'push the limits of technology to engage audiences in new ways'; and, as ACMI Director and CEO Katrina Sedgewick states, to make a difference to Australia's 'creative industry ecology.
The recipient of each commission will receive support and advice from ACMI in the development phase, as well as a work space in ACMI X, a co-working space for screen industry artists, located in Southbank. Applications for the commission program close on 13 April 2017.
Armando Iannucci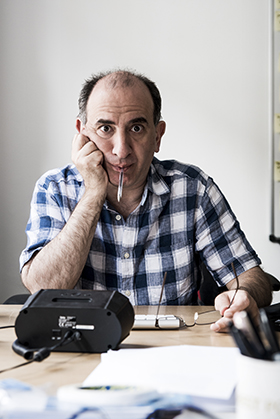 Armando Iannucci
(photograph by Matt Crockett)Armando Iannucci will open the Sydney Writers' Festival on Tuesday, 2 May. The satirist and political commentator – the writer and director behind such television hits as Veep, The Thick of It, and Alan Partridge – will discuss the finer points of comedy writing and politics with Benjamin Law. Then he will head to Melbourne for two talks at the Wheeler Centre hosted by Annabel Crabb (the first show rapidly sold out) about the state of political satire today.
Last year, Malcolm Turnbull's 'continuity and change' campaign motto, rolled out in the aftermath of Tony Abbott's deposition, transpired to be uncomfortably similar to a phrase used by the character Selina Meyer (Julia Louis Dreyfus) in Iannucci's Veep, as an obtuse, populist slogan to win re-election. Should Iannucci ever cast his gaze on Australian politics for an upcoming series, he would surely find an unusually rich source of satire.
The 2017 National Folk Festival
One of Australia's premier folk music and performing arts festivals will kick off again this year over the Easter break in Canberra. The National Folk Festival, now in its fifty-first year, will feature over 200 acts, encompassing a broad spectrum of original and contemporary folk music and art from Australia – including Fanny Lumsden, Conchillia, Mic Conway's National Junk Band, and Dubmarine – and around the world.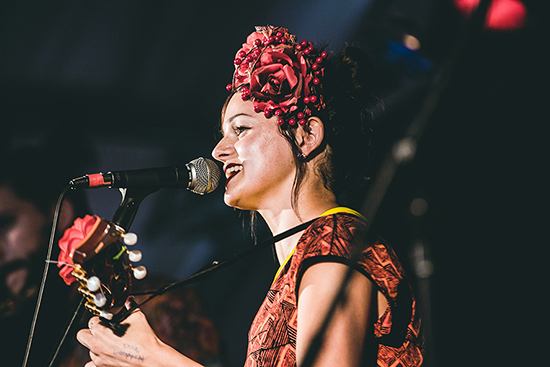 Conchillia at the 2016 National Folk Festival
The First Peoples' Program will feature a line-up of forty acts, including Indigenous musicians such as Tilly Thomas, Kutcha Edwards, and Genise and Nicholas Williams, the children of Aboriginal country musician Warren H Williams, who will perform with the Festival choir. Thanks to the Archie Roach Foundation, The Missions Songs project will revive early Australian Indigenous contemporary songs performed on missions and settlements from 1900–1999. Author and playwright Dr Jared Thomas will speak about culture and belonging.
'Fringeworld' is a new addition to an already eclectic and lively Festival, catering to the 'cool and quirky' side of the folk experience. Festival goers can veer off the beaten track to participate in everything from 'a percussion jam to a "Circus Death Match", relaxing yoga or the daily "Rainbow Dance Eruption". Tickets are on sale now.
Shona Martyn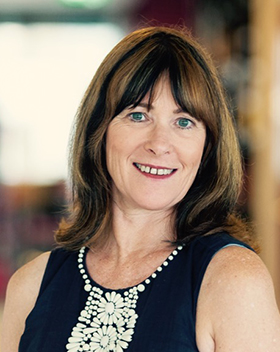 Shona MartynFormer publishing director of HarperCollins, Shona Martyn, has joined Lingo Pictures as a 'book scout' in response to the growing demand to '[transform] books into TV and film'. In a martial mood, Helen Bowden, co-founder of Lingo Pictures, said: 'We want our literary sleuth on the front line'. Bowden, formerly the managing director of Matchbox Pictures, received multiple awards for producing the 2011 television series The Slap, based on the novel by Christos Tsiolkas. In 2015 she launched Lingo Pictures with Jason Stephens, ex-creative director at FremantleMedia Australia.
'There are many splendid stories just waiting to be made', said Martyn, 'and many opportunities for authors as a result.'
Lingo Pictures is currently in production on a two-part television series adapted from Kenneth Cook's 1961 novel Wake in Fright.
R&R in Melbourne
Groupies will be pleased to know that the line-up for the Melbourne touring edition of the Brisbane Rock and Roll Writers' Festival has been announced. This one-day event will be a 'condensed' version of the Brisbane festival (a 'greatest hits', if you will), comprised of four panels exploring themes of identity, and how it shapes creative processes; hidden meanings in memoirs; the importance of music reviews; and the science and magic behind song writing. Panellists will include music writers Hugo Race, Nicole Hayes, and Kate Hennessy. The event will take place on Sunday 9 April at the Abbotsford Convent. For more information, visit the website.
Yirramboi (Tomorrow) Festival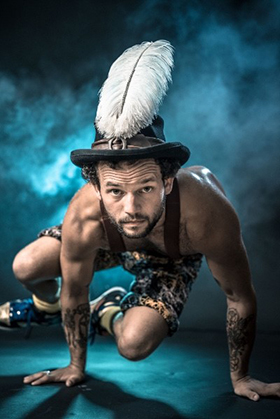 Circus Oz / Blak Flip 'Indigenous leadership, dialogue, new ideas, and international collaboration' will be the four guiding principles of the Yirramboi First Nations Arts Festival. From 5 to 14 May, the festival will bring together indigenous artists from 'the United States, Canada, New Zealand, Scotland, Wales, the Pacific Islands, and Taiwan' to celebrate '60,000 years of aboriginal culture' through dance, music, visual art, theatre, film and talks'. Events include a Full Moon Party at Federation Square featuring folk stories; Weelam Ngalut, a program of contemporary and experimental arts; and a 'New Mum's Ceremony', where Elders will gift babies up to two years old a traditional possum skin pelt.
The Festival is 'an opportunity to reframe perceptions and shape a new dialogue about Indigenous arts in Australia and around the world', said Festival Creative Director, Jacob Boehme.
The Yirramboi Festival is presented by the City of Melbourne, supported by Creative Victoria, in collaboration with the Elders Council of Kulin Nations people. For more information, visit their website.