Theatre
Trainspotting Live (In Your Face Theatre/fortyfivedownstairs) ★★★★1/2
When ticketholders are forewarned not to wear white clothing to a small-scale production, feelings of trepidation are understandable. The aptly named 'In Your Face Theatre' troupe's Trainspotting condenses Irvine Welsh's 1993 critically acclaimed collection of short stories about a group of self-destructive Scottish heroin addicts and their equally dysfunctional friends, and spits it back at theatregoers – quite literally – over the course of seventy-five outrageous minutes.
The cast of seven was uniformly outstanding. Gavin Ross was a roguish, sympathetic Mark Renton; Erin Marshall powerful as the grief-stricken Allison during one of the story's many nadirs. Chris Dennis, as the volatile Begbie, terrorised the audience like a frenzied lion in a chicken coop. Calum Barbour was Monty Pythonesque as a frazzled, obsequious job interviewer.
The audience was thoroughly manhandled (and womanhandled) as Trainspotting's degenerates stumbled and stomped between the seats, occasionally nude, yelling into faces, sprawling on bodies, and hurling liquids – alcohol, spit, and the contents of the infamous bedsheet and toilet scenes – in all directions. Although shocking, this was a truly immersive experience, one that placed viewers at the centre of the novel's poignant, darkly humorous wretchedness. Just don't wear white.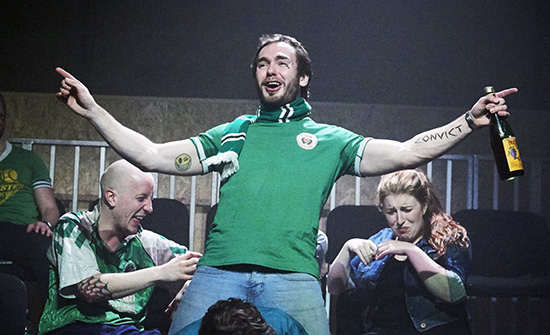 Gavin Ross, Chris Dennis, and Rachael Anderson in Trainspotting Live (In Your Face Theatre/fortyfivedownstairs)
Trainspotting (In Your Face Theatre) is currently playing at fortyfivedownstairs until 13 April 2017. Performance attended: 22 March.
ABR Arts is generously supported by The Ian Potter Foundation.