Theatre
Ladies in Black (Queensland Theatre) ★★★
On a balmy night in Melbourne this week, large numbers of well-dressed women descended on the Regent Theatre for the opening night performance of Ladies in Black. The blockbuster production from Australian screenwriter writer Carolyn Burns and director Simon Phillips, with original music from singer–songwriter Tim Finn, attracted a cheerful audience that seemed to reflect the bright and bustling production on stage.
When plain-jane bookworm Lisa Miles joins the glamorous ranks as a shopgirl at F.G. Goodes, her coming of age coicnides with the magic of an era on the brink of social revolution at the end of the conservative 1950s. Lisa's colleagues may all be dressed in the titular dark uniforms of the cocktail dress department, but they prove to be an exotic sales force. As these women encourage Lisa to alter her style, sense of self, and view of the future, much to their surprise she inspires major change in their own lives.
After an award-winning season in 2016, Queensland Theatre has brought their successful production back to Melbourne – arguably the fashion capital of Australia – by way of Sydney and Brisbane. The return season of Ladies in Black sees Sarah Morrison reprise her role as Lisa. She is rejoined by Carita Farrer-Spencer as Mrs Miles and Bobby Fox as Rudi; the latter provides a significant portion of the production's comic relief.
The stage rendition of Madeleine St John's first novel, Women in Black (1993), has retained the book's rapid perspective change from woman to woman. Finn's musical transitions and some production team sleight-of-hand deftly reflect the way in which St John's book changed the scene on a mere turn of phrase among the constant banter between the shop assistants. Some of the most humorous lines are taken from the novel, while the original song 'He's a Bastard' performed by forlorn and frustrated married woman Patty (Madeleine Jones) and her family provides the most tonally apt appropriation of St John's dry comedic turns about the female experience. Other more incongruous inclusions – such as Patty's 'gormless' husband Frank (Tamlyn Henderson) singing at a urinal – fall flat.
The major difference between St John's novel and the adaptation lies with the protagonist, Lisa. Following the novel in her lofty aspirations as a studious school graduate aiming to attend Sydney University and becoming a poet (much to her father's dismay), the stage version enacts social confidence through intellect, which doesn't fit with St John's original study.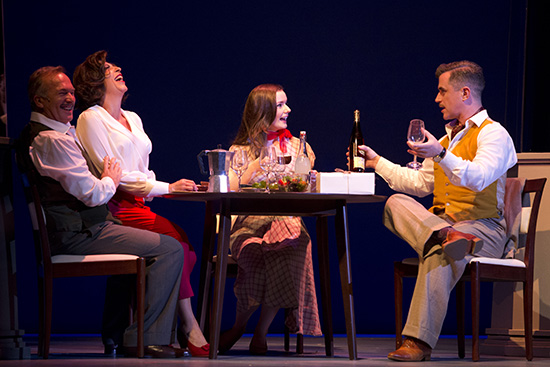 Greg Stone, Natalie Gamsu, Sarah Morrison, and Bobby Fox in Queensland Theatre's Ladies In Black (photograph by Lisa Tomasetti)
According to all reports, including Bruce Beresford's foreword to the 2012 Text Classics reissue, St John was a true eccentric who, despite her privileged upbringing (her father, Edward St John, was a federal MP who played a role in the downfall of Prime Minister John Gorton in 1971), shared many of Lisa's academic traits. As Helen Elliot wrote of Women in Black for the Sydney Morning Herald, Lisa's 'emotional impulse is clearly autobiographical'. But this impulse has shifted in the stage characterisation. In Ladies in Black, Lisa is as bright and shiny as her dream dress Lisette. She radiates a verbose optimism that seems to exceed her circumstances, whereas in the novel she depends on the world to make choices for her.
The aspects that differentiate the musical from the original text make Ladies in Black more of a classic fairy tale; devotees of musical theatre will enjoy this. Madeleine St John was not known in her native country until recently. Women in Black was published in London, and not widely available here until Text Publishing began reissuing her four novels in 2009. Many of those unfamiliar with the novel may be drawn by the glamour and a nostalgic fascination with Australian couture.
Rosalie Ham's The Dressmaker – which both on the page and on screen felt like a musical without music – and Ladies in Black reflect on Australia's relationship to Europe; how Australian women, be they immigrants ('reffos') or 'locals' (aka British descent) have, at times of change, fashioned their identities through fashion. Whether this is truth or mere retroactive rewriting is unclear. Notwithstanding, audiences seem to lap it up.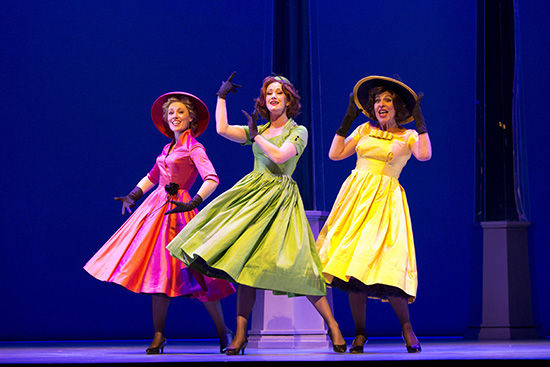 Madeleine Jones, Ellen Simpson, and Natalie Gamsu in Queensland Theatre's Ladies In Black (photograph by Jared Vethaak)
The multicultural elements of Ladies in Black are best presented through Model Gown department worker Magda (played with chic aplomb by cabaret artist Natalie Gamsu), the 'crazy continental' who sets out to cure Lisa of her suburban sensibility. Magda's relationship with her literature-loving Hungarian husband, Stefan (Greg Stone, who also plays Lisa's father), reflects the sensual, cultivated, liberated ways of the future.
While the first two acts of Ladies in Black belong to Magda (and thus Gamsu), after intermission the play is all Fay's (Ellen Simpson). Shadowing Lisa's trajectory, the unmarried twenty-nine year old falls for 'crazy continental' Rudi. With some excellent high-tempo musical numbers and comedic physicality, Fay really shines. By the end of the show, Fay, like Lisa, is no longer merely a lady at a counter wearing black. The future, for everyone, seems bright.
Ladies in Black, based on Madeleine St John's novel The Women in Black, was produced by the Queensland Theatre in association with the Queensland Performing Arts Centre, in January–March 2017. The Melbourne season at the Regent Theatre ended on 18 March. Performance attended: 28 February.
ABR Arts is generously supported by The Ian Potter Foundation.