Theatre
Mark Colvin's Kidney (Belvoir St Theatre) ★★★1/2
The theatre has given us mutilation, Titus Andronicus comes to mind, and cannibalism in Thyestes and Sweeney Todd, but as far as I am aware there is no dramatic genre based on organ donorship. After Tommy Murphy's Mark Colvin's Kidney, this may well change.
Murphy's funny and moving play is built around a series of circumstances that would seem to have emerged from the imagination of an absurdist like Ionesco rather than mundane reality, but which actually occurred.
Mary-Ellen Field was a successful Australian business consultant working in London; her stable of clients included Elle Macpherson. Disaster struck when that ultimate purveyor of sleaze, Rupert Murdoch's News of the World, published intimate details of Macpherson's private life, details which we now know were hacked. At the time, it seemed that the information could only have come from Field. Reputation shredded, she was encouraged to enter a rehabilitation centre where she was branded alcoholic and bipolar. When the hacking scandal broke, she sued News International and failed. The distinguished ABC journalist Mark Colvin, who had been following the phone hacking scandal, contacted Field. In her darkest hours, she drew comfort from Colvin's interest and guidance. On learning that he was seriously ill and on a dialysis machine, Field offered him one of her kidneys – an offer made to a man she was yet to meet.
Murphy, whose plays include the poignant adaptation of Timothy Conigrave's Holding the Man (2006), is a writer who knows how to get to the affecting core of a piece. The unlikely tweet-, text-, and phone-driven friendship that develops between the briskly efficient outgoing Field and the emotionally reticent product of an English education, Colvin, drives the play.
The play touches on many themes: the contrast between a journalism of high ethical and moral standards pursued with courage versus the ruthlessly exploitative kind in which the News of the World reporters indulge; the power of the establishment to manipulate the law to suit their own ends; the ways in which new forms of technology both enhance and diminish our lives; the legal and ethical quandaries of organ donorship and its physical cost; the stresses that such a momentous decision places not merely on the participants but also on their loved ones.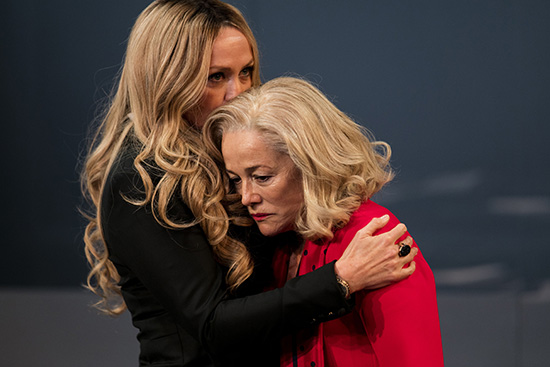 Helen Thomson and Sarah Peirse in Belvoir St Theatre's Mark Colvin's Kidney (photograph by Brett Boardman)
These are big subjects, any of which could have fuelled a play on its own, and Murphy occasionally has trouble juggling them. Murphy's original impetus was to write a play that concentrated on journalism. He has included flashback scenes from Colvin's career, scenes vividly described in Colvin's autobiography, Light and Shadow: Memoirs of a spy's son. Powerful as they are, and though they certainly show the danger of a foreign correspondent's work and the trauma involved, they seem to belong to a different play. Field's battle with the British establishment is rather underplayed. We are told that she shone at the Leveson Inquiry. It would have been good to see her in action there. But the main theme is never lost, and Field's altruism and Colvin's eventual acceptance of it carry us through.
Director David Berthold, Murphy's frequent collaborator, has the measure of the piece. Using video projection and a minimum of props, he moves effortlessly between Australia and Britain with one hilarious stopover in a French confessional.
Sarah Peirse's Field is a whirlwind of driving energy. She moves from bewilderment through outrage to despondency and finally to determined generosity, but never to despair or bitterness. At the performance ABR Arts attended, she still seemed a little uncertain of her lines, which occasionally threw her timing out, but as the season progresses this will grow into another of this fine actor's triumphant performances.
Lurching around the stage on his cane, growling at his staff and mopping his brow, John Howard makes a sweaty, stoic, recalcitrant Colvin. It is his eventual acceptance of Field's generosity which makes the play so moving.
The remainder of the excellent cast are kept busy doubling and trebling roles.
Peter Carroll is outstanding as Field's husband, Bruce. The scene in a London restaurant, when Mary-Ellen finally confesses to him not merely that she intends to donate her kidney but that all arrangements have been made and she has purposely kept him in the dark, is a comic delight.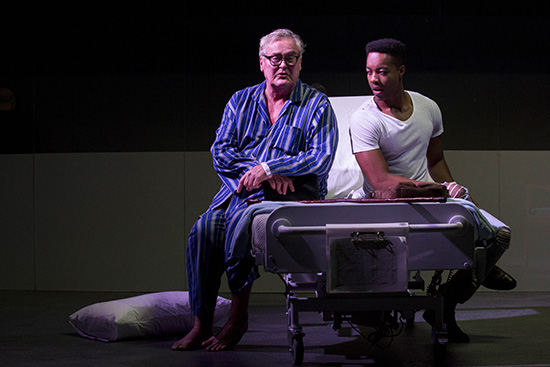 John Howard and Kit Esuruoso in Belvoir St Theatre's Mark Colvin's Kidney (photograph by Brett Boardman)
Helen Thomson's pop psychology-spouting Elle is hilarious, and Christopher Stollery disappears into an amazing variety of roles.
If Mark Colvin's Kidney doesn't completely fulfill its potential, it is because in terms of ambition it has set the bar so high. Other organs may come and go, but the heart of Murphy's play is in the right place.
Mark Colvin's Kidney, written by Tommy Murphy and directed by David Berthold, is playing at the Belvoir St Theatre until 2 April 2017.
ABR Arts is generously supported by The Ian Potter Foundation.