Theatre
Richard 3 (Bell Shakespeare) ★★★★★
The stage is open – a glossy art deco drawing room with plush velvet chairs and a chaise longue, cocktail glasses, and champagne, ready for a party. An engaging young man, dressed formally in a three-piece suit steps onstage and begins the famous speech: 'Now is the winter of our discontent made glorious summer by this son of York ...'
Of course, the young man is played by a woman, but that is forgotten in an instant as Kate Mulvany looks us in the eye and invites us to conspire with Shakespeare's manipulative villain. At the end of Richard's declaration of intent, the other players come on stage dressed for a formal party, some of them shaking frenetically; they sit or stand still in tableaux until their time comes to act. For the rest of the play they will be trapped on the stage, stepping forward to speak as one or other participant, re-arranging the coffee tables for Henry VI's coffin, shifting the chaise longue so that Clarence can be murdered there, making marginal adjustments to their costumes to indicate the shift from courtier to murderer or lord mayor.
This is Richard III as a parlour game, and it draws out the game-playing at the heart of the play. Richard performs himself or, rather, a woman performs a man at a party playing Richard, who performs any role that will suit his purposes. The audience is privy to the game from the beginning, and Richard keeps us informed of his strategies. There is one moment when the roles are stripped back, as Mulvany takes off her shirt, jacket, and trousers, revealing to the audience the evidence of the spinal deformity she shares with the original Richard. It is a material sign of Richard's sense of deprivation, of ill-starred birth, cutting through the layers of performance with a touch of reality. Then we notice that the black busts on shelves along the back wall are moulds of this back.
As the actors double or triple their roles, you realise how many characters are despatched in this play; others may enter only to perform the despatching. Only Richard, Buckingham, and the queens – Margaret, Elizabeth, and the duchess of York – remain stable. While Mulvany relishes every witty line given to Richard, and delivers them with gusto, it is Sandy Gore as Queen Margaret who stops the show. For most of the play she sits quietly watching the party, but her cursing speech in Act I takes one's breath away. Gore delivers it slowly and deliberately, making sure that every vicious word hits home. Richard's attempt to laugh it away fails dismally.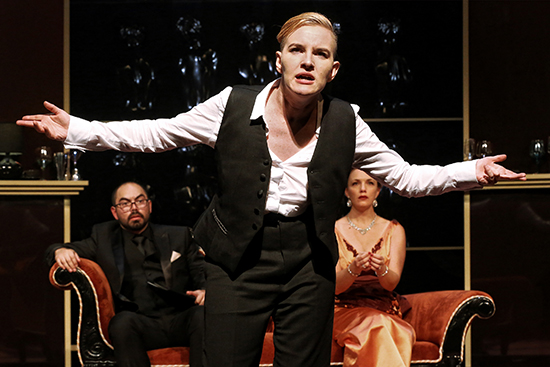 Kate Muvany in Bell Shakespeare's Richard 3 (photograph by Prudence Upton)
And so Richard's plotting and planning encounters Margaret's curse, a rival narrative that ultimately outlasts him. The vengeful women, lamenting their lost husbands and sons, win out against the childless man who feels no bond to anyone but himself. But at what a cost! Meredith Penman's Queen Elizabeth moves from glamorous hauteur to dishevelled despair as she rails against the murderer.
Every modern production of Richard III finds it necessary to cut this long play. Here, the cuts are to the number of children at stake – only Prince Edward (not his brother and cousin) is sent to his fate in the Tower. There is no playful scene where Richard acts the fond uncle, teased by his nephews, before his heartless instructions for their murder. Instead of a sudden moment when the audience must abandon any residual sympathy for Richard, his movement into damnation is a steady progress. While the audience may laugh at his outwitting of Lady Anne, or his deception of his brothers, his cunning grows more appalling and more insidious as his power grows. Remember how amusing Donald Trump was until he came to power?
Peter Evans's decision to dispense with set changes and to minimise stage business leaves us with the language and abundant imagery of this rich and ever-renewable play. Every actor delivers the lines clearly, with an understanding of their meaning. Like the wonderful reading of The Great Gatsby performed by New York's Elevator Repair Service a few years ago, this production shows how quickly the immediate world can be transcended by committed and confident performance of some of the cleverest writing in the language.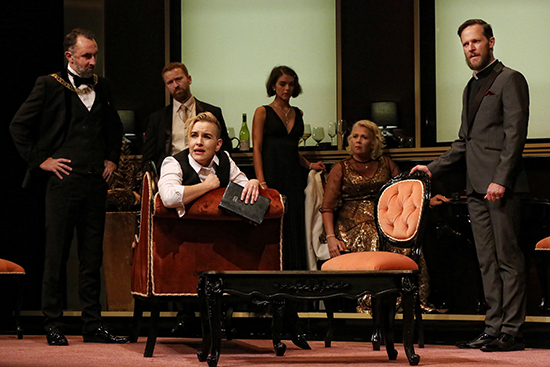 The cast of Bell Shakespeare's Richard 3 (photograph by Prudence Upton)
Much of the publicity about this production has centred on Kate Mulvany, her lopsided spine, and the rarity of a woman playing Richard (though Pamela Rabe did it for Benedict Andrews's War of the Roses in 2009). Richard III has been a 'star' vehicle for the likes of Laurence Olivier, Antony Sher, and Kevin Spacey. In this incarnation, it becomes an ensemble piece for a group of talented actors. Mulvany leads them with unflagging energy. It is spell-binding.
Richard 3 (Bell Shakespeare) continues at the Playhouse, Sydney Opera House, Sydney until 1 April, Canberra from 6–15 April, and Melbourne 20 April–7 May. Performance attended: 2 March 2017.
ABR Arts is generously supported by The Ian Potter Foundation.