Music
Maxim Vengerov (Melbourne Symphony Orchestra) ★★★★★
Russian-born violinist Maxim Vengerov – still in his early forties and long recovered from a shoulder injury that stopped him from playing for five years – has been a welcome visitor to Australia since 1999. That year, in Melbourne, he gave a brilliant recital and also performed the Beethoven Violin Concerto with the Melbourne Symphony Orchestra under Markus Stenz. Sixteen years later he returned; his recital featured a mesmeric reading of the Chaconne from Bach's Partita No. 2.
Two weeks ago he opened the Sydney Symphony Orchestra's 2017 season with a rendition of Brahms's Violin Concerto that was memorable from the first movement, when Vengerov replaced Joseph Joachim's wonted cadenza with his own longer, Bachian cadenza.
Last night, before a capacity audience in Hamer Hall, Vengerov was the soloist in a Russian Gala. After an awkward speech from the new general manager (flanked by uniformed Emirates stewardesses) and a cringe-making promotional video, we went straight into Tchaikovsky's Violin Concerto. Here, all of Vengerov's strengths were on show: crisp articulation, controlled but stirring vibrato, daring rubato, incredible harmonics, and those phenomenal trills. His tone seemed even more beautiful in the warmer acoustic of Hamer Hall. Vengerov was at his most dauntless in the outer movements, yet the Canzonetta was hushed and refined before the monumental Finale. His encore, as in Sydney, was the Sarabande from Bach's Partita No. 2. Rarely has a Melbourne audience responded so warmly to a violinist; people knew they had just heard the greatest virtuoso of our day.
Vengerov returned after interval, this time on the podium. He often conducts Rimsky-Korsakov Scheherazade, usually playing the violin solos, but Sophie Rowell was the featured soloist on this occasion, warmly encouraged by her conductor, clearly a musician's musician. Rowell's playing, especially during the Andantino and closing solo for Scheherazade, was just one of the outstanding solos during this vivifying performance. David Berlin's cello was stalwart and expressive as ever. The brass section took one's breath away, and possibly their own.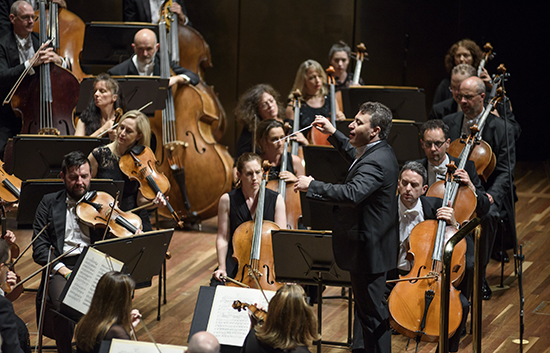 Maxim Vengerov (photograph by Daniel Aulsebrook)
In Sydney, after Vengerov's heroics in the Brahms, the SSO, conducted by David Robertson, had given an equally fine account of Tchaikovsky's Fifth Symphony. Clearly, both orchestras start the year in excellent form.
The Melbourne Symphony Orchestra's Gala was conducted by Benjamin Northey in Hamer Hall, Arts Centre Melbourne. Performance attended: 28 February 2017.
Foxtel Arts will broadcast this performance on 12 May.
ABR Arts is generously supported by The Ian Potter Foundation.