Advances
The Update - February 28, 2017
An assault on the arts
The US National Endowment for the Arts was one of the great creations of the 1960s, when US presidents like John F. Kennedy valued the arts. Currently, after decades of cuts and opposition, its annual budget has been reduced to US$148 million, compared with the $183.4 million the Australia Council for the Arts receives. Now the NEA, like the National Endowment for the Humanities, is threatened with abolition. Thomas P. Campbell, director of The Metropolitan Museum of Art, New York, had a strong op. ed. piece in The New York Times. He wrote: 'I fear that this current call to abolish the NEA is the beginning of a new assault on artistic activity ... Eliminating the NEA would in essence eliminate investment by the American government in the curiosity and intelligence of its citizens.' Read the full article on the New York Times website.
As one website comment asserts: 'If the current regime has its way, the only artists that'll be actively supported by the government are con artists'.
Trainspotting at fortyfivedownstairs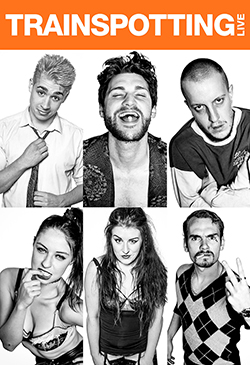 Before the 1996 film Trainspotting became a global hit, Irvine Welsh's critically acclaimed novel about a group of young, destructive heroin addicts in 1980s Edinburgh was adapted for the stage by Harry Gibson, where it toured the United Kingdom with Ewen Bremner – who played 'Spud' in the subsequent film – as the lead character Mark Renton.
More than twenty years later, the stage show has been revived. Following 'sold-out runs at the Edinburgh Fringe Festival in 2015 and 2016, a UK tour, and a critically acclaimed London season', fortyfivedownstairs in Melbourne will host Trainspotting Live, performed by the Scottish 'In Your Face Theatre' troupe. from 22 March to 13 April. A sequel to the 1996 film, titled T2: Trainspotting (Sony Pictures) is currently in cinemas across Australia.
Handa Opera on CD and DVD
Opera Australia's Handa Opera productions on Sydney Harbour have brought the 'triumphs and tragedies' of the great operas to millions around the world through 'live performances, recordings and cine-casts'. This year's Handa Opera, Carmen, will be performed from 24 March–23 April.
To coincide with the sixth Handa Opera, ABC Classics and Opera Australia have released Handa Opera on Sydney Harbour: The greatest hits, a CD and DVD showcasing seventeen moments in opera, including 'Nessum Dorma', the 'Triumphal March', and 'Sempre libera' from La Traviata. Ten of the seventeen moments will be available to download for free from 10 March.
Melbourne Art Book Fair 2017
The third annual Art Book Fair will take place at NGV International, Melbourne, from 16–19 March. This year's program includes 'free talks, book launches, performances, and over 200 publishers featuring art, design, architecture and photography publications from around the world'. Highlights include an international symposium on typography, an Australian zine showcase, a presentation on good grammar in art writing, and a ceremony to announce the winner of the $15,000 Cornish Family Prize for Art and Design Publishing.
Maxim Vengerov
Any tour by the great Russian violinist Maxim Vengerov is a 'major event.' ABR Arts was present at his remarkable 1999 and 2015 recitals. We gave the latter five stars.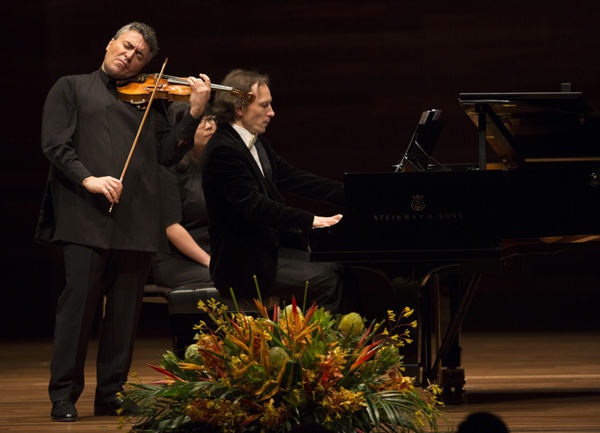 Maxim Vengerov and Roustem Saitkoulov at Hamer Hall in Melbourne in 2015 (photograph by Fiona Hamilton)
Now audiences on the east coast have an opportunity to hear Venegrov in the major concerto repertoire. He opened the Sydney Symphony Orchestra's 2017 season with Brahms's Violin Concerto, a brilliant performance made even more memorable by Vengerov's insertion of his own cadenza in the first movement – not Joseph Joachim's familiar one. Now Vengerov has headed south to open Melbourne Symphony Orchestra's 2017. He will open Tchaikovsky's Violin Concerto at Hamer Hall, Arts Centre, Melbourne. Vengerov will also conduct Rimsky-Kosakov's 'oriental fantasy' Scheherazade, drawing on the character and storyteller of One Thousand and One Nights.
Giveaways
This month, thanks to Melbourne Opera, three new or renewing subscribers will receive double passes to Gilbert and Sullivan's H.M.S Pinafore at the Athanaeum Theatre on Wednesday, March 15. Thanks to Village Roadshow, ten new or renewing subscribers will also receive double passes to Miss Sloane, directed by John Madden and starring Jessica Chastain and John Lithgow (in cinemas 2 March).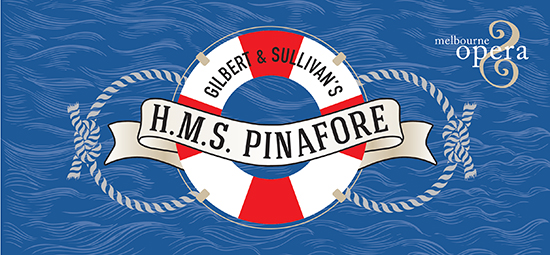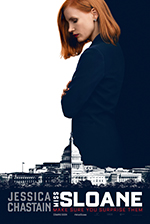 To be eligible for these giveaways you must be a current or new paid subscriber to the print edition of ABR or to ABR Online. To be in the running please email Grace Chang at This email address is being protected from spambots. You need JavaScript enabled to view it. with your full name and contact details. Preference is given to subscribers who have not received a giveaway in recent months.