Film
Satan Jawa (MSO) ★★★★1/2
If a single word could sum up the world première of Satan Jawa, it would be 'bewitching'. Indonesian Director Garin Nugroho's black-and-white silent film combines mime and dance to relate a Faustian tale of love, sacrifice, and agony, rooted in Javanese mysticism. A twenty-piece Indonesian gamelan orchestra accompanied the film in collaboration with the Melbourne Symphony Orchestra; they produced a hypnotic score.
Satan Jawa tells the story of Setio (Heru Purwanto), a lowly villager who falls for Asih (Asmara Abigail), the daughter of an aristocratic family. When Setio is violently spurned by Asih's mother, he ritually invokes Satan (Luluk Ari Prasetyo) – a spirit who was imprisoned and tortured as a child – to bring him material wealth and win Asih's hand.
Setio's descent into madness (and Asih's own torment) was told through a series of striking images; fog rolled across fearsome stone gargoyles; children with faces painted white held skulls to their chests; Asih writhed in a bathtub in the middle of a forest while a demon cavorted behind her; dancers gambolled grotesquely, clutching topengs (masks) to their faces. Close-ups of an odd-looking soft-shell turtle stole the show. The overall effect of all these elements was deeply unnerving, surreal, and sensuous in equal parts.
Satan Jawa drew much applause from its enraptured audience; it is a shame that it showed for just one night only.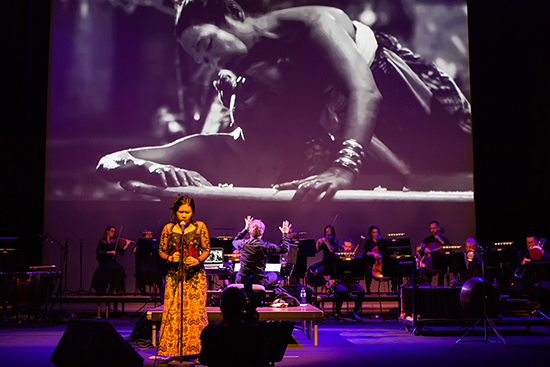 Soloist Peni Candra Rini performs to Satan Jawa (photograph by Mark Gambino)
Satan Jawa was directed by Garin Nugroho, composed by Rahayu Supanggah, and conducted by Iain Grandage. It was performed at Hamer Hall, Arts Centre Melbourne, as part of the Asia-Pacific Triennial of Arts (Asia TOPA). Performance attended: 24 February 2017.
ABR Arts is generously supported by The Ian Potter Foundation.
Soloist Peni Candra Rini performs to Satan Jawa (photograph by Mark Gambino)