Theatre
The Age of Bones (Performing Lines and Satu Bulan/Teater Satu) ★★★★
Rarely has the opening night of a play been so closely linked to a news cycle. A press story on 23 February reported that the Australian government is being sued for AU$103 million in a Jakarta class action. The plaintiffs, one hundred and fifteen Indonesian men, were teenage boys when they were held in Australian adult jails or detention centres between 2008 and 2012. Accused of people smuggling, they were classified as adults based on an outdated and discredited method of measuring wrist bones to determine someone's age. All of them were eventually released; some had been incarcerated for as much as three years.
Sandra Thibodeaux's play The Age of Bones – Jaman Belulang. which opened at Melbourne's La Mama Courthouse Theatre the same day as this news item was published, centres on the story of one of these boys. Ikan (which means fish in Bahasa Indonesian) is fifteen when the tale opens, a slightly feckless youth who lives with his poor but loving family on Roté, in the Lesser Sunda Islands. When we first meet him he is cocooned in a sarong, resisting all attempts by his parents to get him out of bed. His mother chides him and sends him off to fish: this is the only way the family will have something to eat for dinner. When Ikan fails to return, they are not alarmed; he is called Ikan because he lives in the sea and, unlike many fishermen, can actually swim. As the days pass without any news, his parents fear the worst. Gradually, mournfully, they accept the worst, but one day they receive a call from an Australian lawyer who tells them that their son had been persuaded to join a passing boat as a crew member and had inadvertently become involved in people smuggling. Now he is in jail. The lawyer is hoping to find evidence of Ikan's age in order to secure his release.
The play's topicality is purely coincidental; the themes of human rights and family grief have a much longer shelf life. Despite the tale's factual origins, the play owes nothing to documentary theatre but belongs to the tradition of Indonesian folk tales, fantastical storytelling, and shadow puppetry. It also brings to mind the work of French director Ariane Mnouchkine and the political fables of her Théâtre du Soleil.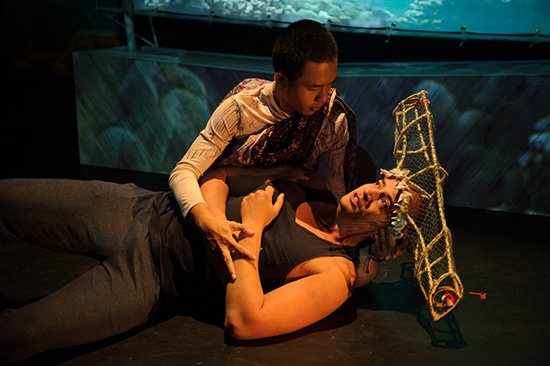 The Age of Bones co-produced by Performing Lines (Australia) and Satu Bulan/ Teater Satu (Indonesia), and performed at La Mama Theatre.
This co-production between Performing Lines and Satu Bulan has been several years in development. The eight-member cast includes five Indonesian actors and a puppeteer from Sumatra's Teatre Satu, alongside two Australian cast members.
We open with a narrator, a garrulous but revered old villager famed for his youthful diving skills and his ability to find drowned bodies. Speaking in English (sometimes haltingly), he frames the action, which moves from Roté to the sea and the underworld of an Australian prison and courtroom. As the story develops, his eyesight fails him, a reference to the blindness to the prisoner's youth and the injustice of his fate.
The villager's comic sidekick –and this is a play full of humour and whimsy, despite the subject matter – is the dalang or puppeteer, who breaks the fourth wall a second time, to step from behind a screen and testily respond to the old man's teasing questions about the plot and the magical silhouettes behind the scrim. Whales, coral, divers, and vessels full of voyagers dance across a set made of sails; these are combined with dazzling projections of the islanders' world on land and sea. The sails also act as a canvas for the surtitles that accompany the dialogue between Ikan and his parents.
The magic realism isn't confined to the screen, but continues in the fretwork shark headdress of Ikan's Aussie jail buddy and the octopus arms of the judge. Australian officialdom is represented by a duo of lumbering leviathans, brass-helmeted deep-sea divers; they are a pair of buffoons who can't get their stories straight and are, as in all tales of sea monsters, ultimately defeated.
The Age of Bones works because of its flight from naturalism; didactic theatre rarely works, but this piece charms and seduces as it devastates. There is one almost throwaway line about prison paedophiles; yet a reading of a 2011 newspaper article by Australian journalist Lindsay Murdoch, on which Thibodeaux based the play, makes the horrors of the boys' ordeal all too real.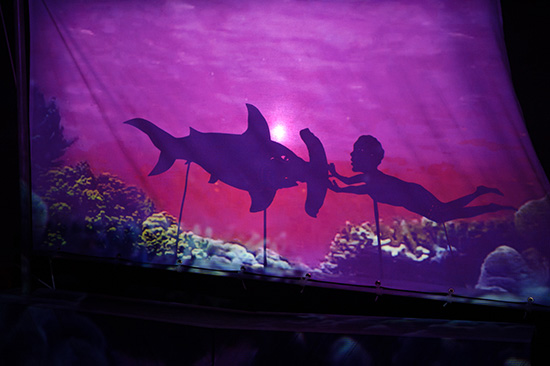 The Age of Bones co-produced by Performing Lines (Australia) and Satu Bulan/ Teater Satu (Indonesia), and performed at La Mama Theatre.
Thibodeaux, who was Australian Poetry's poet-in-residence in 2011, lives in Darwin and has been collaborating with Indonesian theatre-makers since 2003. The Age of Bones is part of Melbourne's four-month long arts juggernaut, the Asia-Pacific Triennial of Performing Arts, Asia TOPA. Such theatre is usually confined to festivals; fortunately, The Age of Bones will tour extensively: to Canberra, Sydney, and Paramatta, before reaching Darwin at the end of March 2017 – the place where the journey began.
The Age of Bones, written by Sandra Thibodeaux, is a collaboration between Performing Lines (Australia) and Satu Bulan/ Teater Satu Production (Indonesia). Co-directed by Iswadi Pratama and Alex Galeazzi. Tour Dates: Melbourne, La Mama Courthouse, until 5 March; Canberra, Gorman Arts Centre, 8–11 March; Sydney, Australian Theatre for Young People, Wharf 1, Sydney, 15–18 March; Parramatta, Riverside Theatre, 30 March–April 9; Darwin, Browns Mart Theatre, March 30–April 9 2017. Performance attended: 23 February 2017.
ABR Arts is supported by The Ian Potter Foundation.