Theatre
Away (Sydney Theatre Company and Malthouse Theatre) ★★
Away reached the dubious status of 'Australian Classic' in a remarkably short period of time. It has become so ubiquitous that I would hazard a guess that fully two thirds of the Australian audience for this production who are under thirty will have been involved with the play either as performers, audience, or students. In the keynote address ('The Agony and the Agony') at the National Play Festival that Michael Gow gave in July 2016, required reading for anyone interested in theatre, he describes his ambivalent feelings about having written a work that has become a perennial set text – a sure way of having the life drained out of it. He also says, 'for me Away is a play about death. In fact it's an AIDS play, though I didn't know it at the time.'
For many of us who saw the original 1986 Peter Kingston Griffin Theatre production and the equally magnificent 1987 STC one directed by Richard Wherrett, and who were, in those terrible years, either coming to terms with our own rapidly approaching mortality or helping others to deal with theirs, this aspect of the play came over with devastating force. The acceptance of the inevitability of death which the characters achieve by the play's conclusion was something that seemed to us very remote but the play's unsentimental compassion made it appear attainable. All of which is prelude to a confession. A confession that a reviewer should not be making. Away is a play about which I find it impossible to be entirely objective. (Can a reviewer ever be entirely objective? Discuss.)
Written in the 1980s and set in the 1960s, Away follows three families from an end of term production of A Midsummer Night's Dream through their summer holidays. The middle class head of the school (Roy) and his wife (Carol) are heading to the Gold Coast. The aspirational Gwen, her husband (Jim) and their daughter (Meg) are taking their new caravan to their regular holiday park. New Chums Harry, Vic, and their son (Tom) will pack their tent and head off into the unknown. But for none of these families are the prospects particularly bright. Roy and Coral are grieving the death of their son in Vietnam. Jim and Meg are battling to deal with the increasingly overwrought Gwen. Harry and Vic are desperate to give their dying son the happiest vacation possible. Tensions rise, and after a physical and emotional storm the main characters find themselves at least temporarily at peace in an idyllic bay. We end where we began with school Shakespeare. This time, King Lear.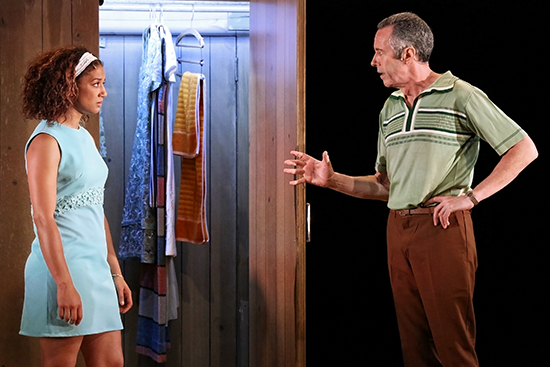 Naomi Rukavina and Marco Chiappi in Sydney Theatre Company's and Malthouse Theatre's Away (photograph by Prudence Upton)
For Gow, the theatre is a place of solace as well as challenge. As Hilary Bell puts it in her magnificent program essay, 'And while Away is about many things, to me it's about the power to restore, to make right.' Any successful production must balance the broad comedy and overt theatricality of the play with the underlying grief for the final sense of reconciliation to emerge. Unfortunately, Matthew Lutton's ham-fisted production comes nowhere near achieving this.
It is difficult to know where to begin to describe the inadequacies of this staging. One might start with the actors. The Sydney Theatre Company has assembled a solid cast, but they are given no chance to shine. Performances range from the stridently one note to the frankly inadequate, almost amateur. Clumsily blocked actors bellow lines at each other, and there is no believable connection between any of the characters. Over and over, scenes that should have depth and pathos are just thrown away. To take one example: there is a delicate relationship that develops between Coral and Rick, a young man who is honeymooning at the Gold Coast resort. Coral, whose grief has cut her off from contact with others, sees in this young man, with his mixture of vitality, innocence, and vulnerability, an echo of her lost son. But Lutton has staged it as though her attraction to him is purely sexual. Towards the end, Tom, who in this production's one successful choice can be seen almost as a Prospero figure, stages one last revel, a sketch called The Stranger on the Shore. To quote Hilary Bell again, the playlet 'allows Tom to relinquish his own hold on life and encourage others to embrace it. In all its crudeness and naïveté – or because of it – we are deeply moved: like the sailor Tom uses his one wish not to '"return to human life" but to help others to live.' But in this production, because we have no emotional investment in the characters, The Stranger on the Shore comes across as a pointless frolic.
One has to conclude that Lutton, in spite of his regulation erudite program note, either has no understanding of the play, except at the most basic level, or simply doesn't have the skill to explore its depths.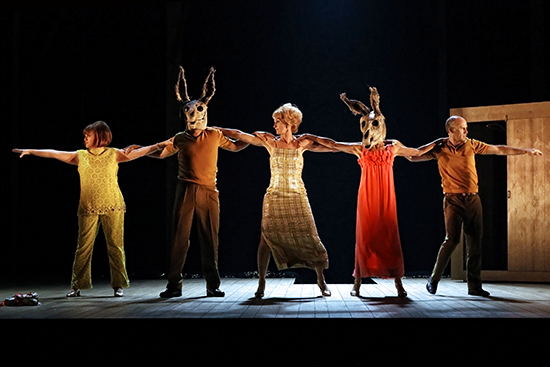 The cast of Sydney Theatre Company's and Malthouse Theatre's Away (photograph by Prudence Upton)
My partner, who had not arrived in Australia when Away was first staged, stared at the incoherent muddle that was presenting itself on the Drama Theatre stage with bewilderment. Was this the masterly play that I had been spruiking to him?
Away, written by Michael Gow and directed by Matthew Lutton, is co-produced by the Sydney Theatre Company and Malthouse Theatre. The season continues at the Drama Theatre, Sydney Opera House, until 25 March 2017. Performance attended: 23 February 2017.
ABR Arts is generously supported by The Ian Potter Foundation.