Theatre
John (Melbourne Theatre Company) ★★★★1/2
What a mysterious and delightful play is American playwright Annie Baker's John (2015), a meditative comic drama full of exquisite detail and suggested psychological insights. Sarah Goodes directs with sensitivity and imagination for the Melbourne Theatre Company, in the Fairfax Studio, and the fine cast, led by Helen Morse and Melita Jurišić, perform it with much grace and expert comic timing.
Set in a quaint bed and breakfast in out-of-the-way Gettysburg, Pennsylvania, the story centres on a young couple – Elias (Johnny Carr) and Jenny (Ursula Mills) – and their rapidly unravelling relationship. Elias isn't sure if he really loves her, and is, anyway, struggling with depression. Jenny can't help telling little fibs, and occasional large ones, sometimes for no reason but restlessness; but, having invested so much effort in the relationship, she is unwilling to let it go.
Meanwhile, the hospitable owner of the establishment, Mertis (Helen Morse), a retiree, watches on, disinterested but sympathetic. She has decorated the house with cartloads of kitsch, and stays busy watching the birds and trying to describe the sunset in her diary. Like Jenny, Mertis also seems less than honest. She is caught once in an outright lie – about the upstairs heating – and there are hints that it might be pathological. There is even a suspicion that her invalid husband might be an invention. Occasionally her friend Genevieve (Melita Jurišić) visits, blind and bit dotty, but full of warmth and a warped kind of wisdom.
As so often with Annie Baker, the rhythm and dramatic flow of this play is reminiscent of Chekhov, although the tone is not the same. As with Chekhov, it seems as if the drama comes from the silences in the dialogue; but Baker is more attentive to the sustaining mysteries of life than its disappointments.
There are peculiar things happening in this ancient house, which once served as a field hospital during the Civil War. There is a string of faulty Christmas tree lights which torments Jenny, and pianola which may or may not be possessed. Genevieve is sure she can hear the ghostly rustle of wings settling over them. Sarah Goodes and set and costume designer Elizabeth Gadsby use three small revolves to twist the walls and the furniture around during scene changes, giving the impression that the house is capable of any supernatural deformation.
All throughout, the spirit of American dark romanticism is teasingly invoked. Elias reports on a ghost tour in a local cemetery; Jenny indulges her love of spooky stories; and Mertis wants to know if her guests have ever felt as though a spirit were watching over them. At one point, she reads a long section of H.P. Lovecraft in a manner suggesting a prayer meeting.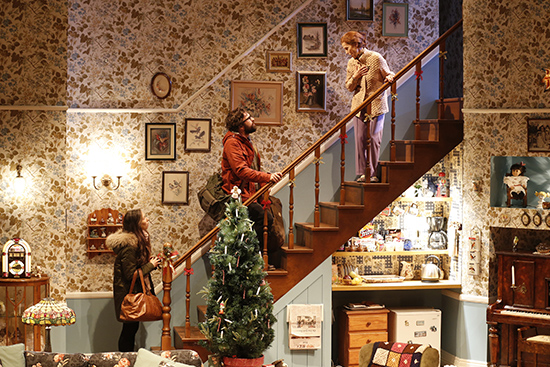 Ursula Mills, Johnny Carr, and Helen Morse in Melbourne Theatre Company's John (photograph by Jeff Busby)
This is not, however, an uncanny tale, although the mysterious John referred to in the play's title might be a distant or symbolic relation of Cthulhu. Ostensibly, John is Jenny's ex-boyfriend, who is not quite out of the picture; but he is also Genevieve's ex-husband, the man who drove her mad. As Genevieve says, everyone knows someone called John. Perhaps this dreamy play is about the way we cling to these troubling spirits, and let them linger in the mind?
Gadsby has designed a spread-open house where the trinkets seem to be creeping out of the proscenium and taking over the theatre. Every surface is draped, pillowed, laced, or otherwise occupied with some folksy amusement. It is amazing that so much attention and time has been lavished on these little decorative bits and pieces, but what is the point? Is this a new wrinkle in Annie Baker's affection for marginal and backwater places, and the easily bruised souls who inhabit them? Is there a connection between Mertis's tchotchkes and Christmas gewgaws and, say, the soon-to-be obsolete analogue reels in The Flick (2013), or the thoroughly unfashionable theatre exercises in Circle Mirror Transformation (2009)?
John comes out of a wealth of humour and wit as well as compassion. Although all the characters have strange quirks and unlikeable qualities, no one is mocked, and they are all redeemed, or might be, as human beings.
Morse and Jurišić act their roles expertly. Their portrayal of these two old friends, with their many pensive and regretful inflections, is profoundly moving. These performances are eloquent and deep, with subtle shifts and half-hidden lights, and are utterly effortless in expression. Their comic timing is superb. As the houselights come up for the second interval, Genevieve suddenly leaps up and launches into a very funny story about the seven stages of her madness. Morse, meanwhile, can raise a laugh simply by the way she switches off the lamps.
Perhaps Johnny Carr and Ursula Mills could have been more immediately sympathetic as the young couple. As Elias, a drummer from Brooklyn, Carr seems a bit unnecessarily hostile at first, sniping from behind the shelter of his thick beard and thicker glasses. Similarly, Ursula Mills seems sneakier than she needs to be. Still, the longer this very long play – three and half hours, including two intervals – goes on, the more they appeal, even as they do and say things that should make them less appealing.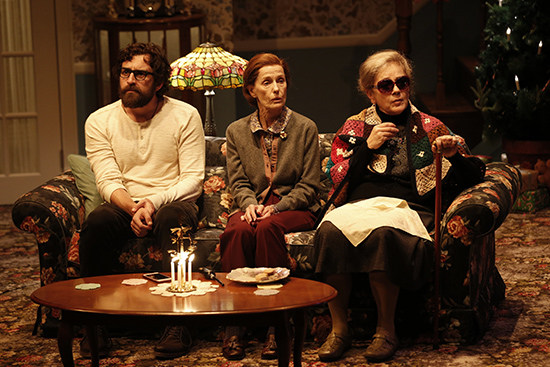 Johnny Carr, Helen Morse, and Melita Jurišić in Melbourne Theatre Company's John (photograph by Jeff Busby)
The performances are all playful, but there are few broad strokes. The lines of characterisation are well-drawn and natural. The pace is necessarily slow but never leisurely. In this semi-rural setting, a large house in winter in Pennsylvania, the emotional fractures between the couple seem like subtle flaws in the cosmos itself. As a writer, Annie Baker is persuasive enough to look at her characters objectively, from the outside, and still manage all their desires and withdrawals, putting them in service of a larger metaphysical uncertainty. John is a captivating play.
John (Melbourne Theatre Company) is written by Annie Baker and directed by Sarah Goodes. The season continues at the Fairfax Theatre, Arts Centre Melbourne until 25 March 2017. Performance attended: 16 February 2017.
ABR Arts is generously supported by The Ian Potter Foundation.