Commentary
Letter from Paris
The idea of visiting Paris in January to see six exhibitions and two repeats in five days may seem excessive to some people, but Paris's museum offerings this northern winter were so impressive it was impossible to resist. At Frank Gehry's lofty Fondation Louis Vuitton, hordes lined up, day and night, in temperatures of five below, to see Icons of Modern Art: The Shchukin Collection from Russia. It was much the same at the Centre Pompidou, which, happily, is celebrating its fortieth anniversary this year with huge retrospectives of Cy Twombly and René Magritte, fifty exhibitions and performances in forty French cities, and its single outpost, Malaga. Architects Renzo Piano and Richard Rogers, thirty-somethings when they designed the Pompidou, are now international icons.
The trigger for this journey was Bakst: des Ballets Russes à la haute couture at the Palais Garnier, a charming and entertaining exhibition honouring the 150th birthday of Léon Bakst (1866–1924), the first famous designer of Diaghilev's Ballets Russes. Bakst's most famous ballets are the erotic, Oriental fantasy Shéhérazade (1910) and the sun-dappled L'Après midi d'un faune (Afternoon of a Faun, 1912), both starring the incomparable Nijinsky. At the premiere of Shéhérazade, with its jade-green curtain splashed with musk roses, and dancers dressed in an avalanche of jewel-coloured silks and tissue of silver, Bakst became an overnight star. The audience was intoxicated with excitement; the poet D'Annunzio said Bakst was 'a magician of colours', and couturier Paul Poiret promptly offered Bakst twelve thousand francs for designs for twelve gowns. Bakst accepted with gleeful incredulity.
A colour theorist, portraitist, and illustrator, who first worked with Diaghilev on Mir Isskustva (World of Art) magazine in St Petersburg while he designed classical Greek plays, Bakst was not allowed to live permanently in Russia; he was Jewish, and from Belarus. Thanks to aristocratic patronage, he went to Paris to study. There he met the Nabis painters, whose Symbolist interests and fragmentary, flat-colour grouping greatly influenced his designs for ballet, theatre, pantomime, interiors, and fashion. Bakst's success with Shéhérazade was exceptional, as was his Faune design; Nijinsky asked him to condense the ballet to the front of the stage, in order to create the impression that his Faune ballet was a moving frieze. The result was magical. It was disappointing, then, that no attempt was made to explain just how Bakst's flat, gorgeously painted set pictures were technically translated for the stage, a significant aspect of Bakst's craftsmanship. Two film clips were not enough. Even more disappointing was the flimsy content illustrating Bakst's influence on fashion; it felt like an afterthought, or a promotion for the handsome, generously illustrated catalogue.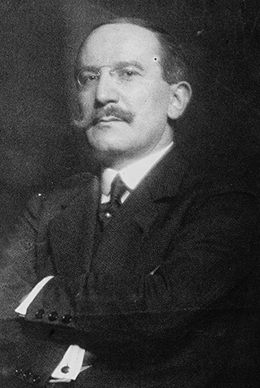 Léon Bakst in 1916 (Bain, Library of Congress, Wikimedia Commons)My choice at the Pompidou was Cy Twombly, cleanly laid out across half of the museum's top floor; René Magritte occupies the rest. Cy Twombly was intellectually exciting, and tantalising in the sense that Twombly's art is an inner life writ large, even when his subject matter seems inscrutable. The first room shows the early 1950s Lexington paintings, creamy house paint scored by wax crayons. A strong sense of order-in-chaos here implies Twombly's 'arrival', a status that gives way in the next room to the humbler, intrinsic practices of childhood. First up, in the student work Still Life (Black Mountain College), 1951, is a simple arrangements of objects (à la Morandi) on a dusty shelf, captured in six monochrome photographs. Next is a series of joyously coloured crayon loops on graph paper, Untitled (Grottaferrata), 1957; and last, fields of lanky figures drawn with incredible freedom, on brown wrapping paper. These early works represent fundamental practices of Twombly's life's work, along with the rough scribbling, graffiti, cryptic scrawl, and scraping pencil marks that made him an undefinable figure from the start. Twombly's adoption of oil paint led to energetic layering and, in his last years, ebullient colour used on a monumental scale.
Twombly told one interviewer that painting for him was not so much a conscious intention but an experience. He described sitting for hours looking at a canvas, smoking lots, forgetting to eat, until in one bound he would throw himself into work for hours, until he couldn't stand up. This sounds like method acting, physical theatre, or, in current parlance, embodied theatre, where mind and body are one.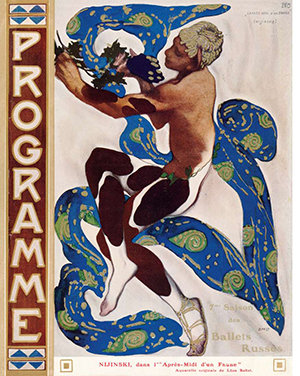 Léon Bakst, program for the seventeenth season of the Ballets Russes, Nijinsky in L'Après-midi d'un faune, 1912. (BnF, département de la Musique, Bibliothèque-musée de l'Opéra)Such energy is palpable in the 1962 work Achilles Mourning the Death of Patroclus, and its companion, Vengeance of Achilles, drawn from Homer's Iliad, which Twombly revisits for the series Fifty Days at Iliam in 1978. In another thoughtfully lit, colonnaded space, silence prevails over canvases inscribed with genitals, blood, and lists of names of all the players in the Trojan War. They look like defaced, bloodied posters, or vandalised grave stones, alarming in their rage and grief; you could almost feel Twombly operating as a dramaturge, leading us to revisit the script, to feel the repetitious rhythms of history.
A parallel series is Nine Discourses on Commodus (1963), based on the psychopathic Roman emperor Aurelius Commodus. The mostly turbulent expressionist pictures on grey ground created in the unsettled period after John F. Kennedy's assassination brought New York's critics down on Twombly's head; they accused him of artistic regression in the face of Minimalism and Pop Art, and of disloyalty to the United States. The scalded Twombly retreated to Rome, immersed himself in centuries of European literature, and embarked on an iconic fifty-year career.
A new spring of energy dominates Twombly's final decade's works (he died in 2011) – exuberant canvases, some many metres high and long, loaded with bright red or green paint, circle upon circle, blossom upon blossom, affirming life in his self-confessed optimistic way. The entire show is hypnotic and surprisingly moving. I'm very glad I saw it twice. The catalogue is excellent, and will be available in English later this month.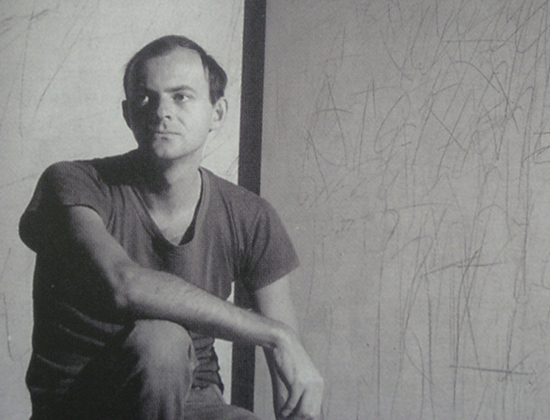 Cy Twombly (Eric Toledo, Flickr)
Before going to see Arnold Schoenberg: Peindre l'âme (Paint the Soul), at the Museum of Art and History of Judaism in the Marais, my gallery-companion and I spent the misty morning at the Musée Rodin with the 'plasters' of Rodin's Burghers of Calais, and the twisted figures from The Gates of Hell, their charred, metal infrastructure poking through. Later, looking at the 'final' bronzes in the gardens, we decided we needed warmth. We landed at Le loir dans la théière (The Dormouse in the Teapot), an excellent café stuffed like a Salon de Refusés of eccentric furnishings, where the menu is delicious and healthy, and the sixteen-centimetre-high lemon meringue pies (also works of art) look anything but. It was a refreshing prelude to Schoenberg's brilliant but troubled mind.
This most intellectually agile, Jewish-Viennese composer and theorist, taught himself to paint at the age of thirty-two. His fame and infamy grew out of the clashing contrasts between his late Romantic works like Verklärte Nacht (Transfigured Night), the modernist song cycle Pierrot Lunaire, and his creation of the twelve-tone or atonal music method of composition. Consistent belligerence from Viennese critics, and unmasked anti-Semitism, created a situation so demoralising that Schoenberg moved to Berlin in 1901, where, although seriously under-employed, he found more sympathetic audiences and colleagues. At the age of forty-two he began to paint self-portraits as part of an existential investigation; but increasingly, in the face of despair, and his wife's infidelity, his practice became psychoanalytical. Supported in this most gemütlich and satisfying show by portraits of relatives, friends like Schiele and Kandinsky, documents, recorded music, and cartoons lambasting music critics, Schoenberg's self-portraits are shocking. At their darkest, he is just a half-profile on the edge of the canvas; a small face lost in a cloud of grass; a head almost buried in the ground. Often the eyes are luminous, bloody, or sulphurous with pain and terror. In sunnier later pictures, he appears restored, healthy, but watchful. Schoenberg and his second wife escaped to Los Angeles after Hitler came to power in 1933. Schoenberg's music was among the 'degenerate art' Hitler was determined to eradicate.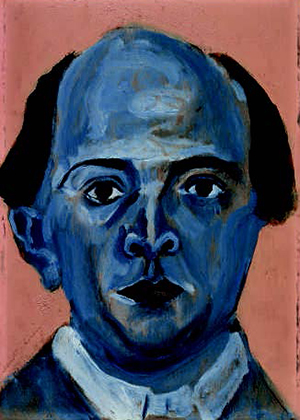 Arnold Schoenberg, Autoportrait bleu, 1910, (Belmont Music Publishers/ Paris, ADAGP)Sergei Shchukin, a wealthy St Petersburg textile merchant, also had to flee the worst waves of anti-Semitism that flared up in his later years. Having amassed his collection of 275 works of art between 1898 and 1915, Shchukin quietly closed up his home, the Trubetskoy Palace, and escaped across Europe to Paris in 1918. The Soviet authorities 'nationalised' his collection along with that of the Muscovite Ivan Morosov. After the death in 1953 of Stalin, who wanted the two collections destroyed, they were divided haphazardly between the Hermitage in St Petersburg and the Pushkin Museum in Moscow, where they now reside.
Since it opened last October, an appropriately festive atmosphere seems to have pervaded Icons of Modern Art at the Fondation Louis Vuitton, and rightly so: many of the 175 works on show have not been seen outside Russia since Shchukin bought them. It is impossible to comment on them all here; suffice it to say that luxurious immersion in seven major Monets, wonderful Pisarros, Bonnards, and Cézannes, and rooms devoted to Picasso, Gauguin, and Matisse (about half of Shchukin's thirty-eight works by the artist), make the experience almost too much to take in. Unpretentious wall texts and life-sized photographs help us to understand how the collection was created and hung in Shchukin's home, 'improved' by Matisse himself. From 1908, Shchukin opened his home gratis to the public on Sunday afternoons, personally and happily showing the visitors around.
A surprise addition to my list was a small, exquisite example of curatorship – Rembrandt intime (Rembrant in Confidence) at the elegant Jacquemart-André house museum – built around three important pictures in its own collection. Quietly illustrating the stages in Rembrandt's growth as an artist, this show reminded me that no one can ever know enough about any artist.
ABR Arts is generously supported by The Ian Potter Foundation.
Listen to Lee Christofis discuss his time in Paris, and the artists who inspired him to make the trip, on the ABR Podcast: