Theatre
Little Emperors (Malthouse Theatre) ★★
It is often described as the world's largest social experiment, whatever that means. In 1979, to curb the baby boom that followed the Cultural Revolution, the Chinese government officially adopted a one-child policy. Thirty-six-years later, in late 2015, this severe program, which allowed very few exceptions, transitioned into a more flexible two-child policy. The Chinese government is even offering to pay for the removal of the contraceptive implants which millions of women were required to instal after their first child.
One unintended consequence of this is that China now has a generation of so-called Little Emperors, siblingless children who have been excessively doted on by their parents and grandparents. This spoilt cohort, so the theory goes, is characterised by its selfishness and anti-social behaviour. And so, as part of the Asia TOPA festival, the Malthouse Theatre presents Little Emperors, a collaboration between Australian playwright Lachlan Philpott and Chinese director Wang Chong.
It is a family drama about a mother and her two children who struggle to find happiness in the new China. Many of their problems, it seems, can be traced to the country's family planning policy. The eldest child, a daughter, is a shengnu or 'leftover woman', Chinese slang for a woman who remains unmarried into her thirties. She still lives with her parents, despite her mother's constant harangues about the lack of grandchildren.
The youngest child, a son, is a hei haizi, a black baby, delivered in secret and spirited off the mainland soon after birth. He is now studying in Melbourne to be a theatre director, though his parents believe he is studying economics. He has just written a play about China's one-child policy, but it hasn't turned out well.
Neither has this production. Although encouraging transnational collaboration is no doubt a good thing, Little Emperors is not very appetising. In fact, it is a jumbled, sloppy, self-indulgent bit of scene making, produced by a team that cannot be accused of lacking talent. Romanie Harper's set and costume designs are striking. The whole thing is set in a shallow pool of water, like a reflecting pool at an imperial palace. At the back of the stage hang long strips of material with pictures of personal ads from a marriage market in Beijing. Sometimes the actors stand on child-sized chairs to keep themselves out of the water, like stepping stones; at other times they just wade in. Every man and woman, it seems, pace John Donne, is an island.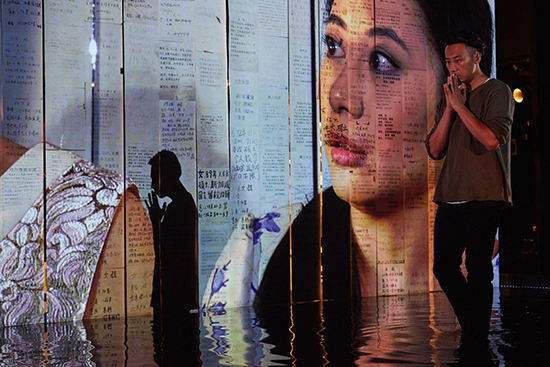 Alice Qin in Malthouse Theatre's Little Emperors (photograph by Tim Grey)
Wang Chong is known for his extensive use of live video; in his Ibsen in One Take, which was seen at the Adelaide Oz Asia Festival in 2014, the actors were followed by a camera crew throughout the entire performance. In Little Emperors, everyone prefers to communicate through the lens of a camera, even when they're in the same room. In one conversation between mother and daughter, a projection of the mother's face looms ominously, while the daughter's face appears to slip quietly into the water.
Yes, there are some striking, stylish images, with shadowy glimpses of anomie and alienation, but as a family drama it is so much splashing around in the shallows, so much watery sentiment, and all for the sake of a story that seems lame and poorly patched together. Wang deploys so many anti-dramatic effects, that it feels as if even he would prefer that we didn't take the story too seriously.
In a depressingly candid program note, Lachlan Philpott writes that he accepted the commission without really knowing all that much about China. After a couple of weeks of reading, he decided that the play had to be about the Little Emperors and their entitled ways. 'I was surprised,' he writes, 'that Chong was not very interested in this at first.'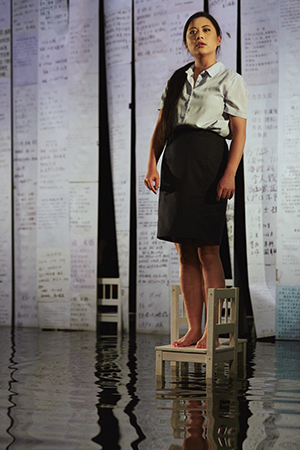 Alice Qin in Malthouse Theatre's Little Emperors (photograph by Tim Grey)A lack of enthusiasm can be detected all through this rather drippy production, but Diana Lin is nevertheless very good as the motor-mouthed mother. Performing mostly in Chinese, she has the ability to toss off soul-crushing one-liners with extreme rapidity and nonchalance, but she also reveals great warmth and vulnerability. Alice Qin as the daughter is impressive, and manages to make her sudden shifts from Chinese to English seem entirely plausible. Yuchen Wang is rather wooden as the son, although he finds sufficient life for a moment of strained extraversion at the play's climax.
Many artists of extraordinary energy and compassion have already tackled the one-child policy and its consequences. Think of Frog (2009), for example, the most recent novel by Nobel Prize-winning writer Mo Yan, which is about a minor party official in a far-flung province whose job it is to enforce the new family-planning measures. The policy bulks large in the lives of many millions of Chinese, and there are no doubt thousands of fine plays waiting to be written. Little Emperors, unfortunately, is not one of them. It is in that sense a missed opportunity.
Little Emperors (Malthouse Theatre) is written by Lachlan Philpott and directed by Wang Chong. The season continues in the Beckett Theatre, Malthouse until 26 February 2017.
ABR Arts is generously supported by The Ian Potter Foundation.