Advances
The Update - January 31, 2017
The Flick
Annie Baker's play The Flick won the 2014 Pulitzer Prize for Drama and had a big success when Red Stitch Theatre presented the Australian première in 2015. (Dina Ross reviewed it for Arts Update.) Nadia Tass's production now moves to Queensland Theatre: the season runs from 10 February to 5 March. The cast includes Ngaire Dawn Fair, Kevin Hofbauer, Dion Mills, and Ben Prendergast.
Ozflix
Ozflix, a new video-on-demand service, was launched on Australia Day. Streaming globally, Ozflix aims to access to every Australian film ever made. Currently there are around 250 Australian films. Ozflix fifty per cent of rental fees directly to distributors or filmmakers – a 'game changer' for independent filmmakers, according to director/producer Clayton Jacobson (Kenny).
Offering stand-alone rentals, or weekly curated packages, Ozflix will also provide free sixty-minute FAQ programs hosted by well-known Australian critics such as David Stratton (ABC, SBS) and Michaela Boland (The Australian). Other free content will also be on offer through their streaming service, and distributed via social media. Ozflix Directors, Ron V. Brown and Alan Finney, have also set up the Australian Film Future Foundation, a not-for-profit that will provide grants to digitise films. The launch of Ozflix has garnered much praise from stars of the Australian film industry, including director George Miller, who described the streaming service as 'an art gallery for Australian cinema'. For more information, visit the Ozflix website.
Van Gogh in Australia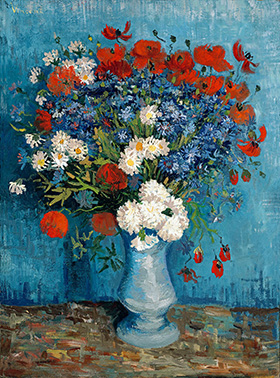 Still life with wildflowers and carnations, Vincent Van Gogh, 1887, oil on canvas, (Triton Foundation, The Netherlands)In recent years, the National Gallery of Victoria's Winter Masterpieces series has brought us some fine exhibitions: most recently Degas (2016) and Catherine the Great (2015). Given the enduring rage in this country for everything Impressionist or Post-Impressionist, this year's exhibition might even rival the attendance for Monet in 2013. This year the NGV will present Van Gogh and the Seasons. According to the Gallery, it is the largest display of his art to travel to Australia. Through fifty paintings and drawings, the exhibition 'will explore Van Gogh's profound connection to the seasons of nature'. Several masterpieces by this tragic, incomparably inspired painter are represented in the show, which will be on display at NGV International from 28 April to 9 July 2017.
Stravinsky at the SSO
One clear highlight of the Sydney Symphony Orchestra's 2016 season was a series of concerts featuring Igor Styravinsky's three masterpieces for the Ballet Russes: The Firebird, Petruska, and The Rite of Spring, first performed between 1910 and 1913. Happily, ABC Classics recorded them live, capturing all the frisson and brio of these memorable performances. They are now available on two CDs (ABC 481 4954). This joint album is available from 10 February 2017.
Lion roars
Further to the launch of Ozflix, the Australian film industry has been bolstered by the recent success of the film Lion, directed by Garth Davis and starring Dev Patel and Nicole Kidman. The film, which is based on Saroo Brieley's real-life story, A Long Way Home (2014), has been nominated for six Academy Awards, including for Best Picture. We're told it had the 'largest box office opening weekend ever for an Australian independent film'.
'Lion is truly a film that Australian and International audiences have fallen in love with and it is thrilling to see it getting the critical acclaim is deserves', said Nicole Kidman, who has been nominated for an Oscar in the Best Supporting Actress category.
Tim Bryne recently reviewed the film for Australian Book Review's Arts Update.
Little Emperors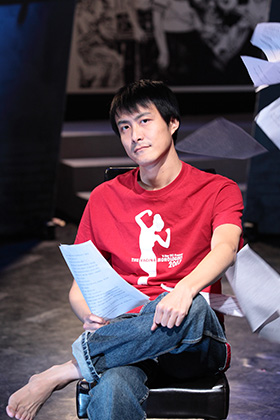 Wang Chong (Wikimedia Commons)To mark the end of China's One Child Policy in 2016, the Malthouse Theatre, writer Lachlan Philpott, and Beijing director Wang Chong have teamed up to produce Little Emperors, a work that explores the 'stories, struggles, and aspirations' of the lone children who have grown up 'pampered and entitled' and 'shouldering the weight of their parents' expectations' – and how they 'shape the culture of the world's next superpower'.
Wang Chong is the founder of the Théâtre du Rêve Expérimental, and is renowned for producing politically subversive works in China and abroad, drawing on classic Western plays.
Little Emperors will be performed at the Malthouse Theatre from 9 to 26 February 2017. Visit the website for more information.
The Lady and Unicorn
Thanks to the Bundanon Trust, a collection of poems by Peter Porter and etchings and paintings by Arthur Boyd will be showing at the Penrith Regional Gallery's exhibition The Lady and the Unicorn: Arthur Boyd and Peter Porter until 26 February 2017. The Lady and the Unicorn (1973) was the second of four celebrated book-length collaborations between these two great Australian artists.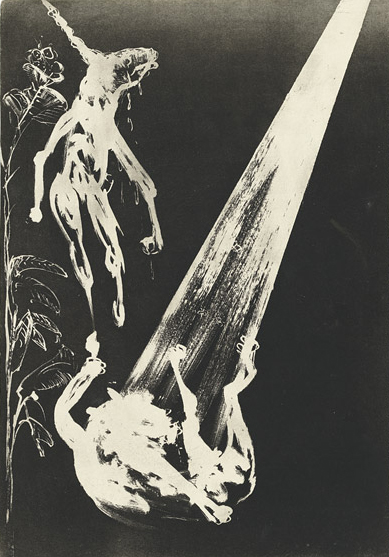 Arthur Boyd, The unicorn and the angel from the series The lady and the unicorn, 1975 (Arthur Boyd's work reproduced with the permission of Bundanon Trust)The winner of ABR's Peter Porter Poetry Prize receives an Arthur Boyd print from The Lady and the Unicorn, thanks to the generosity of Ivan Durrant. Amanda Joy was the first recipient (2016) – she also received $5,000 – and the 2017 winner will be named at a special ceremony in March.
AYO 60th Anniversary Concerts
The Australian Youth Orchestra is holding a series of concerts to commemorate its sixtieth year. A diverse repertoire of classics will be performed, including Peter Sculthorpe's Sun Music III, Edward Elgar's Cello Concerto, and Sergei Rachmaninov's Symphony No.2.
The concerts have assembled by English conductor, Andrew Gourlay, with a special guest performance from cellist Li Wei Qin. For more dates and more information visit Ticketek.
Giveaways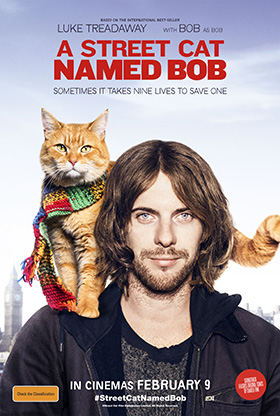 © 2016 Street Cat Film Distribution Limited. All Rights ReservedThis month, thanks to the Malthouse Theatre, two new or renewing subscribers will receive double passes to a preview performance of Little Emperors on Thursday 9 February.
New subscribers will also receive ten double passes to A Streetcat Named Bob (Sony Pictures), based on the 2016 book of the same name by James Bowen. The film is showing at select cinemas nationally from 9 February.
To be eligible for these giveaways you must be a current or new paid subscriber to the print edition of ABR or to ABR Online. To be in the running please email Grace Chang at This email address is being protected from spambots. You need JavaScript enabled to view it. with your full name and contact details. Preference is given to subscribers who have not received a giveaway in recent months.