Film
Manchester By The Sea ★★★★1/2
A man steers a fishing vessel through grey-blue seas off the coast of wintry Massachusetts, while another man chats with a young boy in a life jacket. The camera keeps its distance, the three figures aboard the boat framed by a wide horizon, but we soon perceive that the boy is son to the man at the boat's helm, and nephew to the other man. 'If you could take one guy to an island with you,' the uncle asks his nephew, 'if it was between me and your father, who would you take?' An almost aggressive need – pick me, pick me – runs like a current beneath the question, and of course, the boy chooses his father.
Manchester by the Sea is the third feature from American screenwriter–director Kenneth Lonergan, also a playwright, and it is a scrupulous drama of familial intimacy and loss. The uncle is Lee Chandler (Casey Affleck), and between these early, outdoor scenes and others where we watch him taciturnly unblock toilets and fix taps inside a series of cramped apartments – he's a janitor, in Boston – we perceive not only that years have passed but that something has gone wrong, something has severed him from love. There is a remoteness in Lee's eyes that's like a lid clamped over a seething pain; his jaw and shoulders are set rigid. Sometimes he punches men who annoy him at the bar where he huddles after work. That seems to be his only way of touching anyone.
It is hard to discuss the plot of Lonergan's film without giving away too much of its careful, non-linear construction. Even the flashback scenes, like those on the fishing boat, feel interior to Lee's memory rather than external to it. Suffice to say that Lee's relationship with his fisherman brother Joe (Kyle Chandler) and his nephew Patrick (played as teenager by Lucas Hedges) will continue to shape him, especially when Joe's sudden death, early in the film, propels Lee out of Boston and back into the small coastal town from which the film takes its name. As lots of well-meaning folk in town are constantly reminding him, his brother was a warm, loving, friendly guy. Lee isn't friendly, and yet one's heart goes out to him as Affleck, in a remarkable performance, burrows ever deeper inside his character's loneliness. There are few close-ups in this film, and several long shots; Affleck seems oblivious to the camera but is attuned to it at every moment, using it like a steady, silent witness.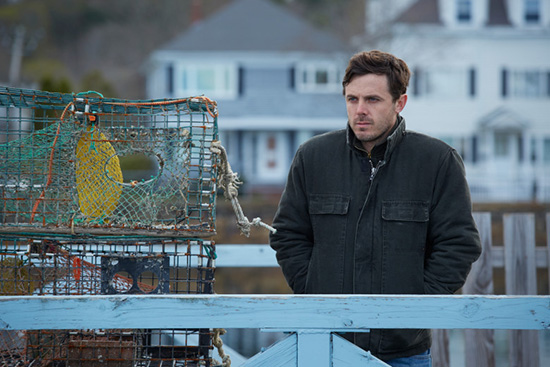 Casey Affleck as Lee Chandler in Manchester By The Sea (Universal Pictures)
Each of Lonergan's films has dealt with the aftermath of a death, or deaths. You Can Count On Me (2000) focused on two grown siblings, played by Laura Linney and Mark Ruffalo, whose parents died in a car crash when they were young. Margaret (2011) starred Anna Paquin as a volatile Manhattan teenager involved in a bus accident. The film was tangled up for years in post-production legal disputes between Lonergan and the studio, but the 2012 extended cut, released on DVD, is worth seeing. None of Lonergan's characters is noble in the face of tragedy, or even very likeable; the truth of his films is that grief arrives in the midst of ordinary circumstances, and that it tends to make us weaker, not stronger. There is dark humour, too, in our collective failure to rise to the occasion: in one key flashback during Manchester by the Sea, we watch paramedics struggle to load Lee's wife – now ex-wife – Randi (Michelle Williams) into the back of an ambulance. Clumsiness of action, and of feeling, is of more interest to Lonergan than is grace.
Williams has only a few scenes but makes her mark in all of them. We come to understand that, although Randi's marriage to Lee was never entirely happy, it was adequate. But Randi wants to Lee to confide in her, which is more than he can bear – he does better around his nephew, perhaps because Patrick, like most teenagers, is concerned primarily with himself. It is a marvellously self-absorbed characterisation by Hedges, and Patrick has several richly awkward scenes, not only with Lee but with his own officious girlfriend, Silvie (Kara Heyward), and with his estranged mother's new partner, Jeffrey, played in cameo by enduring oddball and frequent Lonergan collaborator, Matthew Broderick.
Manchester by the Sea has some parallels with this Oscar season's other fêted ensemble drama, Barry Jenkins' Moonlight. Both films are centred on male characters who are afraid of how much they feel and thus choose to contain themselves relentlessly. Both directors make the most of their different coastal settings – Lonergan in Massachusetts, Jenkins in humid Miami – and both trust their viewers to be patient, and to pay attention. Moonlight is the more formally distinctive, the more perfectly realised of the two films, but Lonergan's film is haunting in its own way.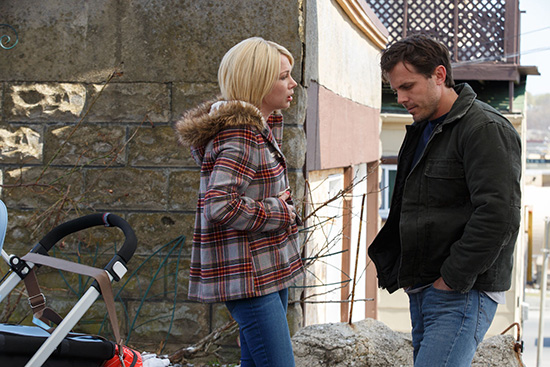 Michelle Williams as Randi and Casey Affleck as Lee Chandler in Manchester By The Sea (Universal Pictures)
Whether it delivers Affleck the Oscar for best actor that he probably deserves (he is nominated for it) is another question. The film's critical success has led to renewed scrutiny of sexual harassment claims made by two women, a producer and a cinematographer, who worked with Affleck on his ill-received directorial début, I'm Still Here (2010). The claims were settled out of court, but the taint lingers. The actor, like his character, might find that he cannot escape his past.
Manchester By The Sea, 137 minutes, written and directed by Kenneth Lonergan. Distributed in Australia by Universal Pictures. In cinemas from 2 February 2017.
ABR Arts is generously supported by The Ian Potter Foundation.