There is a striking scene early on in Barry Jenkins's Moonlight that sums up the whole film. It is dusk and the sun is about to set on a Miami Beach. A young African American boy and his mentor sit by the sea and watch the ebb and flow of the ocean in the dwindling light. Having just run away from home, the boy seems lost. The mentor consoles him with an anecdote and a thoughtful piece of advice: 'At some point, you gotta decide for yourself who you're going to be – can't let nobody make that decision for you.'
This scene is powerfully liminal. It takes place in an indeterminate time between day and night, in a location that is in between land and sea; it presents a moment of connection between age and youth, or experience and innocence. It also captures themes of self-discovery and self-determination that permeate Moonlight, a film that chronicles three volatile periods in the life of the African American boy known alternately as Little, Chiron, and Black (portrayed by Alex Hibbert, Ashton Sanders, and Trevante Rhodes).
Moonlight is Jenkins's second feature film. It has received almost universal critical acclaim since its international première at the Telluride Film Festival in September 2016. It certainly lives up to the hype. Jenkins's début feature, Medicine for Melancholy (2008), was a mild festival success. It screened at festivals such as South by Southwest and Toronto International Film Festival, received generally positive reviews, and was nominated for several awards. It followed the aftermath of a one-night stand, intently focusing on the politics of race and culture in contemporary America. In his second film, which has received considerably more critical acclaim, oincluding the Golden Glove Award for Best Motion Picture (Drama), Jenkins extends this focus. Moonlight, which is based on Tarell Alvin McCraney's play In Moonlight Black Boys Look Blue, meditates on issues of growing up, family, identity, masculinity, and sexuality.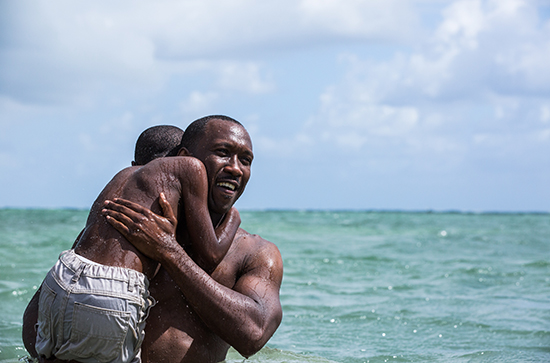 Alex Hibbert and Mahershala Ali in Moonlight (Roadshow Films, photograph by David Bornfriend)
Set and filmed in Miami with a cast exclusively comprised of people of colour, Moonlight has much to say about race in contemporary America. It is also a striking response to 2016 Academy Awards, remembered mostly for the controversial lack of diversity (the popular social media hashtag #OscarSoWhite sums it up quite well), which sparked significant changes to the Academy membership. However, there is much more than reactionary politics to this film.
Told in three transcendent and achingly beautiful acts, Moonlight interrogates what it means to be a black gay man growing up in poverty in contemporary America. Throughout the film, Jenkins's moving vision of queer sexuality is compounded by extraordinary performances from the three actors portraying Chiron. In 'Little', the film's opening act, we meet Chiron as a child. Alex Hibbert is magnetic in this role. At first he is a blur, a mess of colour running through tall grass. When the camera focuses, we come to recognise him as a small boy with a backpack, running from bullies. He hides in an abandoned apartment in a public housing estate where he meets Juan (Mahershala Ali), a drug dealer who becomes his unlikely mentor. Though Chiron is taken in by Juan and his partner, Teresa (Janelle Monáe), he is always returned to his mother, Paula (Naomie Harris). Jenkins deals with this complex set of relationships with tenderness and care, using them to explore the familial dynamics of Miami's underclass.
Moonlight's second act, 'Chiron' ruminates most explicitly on sexuality. Within this second act is the film's only moment of sexual intimacy; it is a sublime and memorable scene, heightened by Nicholas Britell's moving score. However, unlike many queer films, Moonlight is not a triumphant tale of coming out and coming of age. Rather, it is a nuanced account of stops and starts, hesitation, fear and longing. Adolescent Chiron (Ashton Sanders) hangs his head low, trying not to stand out. Tall and awkward, he is bullied mercilessly; he is the one punished when he tries to enact revenge.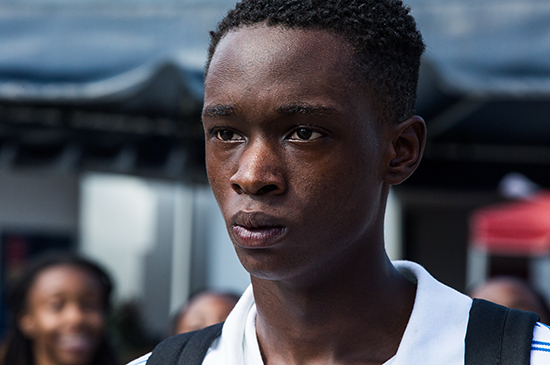 Ashton Sanders as 'Chiron' in Moonlight (Roadshow Films, photograph by David Bornfriend)
When we meet Chiron in the final act, 'Black', his lanky adolescent frame has hardened. Portrayed by ex-athlete Trevante Rhodes, he is physically imposing and muscular. The mirror of his childhood mentor, he wears du-rags and gold chains. The grills on his teeth and his jewelled earrings seem like shining trophies of masculinity. Yet throughout this final act, James Laxton's fluid cinematography and unwavering close-ups reveal cracks in Chiron's performed toughness and hyper-masculine façade. Here and elsewhere, Moonlight is aesthetically magnificent, raw and seductive.
Moonlight – ground-breaking cinema – is both expansive and deeply personal; a must-see for all lovers of the silver screen.
Moonlight, 111 minutes, written and directed by Barry Jenkins and based on the play In Moonlight Black Boys Look Blue by Tarell Alvin McCraney. Distributed in Australia by Roadshow Films. In cinemas from 26 January 2017.
ABR Arts is generously supported by The Ian Potter Foundation.