Theatre
No Man's Land (Wyndham's Theatre) ★★★1/2
It was in early 1974, while Harold Pinter was in America and working on a screen adaption of F. Scott Fitzgerald's The Last Tycoon, that the originating image of No Man's Land occurred to him:
I remember, I was sitting in this taxi and I actually saw two people sitting in a room and one of them was about to pour the other one a drink and he said: 'As it is?' and the other character said: 'As it is, yes please, absolutely as it is.'... It's the way I think writing – in my case, dramatic fiction – works. You have to follow the clue of what you're given ... to have a donnée, a given fact. If I don't have that, I'm in the desert.
In a remarkably short time, the play was finished, a director (Peter Hall) found, and a cast (led by John Gielgud as Spooner and Ralph Richardson as Hirst) assembled. Opening at the Old Vic on 23 April 1975 before transferring to Wyndham's Theatre in the West End – where this revival has been playing since September following a season on Broadway in repertory with Waiting for Godot – the play was met, as critic Michael Billington noted in Harold Pinter (2007), much as the playwright's earlier work had been: with a mixture of 'admiration, respect and bewilderment'. (Kenneth Tynan took aim at its 'gratuitous obscurity.')
It may be controversial to say so now but I don't think the play is one of Pinter's best. It is not as cunningly plotted as the later Betrayal (1978) or as engrossingly ominous as The Birthday Party (1958). Though it shares with The Caretaker (1960) a stalemate-like denouement, there are few moments that recall that play's monologue by Aston, when Pinter abruptly peels away the dazzling surface wit to reveal a darkly compelling heart. No Man's Land doesn't, in short, get under the skin like those plays. Pinter himself wondered to Antonia Fraser, with whom he began a relationship during the writing of No Man's Land that was to last until the end of his life, if he was already repeating himself: 'What, two old men together again ...'
And yet, despite its unmistakably Pinteresque setup in which an intruder threatens the status quo, there is nothing else quite like it in Pinter's body of work, nothing that feels as elegiac or dreamlike. As with Betrayal, its writing took place against a crisis in Pinter's personal life – in this case, the demise of his marriage to actor Vivien Merchant. The play is rife with allusions to lost love and to a romanticised past of Oxford education, holidays in Dijon, and languid social engagements with notable people. 'We share something,' Spooner tells Hirst at one point, 'a memory of the bucolic life'. For these men – the failed poet Spooner and the aristocratic Hirst, allegedly once some kind of belletrist – World War II seems barely to have happened. While Hirst can hold his drink better (until, that is, he falls flat on his face) both are dipsomaniacs. Whether the vast amounts of scotch the two imbibe over the course of the play provides access to a 'real', shared past or merely produces a fever of false memories is one of the play's many puzzles.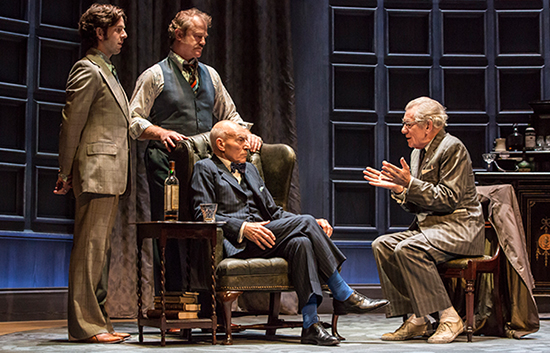 Damien Molony, Owen Teale, Patrick Stewart, and Ian McKellen in No Man's Land (Wyndham's Theatre, London, photograph by Johan Persson)
The current production, with Ian McKellen as Spooner and Patrick Stewart as Hirst, had its origin at Berkeley Rep in California in 2013. It is directed by Sean Mathias, whose Waiting for Godot – with McKellen as Estragon and Stewart as Vladimir – was seen in Australia in 2010. (Although, by the time the production made it to antipodean shores, Roger Rees had replaced Stewart.) Many critics found Mathias's Godot too amiable, the play's vaudevillian elements overwhelming its essential bleakness. While I disagreed – I've always thought that many productions of Beckett, and Chekhov, are marred by the belief that profundity must be telegraphed all the time – Mathias is undoubtedly a populist director, one who rarely goes in for nuance where a big, readily accessible gesture will do.
This approach extends to design, realised here, as in Mathias's Godot, by Stephen Brimson Lewis, who firmly anchors the play in the mid-1970s period of its writing. (This is most evident in the costuming of Hirst's manservants, Foster, played by Damien Molony, and Briggs, played by Owen Teale, who, in their tan-coloured leather jackets, wide ties, and flares look like they've walked out of an episode of Hawaii Five-O.) Where I was in agreement with Godot's detractors was in thinking that Lewis's design, which situated the play in a seemingly post-apocalyptically ruined theatre, erred in its reductive metatheatricality. In No Man's Land, Lewis aggrandises Pinter's sparsely furnished room in a North West London house as something akin to a small observatory, its semi-circular, wood-panelled wall fringed at the top with a shadowy view of Hampstead Heath.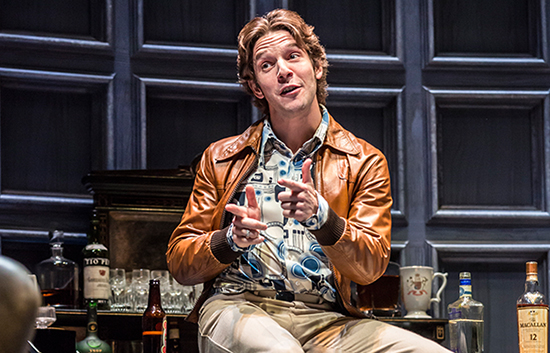 Damien Molony in No Man's Land (Wyndham's Theatre, London, photograph by Johan Persson)
It is a view elaborated by Nina Dunn's projection design, which casts a moving forest onto a scrim in the moments before the play begins, and during which Adam Cork's eerie soundtrack of birdsong foreshadows, perhaps too literally, some of the play's final words spoken by Hirst: 'But I hear the sounds of birds. Don't you hear them? Sounds I never heard before. I hear them as they must have sounded then, when I was young, although I never heard them then, although they sounded about us then.' The thick curtains and – as per Pinter's stage directions – centrally placed antique drinks cabinet provide the necessary claustrophobic feel, the air of a forgotten corner of a once-grand gentlemen's club.
When Spooner's description of the no man's land of the play's title – never moving, never changing, timeless, silent forever – is accompanied by lighting designer Peter Kaczorowski's freezing over of the stage with a subtle wash of icy blue-white light, I thought of the never used government fallout shelter stumbled upon by Bob Peck's character in the Edge of Darkness television series. Removed from time, and hemmed in by impenetrable forest, all Hirst can do is offer an ironic 'I'll drink to that' as he, once again, raises his glass. When Antonia Fraser told Pinter the line made the ending's hopelessness bearable, the playwright replied: 'That's the point.'
McKellen was purportedly reluctant to take part in this production, such is the mighty shadow cast by Gielgud and Richardson in the original. (Everyone involved in this production, from Mathias down, seems to have seen it. If, like me, you're far too young, YouTube provides a taste.) From what I can gather, McKellen and Stewart aren't much like their predecessors. Where Gielgud's Spooner was ingratiating and pitiable, McKellen's is unpredictable and playful, and more obviously alcohol-affected. There is more than a touch of Godot's vaudeville, too, such as when, menaced by Owen Teale's gruff Briggs, he springs to his feet from a crouching position like a man half his age.
As Hirst – a part Pinter himself played, opposite Paul Eddington in 1993, lending credence to the theory that the play's two writers are versions of himself, and therefore of each other – Stewart is by turns inscrutable and stentorian. Watching these two fine actors in combination, musical in their delivery and skilfully choreographed by Mathias, I wondered if Pinter had had, respectively, Fitzgerald and Hemingway in mind when he wrote the parts. The two were drinking and sparring partners of vastly different temperaments – Hemingway was purportedly embarrassed by Fitzgerald's inability to hold his drink – and represented, like Spooner and Hirst, two sides of the same coin, one sensitive, the other archetypally masculine. (The first subject Spooner and Hirst turn to, after settling themselves in with a drink, is strength: 'I was about to say, you see,' says Spooner, 'that there are some people who appear to be strong, whose idea of what strength consists of is persuasive, but who inhabit the idea and not the fact.') In any case, by the time I saw the play – close to the end of its three-month run at Wyndham's – all four performances felt lived in, real and rumpled creations still attuned to the comic and lyric qualities of Pinter's script.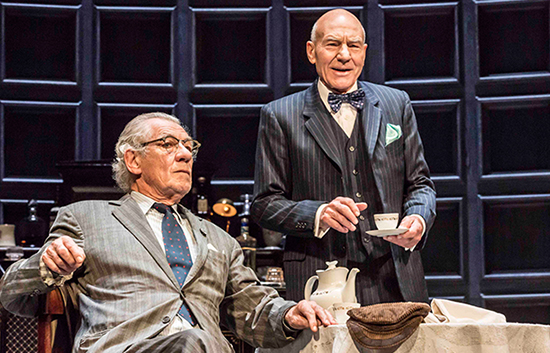 Ian McKellen and Patrick Stewart in No Man's Land (Wyndham's Theatre, London, photograph by Johan Persson)
Obviously, Mathias is that old-fashioned creature, an actor's director; his talents mostly lie in that direction. Still, I would have preferred a less literalist conception of the play, and one that gave the audience more credit in the matter of making the necessary connections between page and stage. While not taking anything away from McKellen and Stewart, it was here, more so than in Godot, that I felt Mathias' emphasis on comedy, especially of the physical kind, to be an imposition. How would I have done it? As it is. Absolutely as it is.
No Man's Land by Harold Pinter. At Wyndham's Theatre, London, until 17 December 2016. It will be screened in Australian cinemas from 4 February 2017 as part of NT Live. Performance attended: 14 December 2016.
Arts Update is generously supported by The Ian Potter Foundation.