Advances
The Update - December 13, 2016
Tracey Moffatt at the Venice Biennale
Tracey Moffat's solo exhibition, MY HORIZON, will be launched at the fifty-seventh Venice Biennale in the Australia Pavillion. This new installation will include film and photography, and will encompass themes such as 'the complexities of interpersonal relationships', 'the curiousness of popular culture', and Moffat's own 'childhood memories and fantasies'.
The exhibition will be accompanied by a book by Thames and Hudson. 'MY HORIZON will present a compendium of texts that reflect on Moffat's highly political and deeply personal fictions', said exhibition curator Natalie King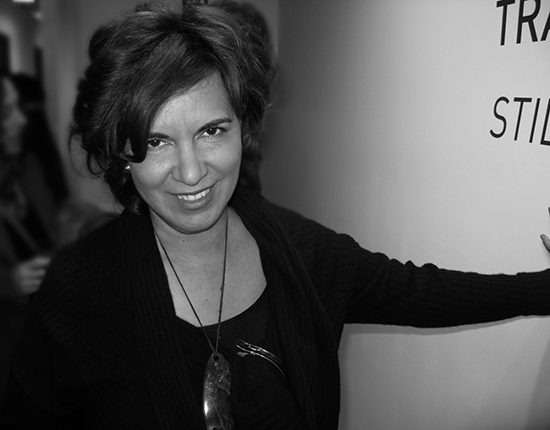 Tracey Moffatt (photograph by Linda Yablonsky)
Tracey Moffat's experimental short film Night Cries, featuring a young Marcia Langton, was much praised at the 1990 Cannes Film Festival, as was her 1993 feature, bedevil. Since then she has been included in more than 100 international exhibitions, including her 2012 solo show at the Museum of Modern Art in New York.
The Venice Biennale will be held from 13 May to 26 November 2017.
Brett Whiteley
Australian artist Brett Whiteley will be the subject of a new documentary to be directed by James Bogle. Whiteley charts the brief, troubled life of the 'cheeky Harpo Marx-haired short-arsed sex pixie' – as described by Simon Caterson in his review of Ashleigh B. Wilson's biography Brett Whiteley: Art, life and the other thing – whose works were at the forefront of Australia's creative scene in the 1970s and 1980s.
Whiteley, distributed by Transmission films, will première at St George OpenAir Cinema in Sydney on Thursday, 9 February 2017 before its national release in cinemas on 11 May.
Brett Dean and Stuart Skelton
A stellar year for Australian artists has been capped off with laudations for two of Australia's most celebrated musicians. Composer–violist–conductor Brett Dean has won the $15,000 Paul Lowin Song Cycle Prize for his String Quartet No. 2 (And once I played Ophelia, 2013) for soprano and string quartet. This is the second time that Dean, one of Australia's leading composers, has claimed the prize (he also won it in 2001).
Heldentenor Stuart Skelton – so magnificent in the recent Metropolitan Opera production of Tristan und Isolde and the Tasmanian Symphony Orchestra's equally fine concert version of the opera, has been nominated for a 2017 Grammy Award in the Best Choral Performance category for his performance on 'Glagolitic Mass', first composed by Leoš Janáček, and conducted by Edward Gardner for Chandos.
Brett Dean and Stuart Skelton were interviewed in two recent ABR Podcasts.
Shakespeare: The Complete Works – 100 CDs
It was a remarkable logistical achievement, but also an artistic triumph. Between 1958 and 1964, the Marlowe Dramatic Society, under the direction of George Rylands, recorded all thirty-seven of Shakespeare's plays, unabridged and fully dramatised. First released on vinyl by Argo Records for the quadricentennial of the playwright's birth (1564), the complete set has now been reissued on CD for the quadricentennial of his death (2016). It's a remarkable collection. (Andrew Fuhrmann's longer review for Arts Update will follow in the New Year.) Highlights include John Gielgud and Peggy Ashcroft as Benedick and Beatrice, and a very dashing Paul Scofield as the chivalric Hotspur. There are recordings here which are still among the best of their type, and certainly worth revisiting – or visiting for the first time. Do so, for it is worth the listening to.
Todd in Venice
Thomas Mann's classic Death in Venice (1912) has been reimagined by writer–director Sofia Chapman as Todd in Venice, a new production for Melbourne's La Mama Theatre.
According to the press release: 'Tadzio now the gay boy Todd, is rampaging around Venice and getting up to mischief. Agnes, in Venice to collect gaudy masks and glassware, yearns after Todd, but is in the process of transitioning. Michael, in Venice to write a musical, also finds Todd irresistible. Will Agnes lose her chance with Todd by becoming female? Or will she lose him anyway to her friend Michael? On top of all this, the water levels in Venice are rising and threatening to sweep them all away on a tide of emotion.'
For a less eccentric adaptation of Mann's novella, see the 1971 Luchoni Visconti film starring Dirk Bogarde and Björn Andrésen.
Todd in Venice will be performed on 1 February, 2017 at La Mama Theatre in Melbourne as part of the 2017 Midsumma Festival.
Summer Showcase
The State Opera of South Australia will present a one-off concert, Summer Showcase, as a wrap up to its fourtieth anniversary year. Artists including Joanna McWaters, Desiree Frahn, Beau Sandford, Joshua Rowe, Hew Wagner, and Branko Lovrinov will revisit State Opera SA's 2016 productions in an 'informal and intimate' setting. David Lampard directs.
Summer Showcase will be performed on 9 December 2016 at the Opera Studio.
Giveaway
This month, thanks to Transmission Films ten new or renewing subscribers will receive double passes to A United Kingdom starring David Oyelowo and Rosamund Pike (in cinemas 26 December) and another ten will receive double passes to La La Land starring Emma Stone and Ryan Gosling (26 December) thanks to Entertainment One.
To be eligible for these giveaways you must be a current or new paid subscriber to the print edition of ABR or to ABR Online. To be in the running please email Grace Chang at This email address is being protected from spambots. You need JavaScript enabled to view it. with your full name and contact details. Preference is given to subscribers who have not received a giveaway in recent months.