Television
The Crown (Netflix) ★★★★★
When a friend suggested over dinner that I watch Netflix's The Crown, I responded with an earthier version of 'Ten hours about an unelected monarch? Nope.' It made sense, of course, for the US streaming giant to drop $100ish million on a television drama about Her Maj: Wolf Hall did well, Downton Abbey was finished, and America had just gone all King George and elected a lunatic in a golden palace. But I didn't think it was for me.
Then I was reminded that, while I don't think our head of state's qualification should be 'How posh is your dad?', I admire Her Maj as a person. Then I learned Claire Foy – who played Anne Boleyn so exquisitely in Wolf Hall – plays the queen. And then I heard John Lithgow plays Winston Churchill. 'John Lithgow?' I spat, misting gin across the table. '3rd Rock From the Sun, American John Lithgow?' This, I thought, I had to see. So I toddled off and switched it on.
Reader, it was glorious. I felt a like a 100-kilo 6 foot 4 Lizzie Bennet standing shocked, Darcy's letter in hand, realising the prejudice that had blinded me to wonder.
Based on his play The Audience, The Crown is created by Peter Morgan, whose Last King of Scotland, The Queen, and Frost/Nixon grabbed a bag-load of BAFTA and Oscar bling. Queen Elizabeth is famed for her reserve, and it's hard to separate the person from the crown. But Morgan's series pushes past the (presumably velvet) palace curtains to offer a vibrant picture.
In any biopic, where to start and what to focus on are critical choices. Morgan's decision to show Elizabeth in her twenties, a new queen, is excellent: it helps the audience identify and empathise. The narrative begins just before she inherits the throne – living a light-filled life in Malta, where Prince Philip is a naval officer. The series then moves through deftly chosen episodes of her early reign – the dash to find her in Kenya when George VI dies, political struggles over her coronation, the crippling Fog of 1952, the illnesses of Churchill and his deputy, Anthony Eden, while the Russians pop off H-bombs.
Morgan uses each episode to interrogate a central question: how the person, Elizabeth, must change to become the immortal symbol of 'the Crown'. That evolution is dramatised in elegant scripts that insistently show the impact of Elizabeth's regal role on her family and vice versa. Philip's brattish response to feeling emasculated as Consort frays the marriage, something furthered by Elizabeth's aloofness. Outmaneuvered by sharp-fanged ministers and mandarins, Elizabeth blames her mother for failing to educate her sufficiently.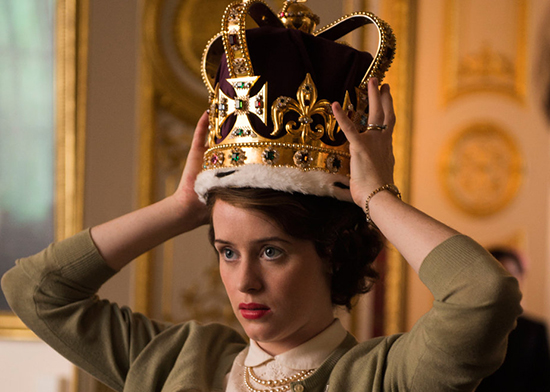 Claire Foy as young Elizabeth in The Crown (Netflix/Flickr)
Their tension amplifies when Elizabeth takes advice from her uncle, the duke of Windsor – his abdication back in 1936 still bleeding poison through the family, but offering Elizabeth a unique advantage: counsel from a living former king. The dramatisation of regal dilemmas through the lens of family culminates in Margaret's then-scandalous wish to marry the divorced Peter Townsend – an act requiring the sovereign's permission. Pulled between a sister's promise and a monarch's duty to refuse as head of the church, this issue underpins season one and distils Elizabeth's central conflict – the split between being human and a symbol of the realm.
Elizabeth is aided by an elderly Churchill, who dodders on as PM, pecked at by ambitious juniors, to guide the young queen. Lithgow is astonishingly good, bringing a bullying, sputtering truthfulness to Churchill's physicality and voice. He is one of a stellar cast: Vanessa Kirby whirls through scenes as a wild, hilarious Margaret, playing the younger sister's vivacity off Elizabeth's reserve. Matt Smith's golden, ladsy Philip gives notches of comic relief while embodying a commander's frustration at a life of second-place and ceremony. Ben Miles and Jared Harris bring reserved emotion to Townsend and George VI respectively, and Alex Jennings inhabits the duke of Windsor – at once waspish and poignant, spiteful and wise. First among them, though, is Foy – an actress of luminescent talent who conveys, with deft physical nuance, a blend of hesitancy, determination, dignity, and pain as she steps away from 'Elizabeth' and becomes 'the queen'.
The Crown's superb directors – Philip Martin (Birdsong), Stephen Daldry (Billy Elliot, The Reader), Julian Jarrold (Brideshead Revisited), and Benjamin Caron (Sherlock) – bring a tight grip to the production. This is a show of scale: from wild Scottish coastlines and Kenya's golden plains to quiet drawing rooms and corridors. The directors capture the glory and vastness, but also draw poignancy from quiet scenes, carefully judging and playing emotion, with every moment honed.
In every respect, in every creative department, this show excels. If you've ever wondered what happens when you give $100ish million to creatives who know how to spend it, The Crown shows you. This is how prestige drama should be done. Even the most curmudgeonly republican will admire it.
The Crown was created and written by Peter Morgan, directed by Philip Martin, Stephen Daldry, Julian Jarrold, and Benjamin Caron, and produced by Sony Pictures Television and Left Bank Pictures for Netflix.
Arts Update is generously supported by The Ian Potter Foundation.